Kevin Morby announces more tour dates, auctioning off tour suit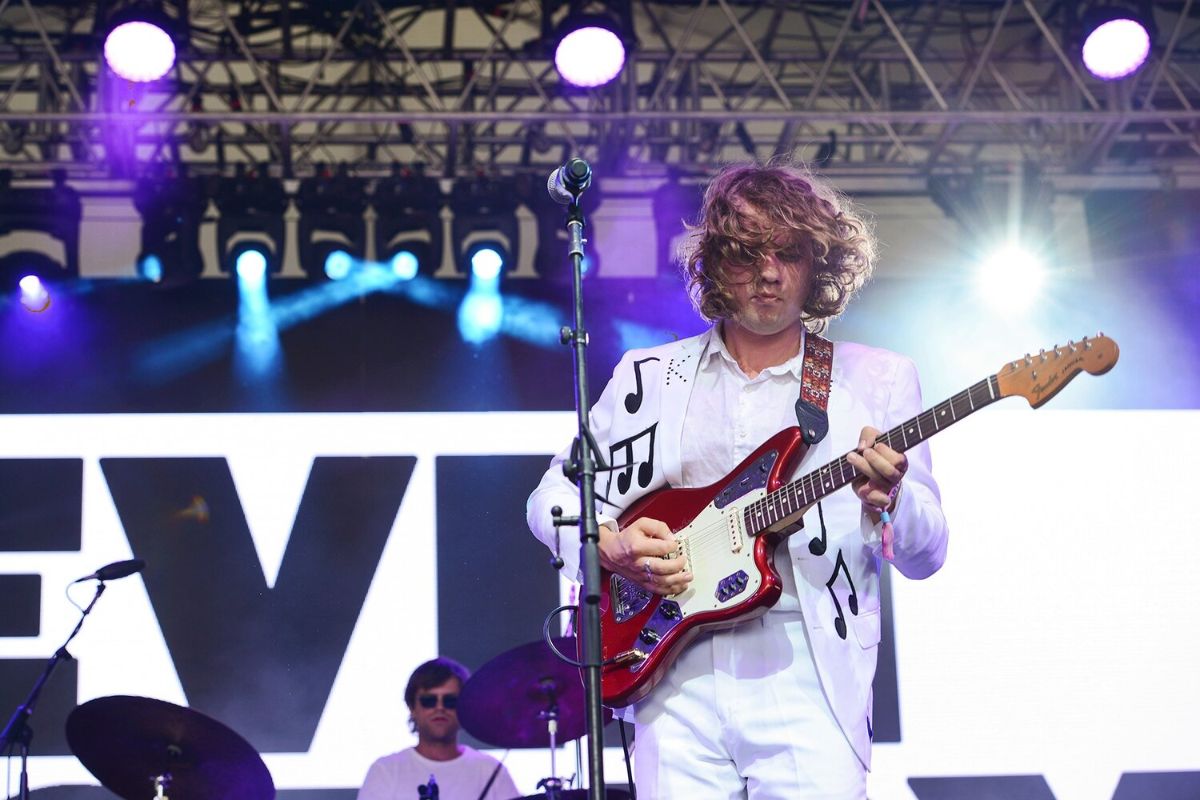 Kevin Morby has announced more tour dates. After wrapping up his 2019 touring, he'll make another lap in North America. He'll also be auctioning off a special City Music tour suit (seen above) to benefit Tour Support, an initiative of LightHopeLife, which provides mental health support for artists, crews and vendors while on the road or at home.
"This suit is very special as it was the first of many made by my good friend Judith at RoseCut clothing. I went on to wear it on a few special occasions in 2017 including the 'City Music' video shoot, my performance at Bonnaroo as well as a short east coast tour which included my first sold out show at my favorite venue, The Bowery Ballroom," says Morby in a press release. More info can be found here.
Kevin Morby's newest album is Oh My God.
Kevin Morby tour dates:
11/2 – Den Haag, NL – Crossing Border
11/3 – Leipzig, DE – UT Connewitz
11/4 – Berlin, DE – Heimathafen Neukölln
11/5 – Prague, CZ – MEETFACTORY
11/6 – Vienna, AT – WUK
11/8 – Mainz, DE – KUZ
11/9 – Mainz, DE – KUZ Kulturzentrum Mainz
11/11 – Brighton, UK – All Saints Church
11/12 – London, UK – Cecil Sharp House
11/13 – Leeds, UK – Mill Hill Chapel
11/14 – Manchester, UK – The Dancehouse Theatre
11/16 – Rouen, FR – Le 106 Club
11/17 – Paris, FR – Le Trianon
11/18 – Antwerpen, BE – Autumns Falls at De Roma
11/19 – Liège, BE – Autumn Falls at Troca
11/20 – Schorndorf, DE – Club Manufaktur
11/21 – Munich, DE – Feierwerk
11/22 – Cologne, DE – Kulturkirche Köln
11/23 – Lisbon, PT – Super Bok In Stock
12/19 – Wilkes Barre, PA – F.M. Kirby Center for the Performing Arts
12/20 – Harrisburg, PA – The Forum Auditorium
12/21 – Atlantic City, NJ – Music Box
4/9 – Dallas, TX – Texas Theatre
4/10 – Austin, TX – Mohawk
4/11 – Houston, TX – White Oak Music Hall – Downstairs
4/13 – Oxford, MS – Proud Larry's
4/16 – Birmingham, AL – Saturn
4/17 – Atlanta, GA – Terminal West
4/18 – Durham, NC – Motorco
4/20 – Indianapolis, IN – HI-FI
4/21 – Madison, WI – High Noon Saloon
4/22 – Milwaukee, WI – Turner Hall Ballroom
4/24 – Minneapolis, MN – Fine Line
4/25 – Kansas City, MO – Record Bar