The Killers : Pressure Machine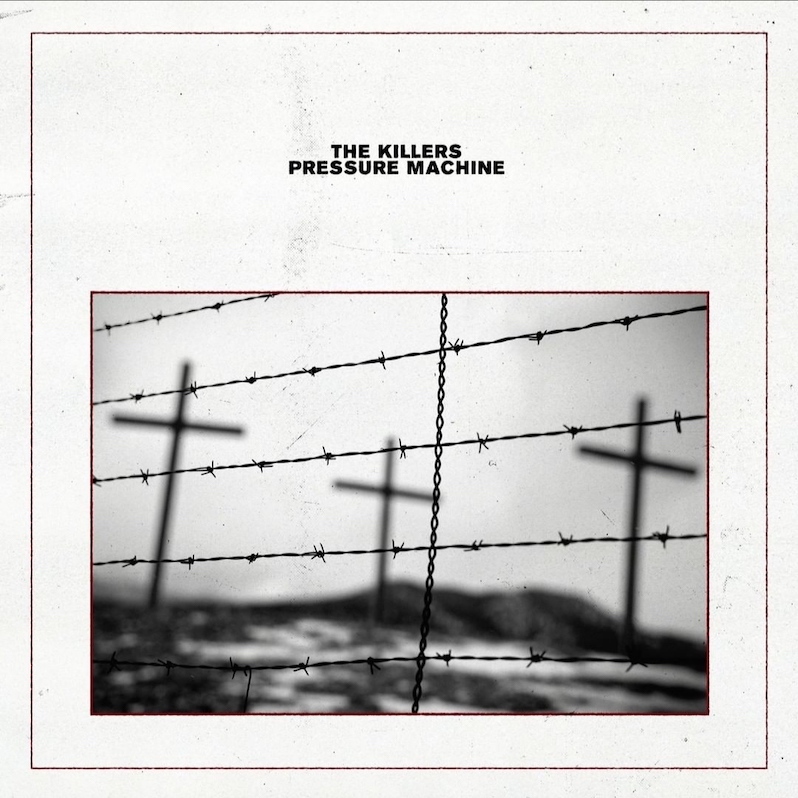 The question of The Killers in the presence of critics such as ourselves is a curious one. Once, years ago, they were darlings, with their debut still routinely conquering Best of the 2000s lists curated both by mainstream and indie-oriented venues (experimental and extreme music venues maybe not so much). What is shocking about this, or perhaps telling about the occasional disconnect between critical bodies and the work they seek to critique, is how broadly non-representative of their sound that first record from The Killers turned out to be. Sam's Town, their sophomore record, leaned away from the hybrid of 2000s-era pop rock masquerading as indie rock and post-punk color, choosing instead a combination of Springsteenian Americana and U2-style gloss, finding a fusion point at both of their bleeding impossible sincerity. This record, it would turn out, would be a mixed bag critically, seen by some as a cornball overcommitment despite not having a single song nearly as cloying as "Somebody Told Me." Day & Age, the record that gave us the surprisingly immortally memeable question, "are you human or are you dancer?" despite that being a profoundly stupid line, in retrospect was a total diversion, choosing a danceability that has never again repeated itself.
To most critics, the band seems to have utterly evaporated at that point in their career, with little word about Battle Born and afterward said. In the case of Battle Born, this is warranted; it was too glaring a Springsteen pastiche, a course-correction by the band toward what has since become their center but without the charm and mature sonic palette they've since settled into. But Wonderful Wonderful forward have been satisfying records, admittedly more adult-oriented these days than aiming for the youth, and none will ever produce nearly an everlasting single quite like "Mr. Brightside" has somewhat inexplicably turned out to be. In this sense, Pressure Machine joins its previous two kin in Wonderful Wonderful and Imploding the Mirage as well-composed and well-played adult-oriented pop rock, almost certainly to slip beneath the waters of many critics and listeners. This is deeply unfortunate; The Killers may be less iconic these days, but they've mellowed into substantially more competent and sensitive arrangers and players and writers.
Pressure Machine is, shockingly, a concept record, either the first or the second from the band depending on how you count the squint-to-see-it conceptual thread of Sam's Town (fitting as this one is in many ways a sonic sequel to that record as well, wearied through the lens of age). It's based on two short story cycles, one from Steinbeck and another from the markedly under-read Sherwood Anderson titled Winesburg, Ohio. This deep cut of a story cycle indicates the sense of lyrical seriousness and sense of craft in this record, a broad portraiture of American small towns in the midst of capitalist scourging of the working class and the opiate plague killing so, so many. These particular points I must admit strike me deep; I lost a friend I'd known since the first day of kindergarten to opiates, a fentanyl pill sold in the guise of oxycontin, and my former interstate stop semi-rural Virginia hometown now appears more like an endless stream of chain restaurants and outlet malls, no future and now not even the dignity of any past either. The Killers are not shy in naming the murderers here, checking not just capitalism in its brutalizing of the working class in the moments of labor but also in the way it drifts away like a black cloud when there are no more resources to extract, leaving a burned out shell of a town and no real way to escape for those trapped inside. They also name precisely its victims, the working class, and paint accurately the plurality of figures found under that label rather than consolidating the working class into one easily digestible or even easily sympathetic figure.
The songs here live once again in the fusion land of Joshua Tree and Rattle & Hum-era U2 and any-era Springsteen, dappled with the brightness and brittleness of '80s arena-sized pop the band has always drawn from. Perhaps most refreshingly, Pressure Machine is a record that is willing to be uncool, unhip. These are sincere portraits from a group that has clearly thought about the topic, a group that knows a perhaps sexier and more attractive sense of grit and terror in their music is unattainable. Most importantly, if you close your eyes and choose to ignore the words, the melodies and progressions are catching, drawing up a mumbling sing-along if you let it. This is, after all, pop-rock; all the thought in the world doesn't mean shit if the songs aren't catchy and don't get you feeling something in your chest. The Killers are melodramatists through and through, the one element keenly preserved from the days of their debut. The difference here is these lyrics are actually good, like "write it down and read it like a poem" good, erring away from the glaring collar-tugging clunker lines that flecked their first three albums. Will Pressure Machine turn heads and reignite the band? Almost certainly not. But it is a mature work and a satisfying one at that, which is perhaps a more enduring accomplishment anyway.
---
Label: Island
Year: 2021
---
Similar Albums:
Langdon Hickman
Langdon Hickman is listening to progressive rock and death metal. He currently resides in Virginia with his partner and their two pets.