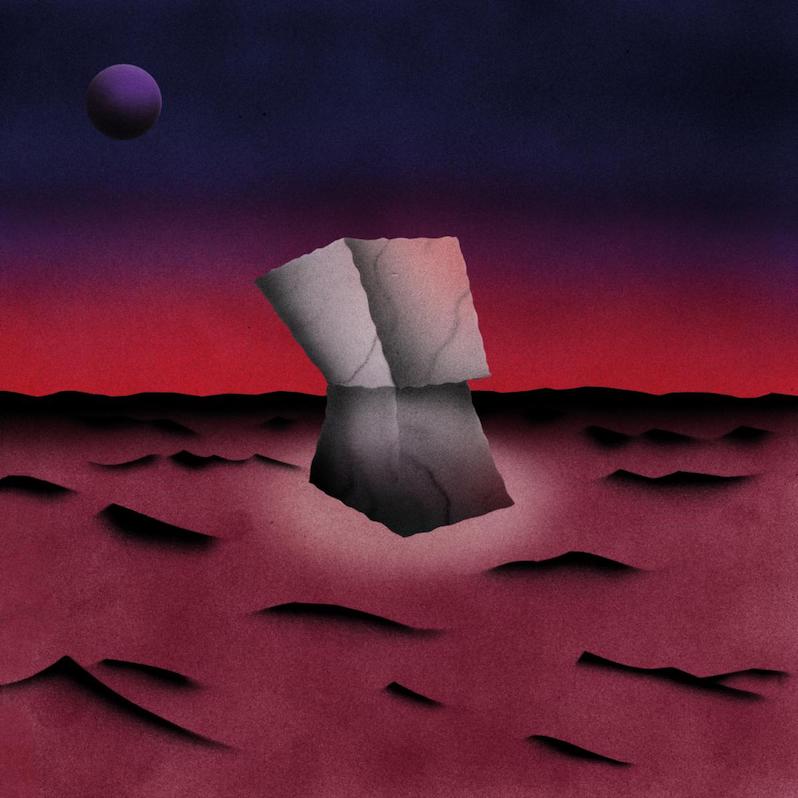 Through the music he makes as King Krule, Archy Marshall is a committed moodsmith. Over a 10-year career the London-born singer-songwriter has aired his melancholy in a style inflected by post-punk, trip-hop and rainy day jazz without any real regard for genre. The key ingredient is his voice: a smoked, ancient baritone all the more striking for sounding virtually the same since his debut King Krule EP in 2011, when he was only 17. Since then, he's released three LPs under the alias, each one painting his caustic isolation in a different shade of gray.
While not a breakthrough, the fourth King Krule LP, Space Heavy, is Marshall's most focused to date. His brand of syrupy darkness still hangs heavily, but he doesn't go all-in on mood. He's less interested in dilatory wandering (as on The OOZ and Man Alive!) than he is in writing songs with skeletons. There's a sense of restraint and a welcome pop sensibility here, as in the hooky "Seaforth" and the wistful "That is My Life, That is Yours." The overall sound is softer; the lyrics are generally more reflective than despairing. "Flimsier" opens the album with a gentle falsetto instead of a snarl: "She said 'It seems like these days merge as one' / Oh, I tried to change them to better ones / But you called it a day / And now it's through."
The fragments of narrative here are far from happy, but there are flickers of tenderness. "Why do you walk with me so slow? / Said, 'I walk like I'm in a trance' / I said, 'I just want this moment to last and to last,'" Marshall sings in "Tortoise of Independency," the closest thing we've gotten to a King Krule love song. And "Wednesday Overcast" closes the album on an unusually grounded note. Marshall suspends his abstractions to make room for a sense of place, relating a shadowy rendezvous on the coast: "In the pub corner surrounded by creeps / They spoke of the violence and racist police / And old red bricks and ten cups of tea / This place was forgotten from history." It's refreshing to hear a narrator shift focus from roiling psychic torment to the physical world without.
Marshall has always excelled as a producer; on Space Heavy he finds the right pitch for his pared-back approach. He knows just when to infuse a sax (the growl at the end of "That is My Life, That is Yours," the spectral brass backing "Empty Stomach Space Cadet," the dancey breakdown that animates "Pink Shell") and when to rely on a jagged rock palette. "From the Swamp," the prime example of the latter, is simultaneously tough and shimmery. It wrangles the best elements of King Krule into a potent pop track. The chorus, "If it's from the swamp, then back it goes," is a delightfully sinister Rorschach test of a hook. The song is one of Marshall's best to date.
But despite moments of novelty, Space Heavy isn't without setbacks. Marshall sometimes trips over his words, as in the clunky "Seagirl": "Her undеrwater ecstasy / You could easily be the death of me." "Space Heavy," too, feels like a missed opportunity. Coming in the limp final third, when the album needs an infusion of energy most, the title track sags under lines like "I sink in full armor / The lake is oil of misery / Get ready, slurp it up" overloading what could have been a subtler political message (the insistent growl of "My plastic straw!")
Every King Krule song is full of darkness; the best ones mold it into lively shapes. Older tracks like "A Lizard State" and "Dum Surfer" make violence sound like a playful caper without sacrificing menace. No song on Space Heavy approaches this kind of electricity. In "Seagirl" Marshall offers himself an important reminder: "If I start sinking, I'm probably overthinking." Space Heavy leaves you with the sense he's yanked his foot out of the mud, to be sure. But he hasn't quite made it off the ground.
---
Label: Matador
Year: 2023
---
Similar Albums:
Casey Burke
Casey is thinking about modern hip-hop and 70s rock. He's written for Grandma Sophia's Cookies, Brainchild, Plaze Music and WTJU.