Kronos Quartet & Bryce Dessner : Aheym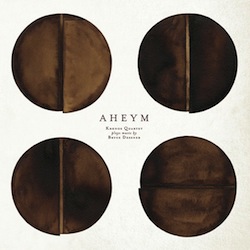 Buy at iTunes | Buy at Insound (vinyl)
When a band achieves the level of success The National has in the last decade, it's only a matter of time before a number of side-projects and solo endeavors begin to happen. And while these projects often bring some fresh air to an artist's perspective and approach, they normally stick to the same basic format of their origins. Thom Yorke's Atoms for Peace sounds like glitchier Radiohead. Yim Yames (My Morning Jacket) and Jenny Lewis (Rilo Kiley) created slightly more folky versions of their usual repertoire. Justin Vernon split from DeYarmond Edison to opt for a more intimate indie folk sound with Bon Iver. Following this pattern, when The National guitarist Bryce Dessner announced a project with the internationally acclaimed Kronos Quartet one might have expected mellow indie-rock songs with string-quartet backing, or something along those lines.
Quite the contrary; Aheym is the first release representing an entirely different aspect of Dessner's life — his career as a classical composer. And as such, it should be viewed as parallel to his other projects; consisting of similar influence and range, but an entirely different product altogether. Throughout the record, Dessner displays a breathtaking knack for string composition and, via the record's four tracks, takes Kronos into both familiar and strange territory.
The album's eponymous opener brings the work of Steve Reich to mind, pairing chaotic tension with passages of melancholy canons.  "Little Blue Something," a waltz of sorts, is the album's most straightforward piece.  Playing with contrasting volumes and a driving rhythmic change towards the end of the song, Dessner creates a tone similar to that of post-rockers Mogwai, using bizarre textures to create an otherworldly mood.
"Tenebre," which features pre-recorded vocals by Sufjan Stevens, borrows several tricks from past Kronos recordings, but turns out sounding rather fresh as a whole. Staccato violin phrases clash with looming cello, fading slowly into darkness and finally giving in to a looming drone as a 'choir' of Sufjan's dubbed voice chants the piece to a close. Finally, "Tour Eiffel" introduces piano, guitar and choir, and has Kronos taking a supporting role. While still firmly situated as a contemporary classical composition, the closer will probably feel the most familiar to fans of The National. Following a choral intro, gentle piano and guitar build slowly, accented by the Kronos Quartet and the occasional horn, until joined again by percussion and the chanting choir. Near the track's ending, Kronos takes a lead role again, escalating the otherwise downtempo feel of the album's latter-half.
The tracks on Aheym are performed beautifully by Kronos, and fit together well for an album made of separate compositions. And, while by no means groundbreaking when compared to other pieces created for Kronos Quartet, the tracks hold their own and showcase Dessner's talent as an artist, especially for his first full-release in the role of composer.  On Aheym, Bryce Dessner shows the talent he brings to The National, highlighting his ability to create mesmerizing soundscapes while showcasing an even wider range of influence than with a more conventional rock band.
Similar Albums:

Sarah Neufeld – Hero Brother


Bell Orchestre – As Seen Through Windows


Max Richter – Infra