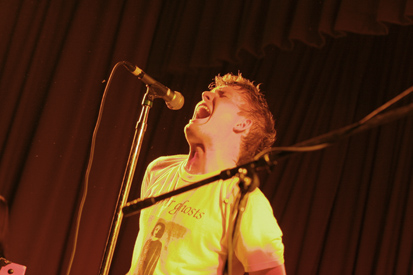 All ages shows have a way of making me feel incredibly old. Don't get me wrong-I'm glad that there are artists who care enough to make a point of playing venues that don't exclude anyone from attending. And when I was 18, there were plenty of bands I wanted to see, but couldn't, primarily due to living in a city where the best venues were restricted to 21 and up. But now, at 28, I feel oddly out of place in a room full of teenagers, like I'm instantly noticeable. I don't know if it's true or not, but it's my hangup, and I accept it.
The crowd at Los Campesinos!'s recent show in San Diego, held at the San Diego Women's Club, an atypical rock venue for sure, seemed especially young. In fact, the rec-hall atmosphere of the place almost made the show feel a bit like a high school dance. That feeling subsided, however, once openers Signals took the stage. Comprising ex-members of joyfully volatile new wavers The Mae Shi, Signals burst immediately into a fun and spastic set of laptop-backed electro-punk tunes. Initially appearing diminutive on stage, the trio more than made up for it with their sonic assault, which included a spunky cover of Sparks' "Angst In My Pants."
By the end of Signals' set, the crowd had filled in considerably, making the atmosphere much closer to that of a rock show and farther away from senior prom. One guy, considerably older than me, even showed the kiddies how to rock the fuck out with maximum enthusiasm. And I certainly couldn't blame him-Los Campesinos! is the type of band that warrants that sort of vigor. From the first, giddy explosion of set opener "I Just Sighed. I Just Sighed, Just So You Know," the group launched through a high energy set of songs plucked from their three full-length albums, leaning only slightly heavier on newest full-length Romance Is Boring.
Their last show of the tour, LC!'s set also contained numerous anecdotes from frontman Gareth about the bad luck they typically encounter on the last day of a tour. On one occasion, a window fell out of their van, on another, also in San Diego, their Street Scene appearance was marred by the festival's own lack of funds and therefore inability to pay bands. But there was nothing but good vibes to be felt from the band on this particular evening, as they delivered massive standouts such as "Miserabilia," "Romance Is Boring," "There Are Listed Buildings" and longtime favorite "You! Me! Dancing!"
Anyone who has caught the band's live act by now has certainly seen Gareth descend from the stage into the crowd somewhere near the end of the set. Yet during the band's encore, all but three members leapt into a circle in the middle of the floor to bring an intimate, but still amplified, performance of "Broken Heartbeats Sound Like Breakbeats" into the audience. With everyone shouting "One-two-three-FOUR!", even those with a long history of legal drinking had suddenly been overcome with a youthful spirit.