Lupe Fiasco : Food & Liquor
With any artist's overwhelming rise in hype, there will inevitably be backlash. By the end of 2006, there are probably just as many who absolutely loathe Gnarls Barkley as those who can't get enough of "Crazy" and its dozens of kitschy and, frankly, annoying cover versions. Since Lupe Fiasco's appearance on Kanye West's "Touch the Sky," the young rapper became the subject of an internet hype hailstorm, the likes of which could spawn just as many naysayers as bandwagoners. But here's where I have my doubts—how could anybody not like this guy?
Well, okay, that twelve minutes of shout-out business at the end is a little annoying. But this small oversight aside, Lupe Fiasco is responsible for one of the most compelling, sonically mesmerizing and best hip-hop albums of the year. And on top of that, he's smart, conscientious and even a little nerdy—what's not to love? Most folks by now should have heard or at least heard about leadoff single "Kick, Push," the skateboarding tale with cinematic string and horn samples that take verses about decks and trucks to sublime levels. It's fun, sure, but it's also insanely clever, as Fiasco imitates the sound of wheels on pavement seams, and describes a discourse between skater boy and girl: "I would marry you, but I'm already engaged to these aerials and varials."
Ah, but that's just one single, and Food & Liquor is more than just singles, filler and skits. Fiasco's streamlined, ultra smooth flow is the glue that binds these 14 (plus two) tracks together, his high speed, highbrow name drops and clever wordplay finding him surpassing even veteran emcees in lyrical art. On "Just Might Be OK," amidst horn fanfare, he declares "I ain't Cornel West/I am Cornel Westside/Chi-Town Rivera/Malcolm exorcise the demons/gangsta leanings." On "I Gotcha," over a playfully bouncy piano melody, Fiasco drops the affront, "I warn y'all cornballs/I hush puppies." Hell, even the Linkin Part beat-backed "The Instrumental," with guest vocals from Gratitude's Jonah Matranga of all people, is pretty decent.
Behind every witty quip is a fantastic melodic backing, which only works to Fiasco's benefit. "Sunshine" features one of the most hypnotic series of samples on the album, and single "Daydreamin'" recycles the Gunter Kallman Choir's "Daydream," a staple heard most famously on The Beta Band's "Squares." And on the subject of that song, Fiasco once again delivers a stunning narrative of parallel daydreams, both fairly absurd and entertaining, the first being about giant robots causing terror and the second relating to the ever-present rap video cliché: "hold this mack 10 that's all covered in jewels/and could you please shake your titties closer to the twenty-twos." Likewise, "Hurt Me Soul" finds Fiasco wrestling with his conflicting relationship with hip-hop, from his admiration of Too $hort and abhorrence of misogyny to calling out Jay-Z for "praying to Gotti," though he is won back over, and in case you didn't notice, the following track, "Pressure," features the talents of Jigga himself.
Food & Liquor is just about the best hip-hop debut you'll hear in 2006, and one of the best hip-hop albums of the year, overall. From beginning to end, it's a true delight and a stunning example of how every element can be exceptional…except for that last track, but we can look the other way on that one.
Similar Albums:
Kanye West – Late Registration
Talib Kweli – Quality
Rhymefest – Blue Collar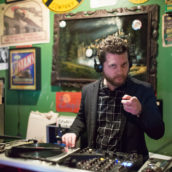 Jeff Terich
Jeff Terich is the founder and editor of Treble. He's been writing about music for 20 years and has been published at American Songwriter, Bandcamp Daily, Reverb, Spin, Stereogum, uDiscoverMusic, VinylMePlease and some others that he's forgetting right now. He's still not tired of it.