It's a tough thing going into an album, knowing that it contains a song written from the perspective of a cheeseburger (for the purpose of highlighting high fat/high cholesterol diets ravaging America). What possible explanation could there be for such a baffling artistic choice, other than that Lupe Fiasco is, to borrow a phrase from Fujiya & Miyagi, `off his bleeding rocker?' And given how good Lupe's debut Food & Liquor was, this is problematic. You want the guy to step it up, and really outdo himself, but, you know—cheeseburgers. It's hard to know what to make of it, and it's hard to condemn anyone for having doubts, but it's Lupe; he deserves the benefit of the doubt.
Actually hearing "Gotta Eat" makes me feel somewhat ashamed for even doubting Lupe in the first place. There's no doubting that the idea of promoting healthy diets within a hip-hop song may seem a little too much like the Ad Council deserves co-writing credit, but damn if the kid hasn't put together a great little tune. Soundtrakk's beats snap and pop as brightly as on Food & Liquor, and it's hard not to be won over by Fiasco's chorus of "that's when shit gets greasy." And in that moment, any trepidation toward hearing The Cool is transformed into celebration.
In concept and in execution, The Cool is a step forward for Lupe Fiasco, though his approach is largely similar to that of F&L—conscientious and conflicted lyrics, vibrant production courtesy of Sountrakk (with some guest contributions), and a strong penchant for accessibility overcoming any of the album's overbearing themes. Fiasco has cast his conceptual net much farther, however, apparently interweaving narratives about three central characters: The Cool, The Streets and The Game. Whether or not these characters and their story arcs are all that obvious or make any sense is kind of arbitrary; it's a fantastic album regardless, and if you really want to delve into the mythology, it's more or less mapped out on Wikipedia.
What matters most on The Cool are the songs, and those on display here are top notch. Once the two gratuitous intro tracks are out of the way, "Go Go Gadget Flow" immediately stirs up a high energy bounce and impressively displays Fiasco's insanely fast rhyming skills, from which he drops smile-worthy lines like "no16-bit like Sega Genesis" and "I'm back on my grizzle like a bearskin rug," starting off the record with more fun than proselytizing. "The Coolest," by comparison, is much less hedonistic, finding Fiasco having a conversation with the Almighty while backed with a string-laden chamber melody. Single "Superstar" is essentially Lupe's big pop rap track, its glossy sensibility amplified by Matthew Santos' Chris Martin-like chorus. Laid-back globetrotting jam "Paris, Tokyo" has an old school Native Tongues vibe, making it a fun throwback, but a pretty wonderful song nonetheless.
"Hi-Definition" lives up to its name, blasting through the speakers with a big stadium rap synth sound, as Lupe delivers declarations like "in my flyness/ I've become the hero and the sidekick/ the rider and the nigga that I ride with." As if the song's expansive and catchy sound didn't sell it enough, Snoop Dogg's chill guest spot does nicely, a rare big name guest spot on an album largely defined by a single voice and a single vision. The two other notable guests, Fall Out Boy's Patrick Stump and UNKLE add surprisingly fresh and well-matched beats to Lupe's flows on "Little Weapon" and "Hello/Goodbye," respectively. Violence is also a primary theme in both songs, interestingly enough, the former juxtaposing inner-city crime with foreign conflict, and the latter a nightmare of war. In true Fiasco fashion, both are well-executed states-of-the-union, but the real surprise is how much better Stump seems to be at producing hip-hop than writing rock songs.
Some notable contributions aside, that single voice and single vision is where The Cool really finds its groove. "Hip-Hop Saved My Life" is a new peak for Lupe, detailing the process of writing a hit rap song and topping it off with the most amusing depiction of writer's block I think I've ever heard: "something, something, something/ Stack That Cheese!/ mother, sister, cousin/ Stack that Cheese!/ he couldn't think of nothing/ Stack That Cheese!" There's no song more joyous here than "Gold Watch," an outstanding spin on celebrating material goods, as Fiasco runs down a laundry list of his nerdy, albeit pretty cool interests: "Futura, Nosferatu and HTM Trainers/ I like Street Fighter 2 I just really hate Zangief/ only Ken and Ryu/ I find it hard to beat Blanka." When Lupe Fiasco does revert back to his earnest side, as on "Intruder Alert," he still comes off as nothing but sincere, and even quite chilling at that.
At 19 tracks, The Cool is pretty long, and doesn't maintain its momentum without a few stumbles, notably "Go Baby," which is fun enough, but doesn't really rise above b-side status. But Lupe Fiasco thinks big, and his ambition is admirable. More importantly, he actually delivers on his vision of a sprawling artistic statement, whether he's presenting a thesis on more pressing societal ailments or just riffing on stuff he likes. And if the guy can take a song narrated by a quarter-pounder and turn it into the fucking jam, then you know the kid's got talent.
Similar Albums:
Kanye West – Graduation
Common – Be
Mos Def – Black On Both Sides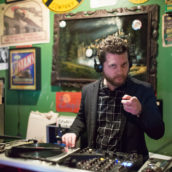 Jeff Terich
Jeff Terich is the founder and editor of Treble. He's been writing about music for 20 years and has been published at American Songwriter, Bandcamp Daily, Reverb, Spin, Stereogum, uDiscoverMusic, VinylMePlease and some others that he's forgetting right now. He's still not tired of it.