In supposedly "intelligent" music, there seems to be a phobia of instantaneously pleasing sound and content. Whether it's rock music, whose meaning is buried like treasures from antiquity, under nebulous and seemingly endless allegory, or hip-hop that's hoisted up by Mojave-dry drum machine loops, maintaining one's integrity when listening to pop music has become laborious. Lupe Fiasco is one of these smart guys. On his first two albums, Food and Liquor and The Cool, respectively, his intelligence consistently remained intact. However, Lupe Fiasco is a little different: one could potentially drop the top on an automobile and enjoy the Windy City-rapper's first two efforts (the melodramatic kiss-of-death for intelligent music).
As balanced as his first two records were, it wasn't until his underrated performance at Coachella when his smarts truly shone through; perhaps looking for new ways to rebel-against The Man, yes, but probably more importantly against genre conventions and expectations-Lupe proved that he'd done his transgression homework. The Chicagoan rapper tore across the stage with Black Flag-like vigor, often slipping on his own sweat puddles, but reveling in this spontaneous slippage. Never had I seen a rapper so efficiently bridge the aesthetic with such effective social criticism.
Lasers resumes right at this elusive intersection; while the openly melancholy "Words I Never Said" is going to catalyze eyeball rolling from skeptics, the gooey chorus works undeniably well against Lupe's rapid social critiques. Meanwhile, Lupe gets Trey Songz (who once dubbed himself the "Panty Droppa") to bless "Out of My Head" with one of the album's most genuinely soulful choruses. Meanwhile. Songz returns the favor, getting the hyperaware Fiasco to take off his trademark geek-glasses and gush romantic. Even amidst the onslaught of happy-go-lucky bangers like "The Show Goes On," Lupe still slows it down to preach perseverance and muse on his admiration for women on "Coming Up."
Lasers is bluntly honest with its fulminations of society's ills but also unapologetically frisky with indulging in viscerally pleasing gooey hip-hop with punk rock ethos.
Similar Albums:
Kid Cudi – Man On the Moon: The End of the Day
Jay-Z – The Blueprint 3
Common – Universal Mind Control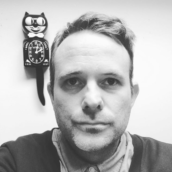 Paul Glanting
If a meteor was just hours away, Paul Glanting would recall that he has been in a Lil Wayne music video and has a 4.7 (out of 5) on Rate My Professor. He is at work on his first novel, Adjunct Megafauna.