Lusine : The Waiting Room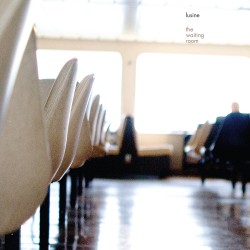 Buy at iTunes | Buy at Insound
Jeff McIlwain is a self-proclaimed eclectic. His 2004 debut for Ghostly International was titled Serial Hodgepodge for a reason — the LP is a melting pot of hypnotic, loop-based beats, after-midnight IDM, and female-fronted trip hop. The mood shifts made previous Lusine albums feel like a Ghostly compilation disc rather than one man's output — not that that's a bad thing considering Ghostly's reliably high quality; I just always came away with the feeling that his albums could benefit from some narrowed focus. But now, after a three-year breather following 2009's A Certain Distance, Lusine's returned with what might be his tightest and most entertaining album yet.
The Waiting Room begins and ends with pulsating electro-house that layers Booka Shade's knack for memorable hooks onto more rigid, loop-driven templates from artists such as The Field. "February," the closing track, builds a strong head of steam through the first three minutes, leading up to what could have been an obvious, albeit perfectly acceptable, booming drop. Lusine passes on the opportunity for maximalism and lets the track collapse under its own weight; the scattered debris of what's left is an echo chamber of eerie voices that come at the listener with Doppler effect pitch shifts. A piercing but welcome synth melody weaves the broken pieces together throughout the remainder of the song, wrapping up the album with some of its finest moments.
While "February" is an impressive and unexpected offering from McIlwain, five of the tracks on The Waiting Room feature former collaborator and female vocalist Caitlin Sherman. Sherman skillfully takes on McIlwain's dense and layered forms, but McIlwain always feels like the one in the driving seat as he cuts and chops up her own voice beneath her. On "Another Tomorrow," McIlwain traps Sherman's voice in robotic reverb and distortion, only to let it out of the cage on the following track, "Without A Plan." The crystalline vocals evoke a charm reminiscent of haha Sound-era Broadcast.
Sherman's pop ventures are unfortunately a bit more hit or miss. "Get The Message" is enjoyable enough through the first few listens, but the chorus feels twee and dull after repeat spins. "Lucky" is far more successful, however, achieving a mood that feeds off fellow glitch-pop up-and-comers such as AlunaGeorge. Even with a noticeable degree of sonic focus, McIlwain remains a serial hodgepodge-ist. The wide spectrum makes for a wild ride, but it's tough not to think about what could have been with even more focus. Songs like "February" contain so many interesting ideas that it feels like a tease not to hear them explored more thoroughly throughout an entire album. But perhaps the patchwork nature of the album sheds some light on its curious title. McIlwain may feel as though he's still waiting for a proper prognosis; he's a man of many possible futures, but whichever way his style unfolds, his work thus far bodes well for success.
Similar Albums:


The Field – Looping State of Mind


Shigeto – Lineage


Alunageorge – You Know You Like It EP