Marissa Nadler's "Bessie, Did You Make It" adds a twist to a century-old mystery

In 2020, I watched a lot of TV. We all did—staying at home and, for a time, doing our best to avoid spreading a virus that now, nearly two years later, is still wreaking havoc on the entire planet. I read a lot, too, and listened to pretty much my entire record collection (and, of course, continued to add to it). But maybe more than anything else, I watched TV.
I didn't watch Tiger King, and I saved The Sopranos for 2021, but I went through a lot of shows, many of them various franchises of Star Trek. But somewhere around June, I got reacquainted with an old standby: Unsolved Mysteries. Long before true crime became the go-to podcast genre and our streaming queues (guilty) became filled with whodunits that put forth frequently specious theories, Unsolved Mysteries scared the hell out of us with legends of Bigfoot and the Bermuda Triangle, serial killers on the loose and aliens buzzing overhead. The theme song is imprinted into our consciousness, and the stoic voice of Robert Stack seriously and sensibly making even the most outlandish idea seem not just possible, but plausible.
Watching it in your thirties is a little different than when you're a kid, though. The famous case of Don Decker causing rain indoors always struck me as little more than a hoax. The story of the underground river is more inscrutable than anything. And the "miracles," well, the less said the better. But once you get past some of the more far-fetched supernatural myths, Satanic panic hysteria and crackpot theories about hidden treasure, what's there remains pretty unsettling. Like the unhinged case of the Circleville Letters, or the two teenagers who were murdered and left next to a railroad track, or the abduction of Angela Hammond while she was on the phone with her boyfriend.
It turns out I wasn't the only one on an Unsolved Mysteries binge: Singer/songwriter Marissa Nadler also took a deep dive into the long-running mystery series, using it as the basis for several of the songs on her eleventh album, The Path of the Clouds. The title track was inspired by the famous hijacking and parachuting disappearance of the mysterious D.B. Cooper, and "Well Sometimes You Just Can't Stay" derives its inspiration from Alcatraz escapees. "From Vapor to Stardust" even name checks Unsolved Mysteries' iconic host, Robert Stack.
One of the album's standout tracks, "Bessie, Did You Make It" retells the story of Glen and Bessie Hyde, a couple who disappeared in Arizona, attempting to rush the rapids of the Colorado River. The couple's last sighting was on November 18, 1928 at Hermit Rapid, and were last photographed by Emery Kolb at his home outside the Grand Canyon. For nearly 100 years, there's been not a single trace of the couple, the into-thin-air sense of befuddlement about the whole thing making it the kind of mystery that endures for decades. I know I'm fascinated, at least.
Nadler, likewise, tackles the mystery with a sense of curiosity and mystique, closing the first verse of her intricately plucked, gothic folk ballad by singing, "What happened to these two/Is up to who you ask, but full of sorrow." That, naturally, isn't the end of it. Nadler's a particularly haunting storyteller regardless of the subject matter, and though tackling matters of the macabre isn't necessarily her primary method of narrative, she pulls it off eerily and beautifully when she does. Here, that turn toward the menacing and grisly happens slowly and subtly, the song a poetic account of what details are known about the ill-fated couple, until the final verse, when the story takes a harrowing turn 50 years later: "A woman claimed to be Bess for a second/By the fire, she said without smiling, 'I'm Bessie, I killed him, I was simply surviving.'"
What begins as a clever songwriting prompt turns in just a few short minutes into a modern interpretation of the classic murder ballad: a retelling of a long-told tale with some of the details changed, but the morbid outcome the same. Given that some artists are still performing century-old murder ballads from an entirely different era of songwriting and music, it's surprising there aren't more instances of next-generation murder ballads based on true events, outside of Mexico's narcocorridos. If Marissa Nadler is binge-watching Unsolved Mysteries, surely there are other singer/songwriters doing likewise, or listening to Lore, or even perusing the Unresolved Mysteries subreddit.
What's different about "Bessie" and the other mystery-inspired songs in Nadler's catalog than the typical murder ballad is that they are mysteries. These are stories without endings, casting a light upon the darkest corners of our imagination. Because in the absence of any real closure, the scenario we imagine invariably becomes the most compelling, and sometimes the most twisted. In the story of Glen and Bessie Hyde, we don't know what happened, but we can muster a guess—and I'd wager the biggest clue lies in the raging river beneath them. Still, Nadler understands that it's the what if and not what is that makes the story all the more captivating.
---
Support our Site—Subscribe to Our Patreon: Become one of our monthly patrons and help support an independent media resource while gaining access to exclusive content, shirts, playlists, mixtapes and more.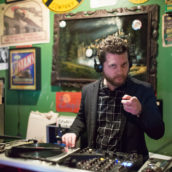 Jeff Terich
Jeff Terich is the founder and editor of Treble. He's been writing about music for 20 years and has been published at American Songwriter, Bandcamp Daily, Reverb, Spin, Stereogum, uDiscoverMusic, VinylMePlease and some others that he's forgetting right now. He's still not tired of it.