Marissa Nadler : Songs III: Bird on the Water
Marissa Nadler initially released her third album, Songs III: Bird on the Water, outside of the United States way back in the chilly winter months after the dawn of 2007. Its introduction perfectly coincided with the air's frosty chill and the descent of the final leaf upon the ground, soon to be covered with snow (which came late last winter, remember?). Yet now that the album is finally being stocked here in North America, it hits the shelves right square in the middle of summer, which makes very little sense aesthetically. Nadler's music is winter music, melancholy and delicate, graceful and morose, eschewing the lowbrow hedonistic qualities of summer and embracing whistling gusts and slowly spreading sheets of frost.
Alas, as our sweat collects in pools and Amy Winehouse and Rihanna trade off being the diva du jour, Nadler offers a reprieve from it all, beckoning the impending autumn with her spectral coo. On Songs III, Nadler is joined by Philadelphia baroque folksters Espers, who share a common ground in their intricate and pastoral sensibilities. Likewise, both have been associated with their freak-folk brethren, but neither Espers nor Nadler share much in common with artists like Devendra Banhart or Animal Collective, aside from acoustic guitars. Rather, Nadler has a mystical and mysterious quality, beautiful and wispy rather than primal and rugged, and far less prone to manic yelps or tales of multiplying Chinese children.
To put it crudely, Songs III is a sad album. That may be over-simplifying, a bit, but there's more than a passing thread of mournfulness on this delicate collection. Even if it may be playing in some American households for the first time in August, its very presence will invite a snowflake or two in with its subsequent play. Of the eleven songs on the album, at least half describe or allude to death, but the overall feeling is eerie rather than mournful, as each song feels like a voice calling back from beyond, telling its unfortunate tale. That isn't to say they won't draw a tear from the listener, however; given the aching beauty of each and every gently plucked note, it seems almost inevitable.
"Diamond Heart," the first single and most accessible song opens the album with lyrics that read like an open letter to an ex-lover: "I had a man in every town, and thought of you each time I tore off my gown…but oh, my diamond heart, it misses you oh well." The simple progression and bright accompaniment create a beautiful, even inviting atmosphere to its sorrowful themes. "Dying Breed" is more atmospheric, ambient bell sounds drifting in and out between Nadler's gentle guitar plucks, while her lyrics sound like a English folksong-cum-nursery rhyme, as she sings "red is the color of memory/ blue is the way to green/ and darling you did gamble/ `cause you were a dying breed." The southwestern flavored "Mexican Summer" has a dusty Morricone-like quality to match the ambience of its title, and is one of few songs that feature percussion. Yet as its tone evokes Mexican sunsets, the mood returns to a pastoral, rain-kissed garden in the lonesome "Thinking of You."
Though select few songs, like "Diamond Heart," stand out and greet the listener amiably and vibrantly, Nadler is a songwriter of subtle nuances, opting for melodies that devastate slowly and softly. "Bird on Your Grave" is a thin apparition of a song, initially, yet when Greg Weeks' electric lead begins, the song is instantly more intense and harrowing. Similarly, "Rachel" is a sweet and sprightly folk tune, but goes much darker when Weeks begins his slowly ringing harmonization. Nadler's turn from "oh what a day to dance with you" to "oh what a day to die" hardly goes noticed in such gorgeous surroundings, yet the juxtaposition of acoustic and electric instrumentation finds a sublime balance between beauty and sadness.
It only makes sense that Nadler would be a Leonard Cohen fan, and here she covers "Famous Blue Raincoat," multi-tracking her voice for an oddly spooky and stunning effect. Really, everything on Songs III: Bird on the Water is spooky and stunning, right down to the double-exposure photo of Nadler upon a field of barren trees. It's enough to send shivers down one's spine, which is surely a welcome feeling in the dead of summer.
Similar Albums:
Espers – II
Pentangle – Sweet Child
Joanna Newsom – Ys
MP3: "Diamond Heart"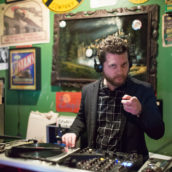 Jeff Terich
Jeff Terich is the founder and editor of Treble. He's been writing about music for 20 years and has been published at American Songwriter, Bandcamp Daily, Reverb, Spin, Stereogum, uDiscoverMusic, VinylMePlease and some others that he's forgetting right now. He's still not tired of it.