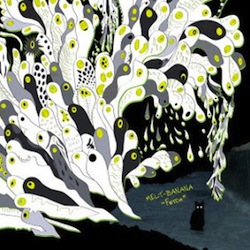 Buy at iTunes | Buy at Insound (vinyl)
Since the early 1990s, Melt-Banana has been claiming that their noisy, thrashing punk is actually pop music. And, while that might be a hard sell, it's difficult to not find something universally moving and accessible about their music. Sure, Yasuoko Onuki's shrieking vocals can be a bit alarming, and the band's sets are likely to make your eardrums tremor (if not bleed), most of the Tokyo-based act's output is some damn catchy shit!
With their tenth full-length album, Fetch, Melt-Banana manage to provide new angles to their impressive collection of albums, taking their punky, poppy grindcore and channeling some pretty unexpected influences to keep their sound fresh. There's Onuki's familiar barking, steady basslines from Rika Hamamoto, and an arsenal of piercing noises from Ichirou Agata's beautifully unorthodox guitar techniques. But underneath it all there's something surprisingly dreamy about the sounds on these 12 tracks. Borrowing just a pinch from dream-pop and modern shoegaze, Agata's guitar work is even more expansive than usual, emitting a warm spectrum of sound that could fill planets. And Onuki takes the occasional break from her usual style of barking, forming short-lived harmonies and anthemic refrains. The result is spectacular, adding even more mystery and brilliance to a sound that's worked so well on previous albums.
It's been six years since Melt-Banana's last release, and Fetch is worth every waiting moment. It's the usual noisy romp one expects from the legendary spazz artists, but it's more than just a repeat effort from a once-innovative band. Melt-Banana remain as inventive as ever, and sound as good as they ever have. If you already love them, Fetch should be a brilliant ride; but if you're a newcomer, it just might be a great place to start.
Similar Albums:


OOIOO – Taiga


Lightning Bolt – Hypermagic Mountain


Daughters – Hell Songs