Just about four years ago, I fell headlong for a Danish band called Mew. At the time, they were relatively unknown outside of Europe, despite touring with R.E.M. and seeing international release two years prior with Frengers. And the Glass Handed Kites, and it's accompanying single release, "The Zookeeper's Boy," were a breath of fresh air. It was a dark mix of pop, shoegaze, and prog rock, yet all in Mew's own singular presentation. Since then, I had been seeking out their back catalog, made more accessible thanks to someone's brilliant idea of reissuing them. Thank goodness for those previous albums, as I had no clue it would take four years for the band to release a new album, and this is the full title, No More Stories / Are Told Today / I'm Sorry / They Washed Away // No More Stories / The World is Grey / I'm Tired / Let's Wash Away. It's not Fiona Apple long, but it is poetry nonetheless, and I couldn't have been happier with the album's content.
It seems that Mew has taken the last four years learning how to have fun while they're creating music. Sure, at times they were whimsical on their past albums, but on No More Stories, they have stepped out of the glum shadows and discovered that innovation can be fun. It's as if they replaced their Trent Reznor mp3s with Wayne Coyne's. (Which is interesting, considering they will be touring with Trent for this album). The lead track from the album is a perfect example. At first listen, "New Terrain" is a sunny experimental song, playing with studio techniques and backwards masking, with some lyrics unintelligible and some with which you can clearly hear the song's title. Play the song backwards, and you have a whole new song titled "Nervous." It's a musical palindrome of sorts. The amazing thing about the song is, it's highly listenable either way. The first single from the album follows in "Introducing Palace Players," starting with abstract and mistimed guitars and drums that sound like an early Modest Mouse track, but then a minute in, things really come together. On top of that abstract music, which is part dissonance on top of M83 like '80s throwback pop, Jonas Bjerre's falsetto arrives like a revelation.
"Beach" follows, and shares some similarities to a band that shares a song with the same title, New Order. According to Mew, it is their most straightforward track ever, and it works for them. I could easily hear "Beach" sitting alongside other songs on the Pretty in Pink soundtrack. "Beach" will also be the third in a series of singles and videos from the album, making up a trilogy that all flows seamlessly together. The second in that series is "Repeaterbeater," a song that seems the most like their previous tracks on Glass Handed Kites. I was realizing something about the songs on No More Stories as I got to this point. I was discovering that what I was hearing sounded like the jagged guitar overtones of Modest Mouse mixed with the sunny pop harmonies of Death Cab. There must be something about music created above the 45th parallel. Mew exhibits even more of their innovative complexity when they marry the slow dirge of "Silas the Magic Car" with a children's choir. Morrissey, shove over.
"Cartoons and Macramé Wounds" is the band's attempt to turn their usual formula on its ear, beginning with the epic and bombastic flourish that usually closes songs of theirs and similar bands such as Sigur Rós, and then strips away layer after layer. It doesn't exactly follow that formula, seemingly going in and out of the bombast during its seven-minute journey, following more of a double bell curve. The center of the song, with just Jonas' vocals and keyboards, is as straightforward as you can get, and still as hypnotic as their busiest tracks. The ethereal intro "Hawaii Dream," which leads into, you guessed it, "Hawaii," features the whispered album title in repetition, whereas the latter track quickly reveals itself as one of the most engaging on the record. Again, Mew dips into several different wells for this one, from '80s synth ecstasy to the title's referenced flavors and then to the gloriously sweeping choruses that are simply transformative. One listen to "Hawaii" and you realize that Mew cannot be pigeonholed as simply pop music. Although "Vaccine" and "Tricks of the Trade" are slightly more pop oriented, they exhibit amazing complexity upon further listens. The album closes with "Reprise," a song that somehow encapsulates all that we've heard over the last hour, the sunset to a gorgeous summer day.
In the song "Vaccine," Jonas sings, "We know you, and you're after some kind of truth." In a way, they're right. The truth that I, and others like me, am after is encapsulated within No More Stories. The latest album from Mew is experimental without being pretentious, accessible without being pandering, reverent without being repetitive, and just downright enjoyable. One of the more amazing things about this album is that, in the interim four years, Mew went from a four piece to a three piece and somehow sound bigger. When I recently posted my top 100 albums of the decade for my friends to see, one remarked, "Boy aren't you going to be embarrassed when some amazing stuff starts coming out in the fall." No More Stories is a slap in the face as to why music magazines shouldn't compile these things until the last minute.
Similar Albums:
M83- Saturdays=Youth
The Flaming Lips- Yoshimi Battles the Pink Robots
New Order- Power, Corruption & Lies
Video: "Introducing Palace Players"
Download at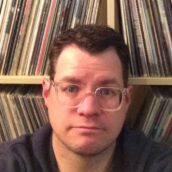 Terrance Terich
Terrance Terich firmly believes that 1985 is the best year for music. He lives near Seattle with his books, movies, and music.