Modest Mouse : The Golden Casket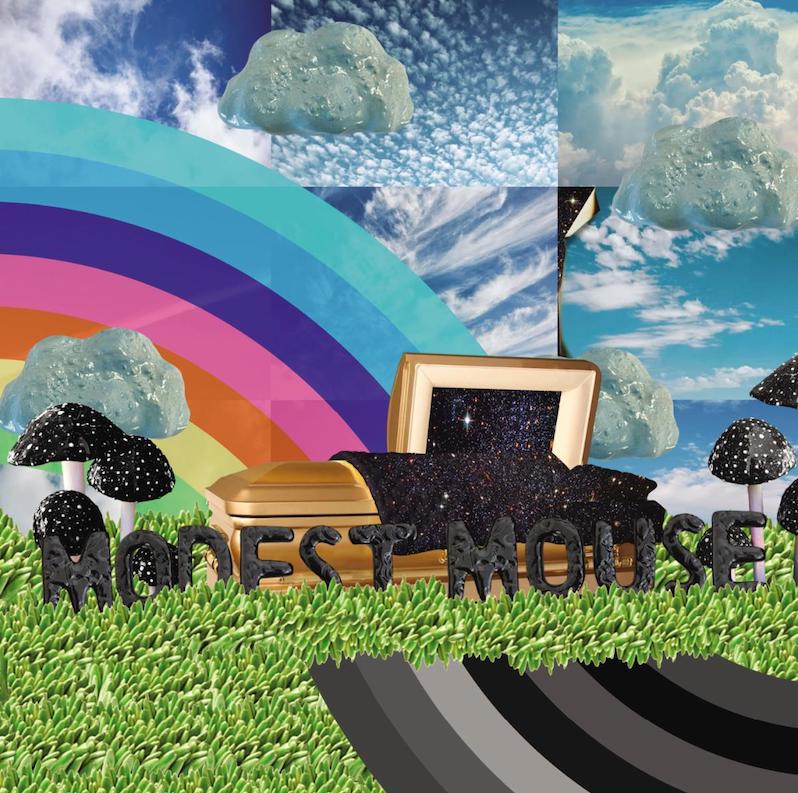 It's amusing to consider Modest Mouse conceptualizing The Golden Casket, knowing that whatever was written down or discussed ended up becoming a slippery, genre-agnostic chameleon. Issac Brock and company's compositional perspective hasn't shifted a tremendous deal since their last LP, Strangers to Ourselves, but what has changed is the calibration and orientation of their sound, which is now fixated on more bass-heavy compositions, effectively pushing their bleary and weepy guitar tones to the foreground. Oh, and well, life—that happened as well. 
Curiously, the album functions more as an edifice of Brock's personal philosophy and experiences rather than conceding the band's signature sound. It's oddly direct at times for Modest Mouse. Simultaneously placed at its center are newer compositional details, more interesting and taut chords, vicious and breathless lines against castanets and menageries of instruments bleeding and beating against each other in some stumbling elegance. "Walking and Running" does a fine job of exemplifying this ethos, while still managing to succinctly portray their entire career sonically.

There's an immediacy to the lyrics of this album. Brock's signature wit still shines brightly, emerging with existential beauty on "We Are Between" singing "We are between, yeah we are/Somewhere between dust and the stars/swung open then slam shut/yeah but here we are", which, while simplistic in its prose, still manages to pontificate about the transient nature of existence, and the spaces we find ourselves in. Heavy as heavy can get while never sounding like it. 
The obtuseness of Brock's lyricism in the past is up for debate, but throughout there are pointed moments that directly address a concept or idea, some that feel pertinent given the trajectory of the past five to ten years of history. On "Wooden Soldiers" Brock sings, "Since we shop at the same store, but hate each other at the core/ And neither is getting a fair deal/ Sell it all on sex appeal how you currently feel…Hashtagging, photo bragging/No one who's even sort of real, no wonder no one feels better than before." Which is a wonderful way of addressing both the tribalism that has sprung up against the undercurrent of capital's inability to solve problems. Much like the distressing ennui that has collided with almost all of us after the pandemic, everything feels lacking in substance, lacking in reality, and Brock does an expert job of addressing this throughout.
The expert production of The Golden Casket by Dave Sardy and Jacknife Lee deserves several paragraphs on its own, exquisitely balanced, refined when necessary, yet owing to the callous, watery and harsher tones of Modest Mouse's earliest days, it's another tool that is employed to twist the spirit of the album into a shape that it probably couldn't have held before. Lurching at times dangerously close to a middle career Flaming Lips album, and at other times possessing the melancholy of Grizzly Bear's lush arrangements, the production is so much of the album's character. "The Sun Hasn't Left" is a perfect example of the duo's efforts, a maximalist, thick affair that still manages to sound like effervescent chamber pop. From every volume, to every texture, the direction of the track is simply superb, and distinctly ambitious. This improbable experimentation is derived from material that, in the past, would have felt excessive to Modest Mouse's traditional sound, yet in this light lifts and engages the audience with an undeniable chemistry that springs from strong compositional values and earworm hooks that burrow deep. 
Every sound and track feels like it had more room to breathe, aside from the rather awkward introductory track, the rest of the album is an elegant indie pop rock that transitions between lyrical melancholy and sonic whimsy with the greatest of ease. This may not be Modest Mouse at the apex of their abilities, but it's a return that actually surprises and pushes, grabbing the audience's ears in ways that feel as meaningful as they did on The Lonesome Crowded West while carving on its own space for listeners new and old alike. 
---
Label: Epic
Year: 2021
---
Similar Albums: