Modest Mouse : We Were Dead Before the Ship Even Sank
Modest Mouse's The Lonesome Crowded West and The Moon and Antarctica, the band's two most critically revered albums, were characterized by a pervading sense of isolation and of loneliness. The former expanded greatly upon the general theme held within its name, that of loneliness, belligerence, bitterness and misanthropy in a dry and desolate West. The latter, however, was as cold as its continental namesake, Isaac Brock confessing his "art of fucking people over" and resigning as president of a barren and uninhabitable land. It could have been inferred from these two albums alone that the band was one of indie rock's most anti-social groups.
Then came "Float On." It was bright and catchy, optimistic and forgiving, a far cry from "Cowboy Dan," drinking himself silly and stirring up trouble on the Reservation. Lyrically, the song was still a series of unfortunate events—getting swindled by a fake Jamaican, hitting a police car, getting fired—but Brock's assurance that "we'll all float on okay" made each mishap just another mundane irritant to shrug off, not worthy of worry. It wasn't the band's first foray into commercial radio; "Polar Opposites" and "Paper Thin Walls" each got a few spins here and there. But "Float On" and the remainder of Good News For People Who Love Bad News marked a noticeable change in the band: while still acknowledging the negative, much of the album had a more positive, or at least melodically upbeat take, and for once could even pass for "party music."
Three years later, the band's fifth album, We Were Dead Before the Ship Even Sank continues further down the bright, colorful path tread on Good News. Expanding to a six-piece with the recent addition of Smiths, Electronic and The The alum Johnny Marr, Modest Mouse's sound has opened up and become denser. While Good News was the band's most accessible album upon its release, We Were Dead rivals it with an hour's worth of melodic standouts.
First single "Dashboard" is the most overtly slick and polished track on the album, funky basslines and guitar riffs shimmying and shaking beneath a powerful burst of horns. It's a far cry from "Teeth Like God's Shoeshine," but it's also a fantastic single, Brock diminishing the optimism of "Float On" with a slightly less positive "it would have been, could have been worse than you would ever know." "Fire It Up" also builds up a sweet melody and a stunning coda, Brock offering the consolation, "Well we always had it all."
Fragments of Modest Mouse's darker past emerge between the brighter moments, such as "Parting of the Sensory," a dirge that's somewhere between "Alone Down There" and "Bukowski," but a bit more epic. It's made all the more paranoid and weird with Brock shouting "Someday you will die somehow and something's going to steal your carbon." The eight minute "Spitting Venom" goes back and forth between Tom Waits-like weirdness and Modest Mouse's signature guitar-driven epic rock sprawl. Likewise opener "March Into the Sea" has a strong Waits influence, Brock barking like a madman over an amplified sea shanty sound. Yet "Fly Trapped In a Jar," the best of the album's darker tracks and maybe even best song overall, succeeds because of its juxtaposition of doom and danceability. Grooving like an abrasive mashup of "Rapper's Delight" and "The Magnificent Seven," the song is a morbid murder narrative, Brock spitting the detailed aftermath, "our bodies were laid out evenly for fifteen yards/ two feet above each of our heads was a fly trapped in a jar."
Some of the catchiest of We Were Dead's tracks are made stronger with vocal harmonization courtesy of The Shins' James Mercer, who lends his talent to "Florida," "We've Got Everything" and "Missed the Boat." "Florida" in particular is an incredible track, still carrying a bit of abrasiveness, while soaring majestically during the transcendent chorus. The other two are quite enjoyable in their own rights as well, "Missed the Boat" being notable for having such a clean, gentle sound, while "We've Got Everything" returns to a dancefloor funk approach, Mercer's ethereal voice reminiscent of Kate Bush here, of all things. "People as Places as People" is yet another amazing track, despite being one of the simplest. Its progression isn't all that complicated, but the band strikes a clear, melodic path, while adding some of their trademark touches, i.e., tremolo pick harmonics.
With a minimum of meandering and a more mature, sophisticated pop approach, We Were Dead Before The Ship Even Sank finds Modest Mouse becoming more comfortable within a different dynamic. Their transition has been a very gradual one, and though a Modest Mouse with more gloss may not appeal to disciples of "Shit Luck" or "Long Distance Drunk," few will find it difficult to embrace this more social version of the band, injecting more fun into their music than anyone could have imagined.
Similar Albums:
Modest Mouse – Good News For People Who Love Bad News
Franz Ferdinand – Franz Ferdinand
Built to Spill – Keep It Like a Secret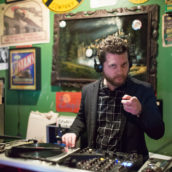 Jeff Terich
Jeff Terich is the founder and editor of Treble. He's been writing about music for 20 years and has been published at American Songwriter, Bandcamp Daily, Reverb, Spin, Stereogum, uDiscoverMusic, VinylMePlease and some others that he's forgetting right now. He's still not tired of it.