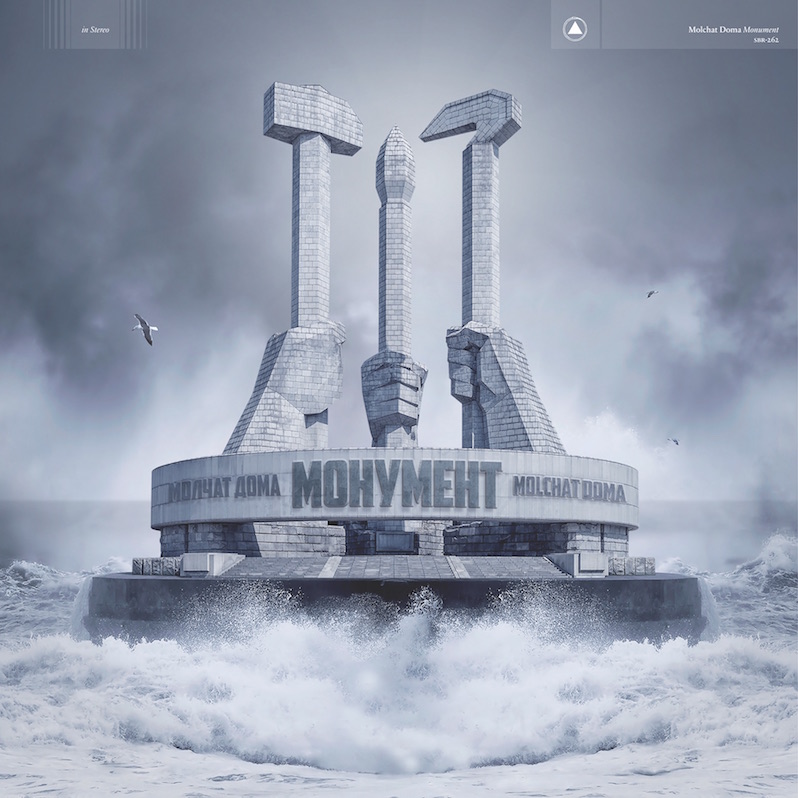 Molchat Doma (which translates from the Russian as "Houses Are Silent") are a post-punk/coldwave trio from Minsk, Belarus, producing music so icy and glacial that it seems to make the air around your headphones grow colder. When I stumbled upon their 2018 album Etazhi earlier this year, I felt compelled to order it for a foolish price from some obscure German seller on Discogs. Imagine my dismay when I discovered it was being reissued by Sacred Bones, who are the worthy custodians of the group's new LP Monument.
In any case, it appears this critic is not the only one who has had his heart stolen by the dour demeanor of Molchat Doma and their uncompromisingly gloomy yet oddly danceable brand of electronica. Back in April, the band found themselves becoming a viral phenomenon, as their song "Sudno [Vessel]" provided the soundtrack to Leon Verdinsky's moody TikTok montage about growing up in Russia (attracting over five million views and countless more copycats).
Since forming in late 2016, the trio have rapidly grown from relative obscurity to achieving a certain cult status among alternative music fans. Preoccupied as they are with the post-Soviet aesthetic and grey, abandoned memorials of past regimes, 2020's Monument could be seen as a sepulcher for their own sudden and surprising international success, as the world waltzes into oblivion.
On the other hand, there is the volatile political climate of the city of Minsk (where the album was recorded in quarantine), as Alexander Lukashenko's highly repressive regime—which has ruled Belarus since 1994—escalates further with its recent, vicious crackdown on protests and opposition. Other critics, such as Pitchfork's Cat Zhang, have speculated about the political position of their music, and how far it relates to the idea of "hauntology" and the spectre of Marxism in the digital world. However, in a recent interview with The Wire, Molchat Doma professed they were "an apolitical band," concerned more with romanticizing the everyday and uniting us in the anguish we share.
The doom-laden, reverb-drenched croon of Egor Shkukto's vocals is perhaps the most evocative, imposing aspect of their music. The weighty, Russian-language lyrics convey a sense of universal sorrow, a seemingly incurable Weltschmerz, to perfectly encapsulate our current age of apathy and anxiety. "Discoteque" advocates a blissful ignorance to the world's pressures through the medium of dance, while "Leningradskiy Blues" conjures cinematic vignettes of love and loss in Leningrad.
Laid against slabs of regimented synth percussion and mournful guitar lines (courtesy of Roman Komogortsev and Pavel Kozlov), their sound is immediately recognizable, at once nostalgic and innovative. There are the obvious comparisons to a string of '80s gothic synth-pop and darkwave pioneers: Joy Division, New Order, Killing Joke, Depeche Mode, to name a few. However, the band themselves have cited 1980s Russian new wave music as their main inspiration (including acts like Kino). Let it be said, then, that long may the glorious regime of Molchat Doma and their Brutalist approach to post-punk reign. I can think of no finer musical companion for these dark, long winter nights.
---
Label: Sacred Bones
Year: 2020
Buy this album at Turntable Lab
---
Similar Albums: