More Rock, More Talk: The 5 Types of Stage Banter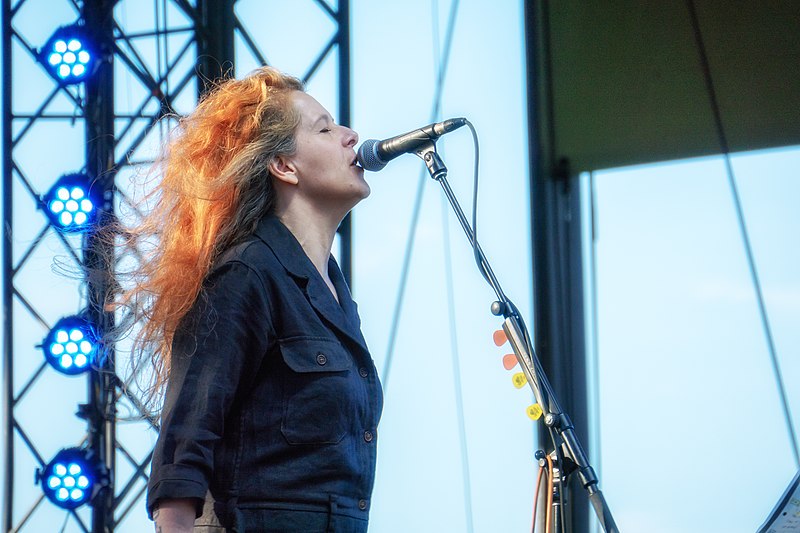 Bob Dylan doesn't care if you like him. It's the same now as it was in 1963. Dylan is a songwriter, and when he's performing on stage, he lets his songs do all the talking. He'll introduce his band, and that's all he needs you to know.
Courtney Love is not Bob Dylan. For all her bravado, Courtney wants desperately to be liked. During shows she talks constantly to the audience, even if it's just to swear at them. Courtney wants you to know everything – the good, the bad and the ugly – because then it's almost like you're friends.
Dylan and Love represent the opposing poles of stage banter technique. This occurred to me as I saw them both over Labor Day weekend at the Bumbershoot festival in Seattle. With dozens of bands playing over three days, the full array of stage banter personae were on display, and it occurred to me that most groups and artists can be divided into five distinct categories. No one type is necessarily better (or worse) than the others, but they do provide very different concert going experiences.
The Strong Silent Type: This is Dylan all the way. He put on a phenomenal show headlining the first night of Bumbershoot, playing songs as old as "Don't Think Twice, It's All Right" and as new as "Thunder on the Mountain," many with fresh arrangements. Aside from introducing his band about two-thirds into the show, I'm not sure he ever acknowledged the crowd, and I honestly didn't care. Usually you need a strong legacy to pull this off, but I'd put HEALTH into this category as well. They were loud and raw and energetic as hell, but barely spoke. Surprisingly (to me at least) Weezer belongs here too. The famously moody Rivers Cuomo ran around and off the stage so many times that at one point, the spotlight had trouble finding him. But while he stood astride port-o-potties and donned a blond wig to work a Lady Gaga cover into an MGMT cover, he still didn't actually say much.
The Workman – Most indie rock bands fit in this category. They'll talk a bit – to say hello or introduce songs – but they keep it short and then back to the music. As long as the songs are good, this isn't a problem; but when things aren't gelling, this kind of show can get boring fast. One of my personal favorites, Jenny Lewis, is a perfect example. When she's with Rilo Kiley or touring in support of her solo work, the crumbs Jenny throws to her adoring fans are enough. At Bumbershoot, she was performing as half of Jenny and Johnny, her new project with Jonathan Rice. The audience didn't know the songs, the songs weren't the type to reach out and grab you, and a little more banter might have helped.
The Wallflower – Similar to the Strong Silent Type, except that the band comes off as genuinely shy. Ra Ra Riot put on a wonderful little show during Bumbershoot, nearly completely sans banter. In the middle of the set, the drummer's kick pedal broke, and a clearly flustered singer Wes Miles actually resorted to talking about the weather. The band rallied quickly, playing an unplanned performance of their percussion free song "The Orchard." They were clearly more comfortable with that than the unplanned chitchat.
The Avalanche – Oh Courtney. From the minute she walked on stage and asked, "So, how have you guys been?" before playing a note, Courtney Love let it all hang out, as is her want in life. "I wrote this song at a spa. Aha, ha, ha, ha aha, ha," she said before playing one of Hole's new tracks. "That's what I tell all the WASPs in the Hamptons. `I was at a spa.' I can be real with you people, it was rehab," she continued, clarifying what needed no clarification. She apologized profusely for her cover of Pearl Jam's "Jeremy" both before and after playing it, then yelled at a mocking fan, "Oh shut the fuck up, you loved it!" The Avalanche approach is a lot like NASCAR: There's always something happening, but everyone's really in it hoping for a crash. It doesn't have to be a disaster; Mary J. Blige talked a lot too, but it was mostly of the "Yeah Seattle! You guys are making my year," variety. She and Courtney have grappled with similar demons in their lives; maybe Mary could advise Courtney on controlling her stream of consciousness too.
The Algonquin Roundtable – These are my favorites. They're the artists who talk just enough, and it always sounds spontaneous and setting-appropriate. Two great purveyors of the AR approach played in succession at Bumbershoot, Colin Meloy and Neko Case. Meloy was pretty subdued during the Decemberists' set, but Case didn't disappoint. She dedicated her song "This Tornado Loves You" to her three-legged cat Wayne, who was missing. "If he did get eaten by a coyote, I hope he didn't really notice. He's that kind of guy," Case said wistfully, making for a comically odd intro to the emotional song. When it was over, we got more back-story on Wayne. "When he was a kitten, a horse stepped on one of his legs. He walked around with it kind of pushed in front of him like a hockey stick, so we called him Wayne after Wayne Gretzsky. Alternately, the Great One. Eventually the leg got infected and we had to remove it but he still got around OK. Come home Wayne!" The story was funny and memorable, and even if Neko is telling it in every city she goes to, it felt unique to us. And I'll never hear "This Tornado Loves You With" again without thinking of three-legged cats. Isn't that what concerts are kind of all about?
Further Listening
Elvis Presley – Having Fun on Stage with Elvis
Tom Waits – Tom Tales
Robert Pollard – Relaxation of the Asshole
Fugazi – Banter bootleg
***
Photo by David Lee, Creative Commons (CC BY-SA 2.0)