Neneh Cherry : Blank Project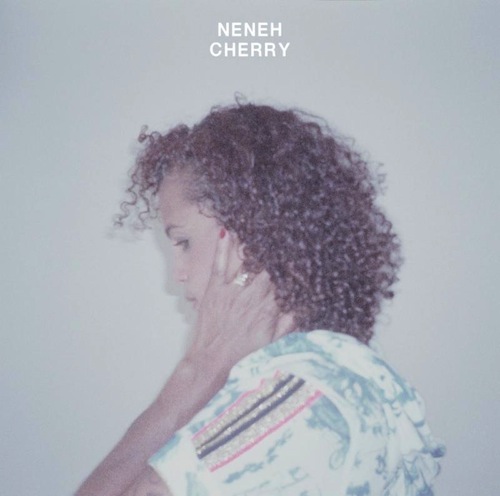 Buy at iTunes | Buy at Insound (vinyl)
1. I have a loose association to "Buffalo Stance." Recorded in 1988 when I was only six years old, you could say that it was "before my time." I think my older sister had the album on cassette, which I later took from my parents' house a year ago.
My partner and I have "Buffalo Stance" on 7-inch. We bring it nearly every time we DJ but have never quite brought ourselves to play it. It has a unique sound, and we can never seem to make it gel with whatever tracks we're playing, so it gets pushed back behind other records and I feel bad for it. I love the song and I love how powerful Neneh Cherry sounds. There's a life to the song. I wish I played it more.
2. Blank Project is a different animal. It's calmer. It's minimal. I kept thinking of that phrase, "still waters run deep." I realize that it's a silly thing to think about when trying to review an album, but my brain has an uncanny ability to repeat phrases for hours on end, such as 'iron helps us play.'
Listening to the patter of percussion and the sparse arrangements, it's a marvel how restrained Blank Project sounds. There's a maturity that I suppose only comes from making music for 25 years. But there is also an undeniable excitement that stretches across the album, it unfurling with assured steps. She collaborated with Four Tet's Kieran Hebden and RocketNumberNine, and made an album that is confident and thoroughly lived in, much like Cherry herself.
3. I've been here before. I had a similar reaction when I first greedily listened to Portishead's Third on repeat. I was somehow shocked at how different Third sounded from Portishead and Dummy. It was both completely different from what they had sounded like and yet still very much Portishead.
There's this impulse to want a band or artist to keep making music in the style that we first heard them. This is a silly and unreasonable impulse. It's symptomatic of our desire to freeze and hold onto our past. It is nostalgia at its worst. It is unreasonable to expect that Portishead's new record after nearly ten years would sound like their previous works, and to fixate on one's desire for more of the same would be to miss how great an album Third is. Likewise it would unreasonable to expect Neneh Cherry's new music to sound like a song she made when she was 24.
I find it apt to bring up Portishead here. What Neneh Cherry has made here is invariably at trip-hop album. It's extremely listenable and has a slinkiness that I often ascribe to songs from trip-hop's heyday. As a producer and artist, Hebden has a tendency to wear his influences on his sleeve, and Blank Project has its share. "Across the Water," a searing and brooding rumination on the death of Cherry's mother, has shades of James Blake and even Digable Planets and spoken word. The title track, an unruly and deliciously feral song, recalls Portishead, Björk and TV on the Radio. I can keep ticking off comparisons, but what keeps Blank Project from being mired in its influences is Cherry, who sounds like no one else. Her sultry voice is wonderfully emotive, full of character and warmth. I feel privileged to hear it.
4. One more thing about Blank Project and Cherry. This record sounds alive. It's sounds like sitting in a room as Cherry, Hebden and RocketNumberNine are recording together, live. There's a quality about it that makes it feel like a living and breathing record. Maybe it's that Cherry's voice is wonderfully unaltered. Imperfect notes are left intact and there's a fullness that sounds like she's here with me.
It reminds me of how vibrant and alive she was performing on Top of the Pops in 1988 while eight months pregnant. There is fearlessness there and I hear it again in Blank Project. In an interview with Pitchfork, Cherry spoke about a sense of urgency. "I think [Blank Project] is very much about being here and now rather than being trapped or trying to recreate some kind of nostalgia. I'm allergic to doing the obvious thing."
I'm excited that Blank Project and Cherry has as its peers women like Beyoncé, FKA Twigs, Solange, Kelela and even Angel Haze, Nicki Minaj, Savages, Laura Marling and St. Vincent, among others. I'm excited to hear such beautiful, confident, and fearless women make music that is true to who they are. I'm excited that they all seem to be "allergic to doing the obvious thing."
Similar Albums:


Portishead – Portishead


Björk – Vespertine


James Blake – Overgrown