Nick Drake : Five Leaves Left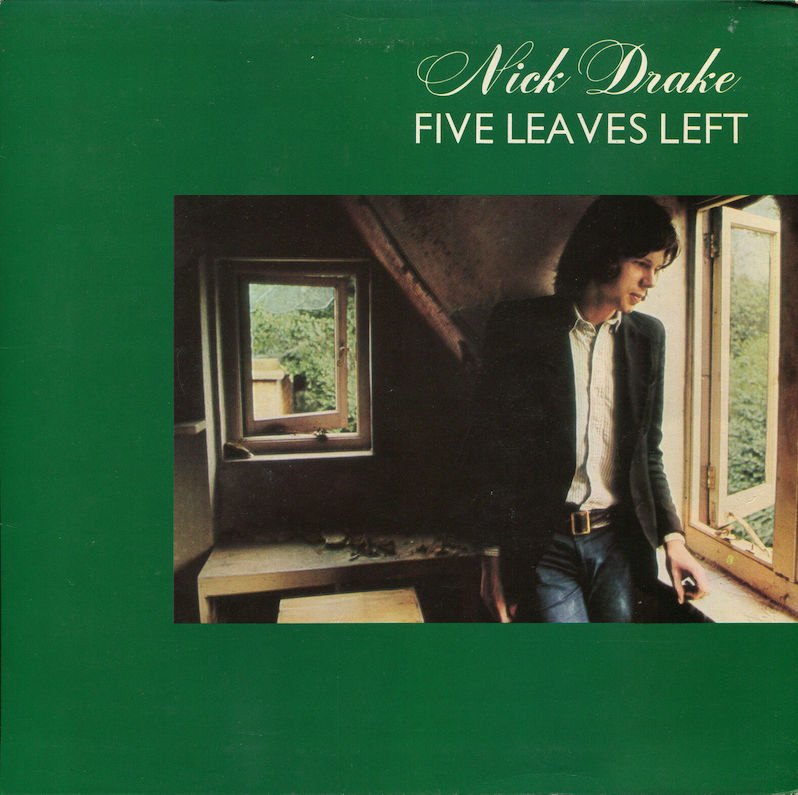 There's absolutely nothing like discovering something incredibly beautiful that might have been missed before. This is the way people today feel about Nick Drake. Discovered at the age of twenty, Nick Drake's story is at once star-crossed and tragic. A member of the acclaimed British folk group Fairport Convention caught Drake's rare live performance and recommended him to their producer. He was signed thereafter and made three albums, the debut Five Leaves Left, Bryter Layter, and Pink Moon. Amidst depression and other psychological afflictions, Drake passed away in his parents' house at the age of 26. What he left behind was a cache of beautiful compositions, unappreciated in its time, and now left to be discovered by seekers of the sublime.
Five Leaves Left was the first album that Drake recorded. Influenced by various bits of poetry and featuring incredible weeping strings to accompany his breathy and hushed vocals, tracks like "River Man" should have become instant classics. It has been only recently that Nick Drake's music has begun to be rightfully appreciated. Brad Mehldau does a beautiful jazz piano rendition of "River Man," while artists from Elton John to Sebadoh have performed other renditions of Drake songs. It also seems like somewhat of a requirement for modern movie soundtracks to feature a Nick Drake song for a melancholic scene. One of the hardest to watch now is The Royal Tenenbaums, where the song is used after a scene that has since become even harder to watch. First, Luke Wilson's character Richie Tenenbaum is shown preparing to commit suicide while Elliott Smith's "Needle in the Hay" is playing. This is hard enough. Then, as Richie escapes from the hospital and climbs on the bus, we hear Nick Drake's "Fly."
Besides "River Man," one of the other standout tracks on Five Leaves Left is the baroque strings laden song "Way to Blue." Like all music and lyrics from artists who have passed too soon, they can and almost always are interpreted to seem as if the artist were prophetic. "Way to Blue" is certainly one of those songs, "We will wait at your gate / Hoping like the blind."
Take even the title of the album. There are two possibilities as to where it came from. The first is from a certain type of British cigarette rolling papers which would place a message in the package when there were "five leaves left." The second, and a little more morbidly portentous, is from an O. Henry story called The Last Leaf in which a character notices the falling of the leaves from the ivy, remarks that there are only five left hanging, and then says, When the last one falls I must go too.
The closest parallel I can think of to the beauty of Drake's music and voice as well as the tragic end and prophetic lyrics is Jeff Buckley. A lot of people have made the comparison, and while not entirely fair or accurate, there are similarities to be sure. Both were brilliant singer songwriters with beautiful vocal talent, died too young and tragically, and were more popular and celebrated after their deaths than before. But that is where the similarities tend to end, except by stretching that Drake sang about "Lilac Time" and Buckley about "Lilac Wine."
The danger in discovering talents like Drake and Buckley lies in the fact that the supply is limited. There are only so many songs that they wrote or recorded. Magically, friends and relatives of both seem to come up with material that hasn't been heard before. For Drake, those songs arrived in a recent compilation called Made to Love Magic. Yet with other great songs including "The Thoughts of Mary Jane," "Fruit Tree" and "Saturday Sun," Five Leaves Left can easily be thrown into a rotation of soothing albums for a Sunday morning.
So Sunday sat in the Saturday sun / And wept for a day gone by
The poetry and emotion involved in this last line on the album has an eerie energy that both soothes and saddens at the same time. The album can stand alongside Van Morrison's Astral Weeks, as one of the defining folk singer/songwriter albums of its generation. It doesn't hurt to have the great Richard Thompson play guitar on your first album, but his presence takes a backseat to the subtle, gentle, and warm talent that is Nick Drake. In the years following 1969, before Drake's death in 1974, he released two more albums, equally as good and worth owning, but Five Leaves Left stands out as the first, the introduction that many had to the genius of his songwriting and singing.
---
Label: Island
Year: 1969
---
Similar Albums: