Nirvana : Bleach: Deluxe Edition
In the span of about eight hours, split between two lengthy plane rides between Madrid and San Diego, I read the entirety of Chuck Klosterman's tome on '80s glitter metal, "Fargo Rock City." In one of its most fascinating chapters, Chuck draws numerous parallels between Nirvana's Nevermind and Guns `n' Roses' Appetite for Destruction, stating that the albums are sequenced similarly, the music at times shares some sonic likeness and, hell, Kurt Cobain and Axl Rose even sort of looked alike at the time. Odd as it may sound, he's got a point. Nevermind was a mainstream smash for many of the same reasons as Appetite—namely for packaging loud guitars and youthful unrest into something remarkably fresh—it was chiefly the aesthetics in the execution that differed most. The same can't be said of Nirvana's other two albums, however, sounding much more abrasive and closer to punk rock than their major label debut, thus making Nevermind the odd man out in a way. With In Utero, the shift away from accessibility was perhaps reactionary, but with their debut album Bleach, however, the band was merely stomping their way through the sludge and toward something bigger.
Listening to Sub Pop's 20th anniversary reissue of Bleach after having not spun it in years, I'm pleasantly surprised at how much hookier it is than I remembered it. Famously recorded for $600 in December 1988 and January 1989 by Jack Endino, Bleach is raw and agitated, imperfect and often more like a live album than a studio recording. But for something so free of sheen, it's a strong album, even reasonably cohesive. Flecks of the monster rock hooks peek through on songs like the monumental opener "Blew" and classic "About a Girl." "Mr. Moustache" is another tuneful gem, a dizzying series of riff staircases that escalate to an old school punk chorus. And even "School," which is as jittery and weird as the band gets, soars to a fist-pumping chorus in which Cobain shouts "No recess!"
Still, it's fairly remarkable that this album immediately preceded Nevermind, even if the band had two years to grow from here. Alongside its more accessible points are some tracks that find the band at their most crunchy and menacing, such as "Paper Cuts," which likely wouldn't have made the cut on the group's Geffen albums for its tuneless sludge. "Negative Creep," meanwhile, has become one of the brightest spots in the band's brief canon, a track that's become somewhat iconic though not because it's all that catchy in a traditional sense. But it's certainly the type of song you don't forget once you hear it, which is true of a lot of the band's catalog, come to think of it.
The album is backed by a live set at the Pine Street Theatre in Portland from 1990. And, as a testament to the live, raw nature of the album, its sound is reasonably similar to that of the studio recordings, save for some more manic wailing courtesy of Cobain. Yet, their set isn't made entirely of Bleach standards, which makes it somewhat more interesting. Their crunchy run-through of single "Dive" opens a wider window into the catchier, commercial radio-friendly sound they'd soon evolve into. Their cover of The Vaselines' "Molly's Lips," which they also recorded as a B-side, is a spunky break from their churning grunge, while "Sappy" is an early version of "Verse Chorus Verse," which later appeared on No Alternative and, in this writer's opinion, is one of the band's finest songs.
A lot of things changed between Bleach and Nevermind, from the group's leap to a major label, to production from a big timer like Butch Vig, and most notably, adding new drummer Dave Grohl to the lineup. And it probably can't be stated enough how much of a difference Grohl made; Chad Channing's performance on Bleach is good, but nowhere near as legendary as what came afterward. That said, Bleach is more than just a classic-in-training, it's a great album of punky, sludgy rock that was remarkably weird and accessible at the same time. Twenty years later, its sound remains an amazing one, even if, in retrospect, it seems like the work of some pretty unlikely hitmakers.
Similar Albums:
Mudhoney – Superfuzz Bigmuff
Dinosaur Jr. – Bug
The Melvins – Ozma
Download at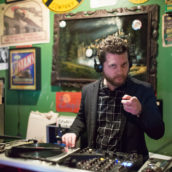 Jeff Terich
Jeff Terich is the founder and editor of Treble. He's been writing about music for 20 years and has been published at American Songwriter, Bandcamp Daily, Reverb, Spin, Stereogum, uDiscoverMusic, VinylMePlease and some others that he's forgetting right now. He's still not tired of it.