Okkervil River : The Stand Ins
Just a little over one year ago, Okkervil River released The Stage Names, a stunning and impeccably crafted album that, while not quite as sweeping and epic in scope as Black Sheep Boy, set out a tarnished yet beautiful landscape of characters and melodies that became more endearing and heartbreaking with each listen. In contrast to past albums, The Stage Names was a bit more personal, a bit closer to the bone, though energizing, if in a somewhat depressing way. "Our Life Is Not a Movie or Maybe" is one such example, in which Sheff sets the contrasting theme of life's failings in living up to movie standards up against an uproarious rock `n' roll background. Though it may have exposed some uncomfortable truths, it also displayed them in the breathtaking way that only Okkervil River could accomplish.
It would ultimately be revealed that The Stage Names was originally conceived as a double album, though the band decided against releasing it that way. Instead, Okkervil River rebounds with The Stand Ins, a companion album to The Stage Names, and a cohesive and wonderful album all its own, featuring eleven tracks of perfectly arranged and even more accessible melodies, with three title tracks acting as segues to separate different segments of the album.
In many ways, the themes on The Stand-Ins line up perfectly with those on its predecessor, primarily those of the hollow chasing of fame, and the harsh realities that almost assuredly come with being a professional musician, and with the frustrations that come when pop music doesn't provide the answers. It might be a little bit of a downer, that much I'll concede. And yet when Will Sheff tells the ugly truth, having it accompanied by some of the best pop songs of the year makes it go down that much easier.
The Stand Ins opens on a bittersweet note with "Lost Coastlines," pairing Sheff and former bandmate, and Shearwater frontman, Jonathan Meiburg to trade verses. The two provide great contrast to one another, as Sheff's voice is louder and more bombastic while Meiburg is more restrained and pitch-perfect. Yet Meiburg is the one who delivers the most tearjerking line, crooning "look out at each town that glides by/ and there's another crowd to drown in crying eyes," putting a life of endless travel in somewhat defeating terms. Yet its upbeat melody and soaring string crescendo still make it somewhat of an uplifting track; I still wonder how they pull that off.
"Singer Songwriter" is a barn-burning standout, with Sheff delivering some bitter invective: "and you're keen to downplay, but quick to betray/ with one well-turned-out wave of your hand/ that you come from wealth/ what a bitch that they didn't give you much else." With "Starry Stairs," the mood is softened for a soulful and moody ballad, with elegant touches of horns and organ-driven atmosphere, with the music cutting away for one seemingly exposed, though ambiguously ambivalent moment when Sheff says "if you don't love me, I'm sorry." The intangible hope that comes with idol worship is described in beautifully articulate terms in "Blue Tulip," in which Sheff sings "hats off to my distant hope, a ray of light, a puff of smoke/ my street tonight's on fire with hope you'll be there and you'll see us." It builds to an empowering and emotional climax, as Okkervil River is often wont to do, but the quality in this case most certainly lives up to past glories.
Sheff & Co. riff on a Prince joke with "Pop Lie," another fiery rocker and indictment of the illusions within pop songs: "he's the liar who lied in his pop song/ and you're lying when you sing along." As an aside, in the liner notes beneath the song's lyrics read: This is respectfully dedicated to the woman who concentrated all of her love to find that she had wasted it on the liar who lied in this song—ouch. It's hard to say whether "On Tour With Zykos" is autobiographical, save for the touring with Zykos part, though it's hard not to suspect that at least part of it is, particularly the age-identity hopelessness when Sheff sings "I can't say that I'm feeling much at all at 27 years old."
The Stand Ins comes to a magnificent close with the six-minute "Bruce Wayne Campbell Interviewed on the Roof of the Chelsea Hotel, 1979." For those out of the loop, no, Bruce Wayne Campbell not a mash-up of Wayne's World and Batman, but rather the real name of glam rocker Jobriath. Sheff brings the narrative to a close by, quite literally, saying "Fuck long hours, sick with singing the same songs" as the narrator shifts from the scenario of a musician that stops caring about perceptions to musings upon being consumed by stars. The way in which the music sweeps toward a climax is a masterstroke, surely among Okkervil River's best songs. And so the album closes, just as bittersweetly as it begins, but with a tiny twinge of hope. Will Sheff knows that pop music isn't always what it's cracked up to be, and almost seems to question whether it's worth the trouble. But hearing how the album plays out, it's obvious that, no matter how diminishing the returns, it's a labor of love, and the emotion and craft that pours out from this album is a testament to that.
Similar Albums:
M. Ward – Post-War
Okkervil River – The Stage Names
Arcade Fire – Neon Bible
MP3: "Lost Coastlines"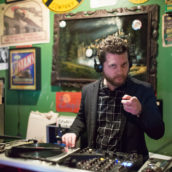 Jeff Terich
Jeff Terich is the founder and editor of Treble. He's been writing about music for 20 years and has been published at American Songwriter, Bandcamp Daily, Reverb, Spin, Stereogum, uDiscoverMusic, VinylMePlease and some others that he's forgetting right now. He's still not tired of it.