On Her Majesty's Secret iPod: The Best of Bond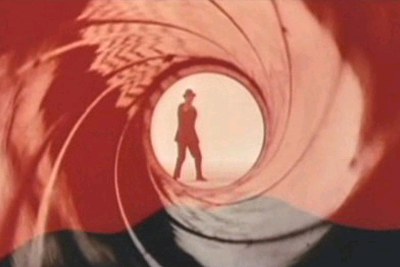 On Nov. 14, Quantum of Solace, the 22nd in a long line of James Bond films will premiere in theaters across America, carrying on a long tradition of international espionage, intrigue, secrecy, finely tailored suits and tuxedos, expensive automobiles, sexy exotic women, badass electronic gadgets and action scenes galore. Everyone has his or her favorite Bond film, not to mention favorite Bond. Sean Connery is the original, a classic wisecracking playboy sophisticate, while Daniel Craig has a gritty edge, and certainly drives the ladies wild. One could also make the case for Roger Moore, Pierce Brosnan or Timothy Dalton, and heck, even George Lazenby's gotta have a few groupies out there as well.
One of the most important aspects of the James Bond franchise, however, is the music. Few cinematic scores are as legendary and as revered as John Barry's orchestral ode to espionage, and the Goldfinger score is nothing short of a masterpiece. Likewise, when David Arnold took the reins, he proved himself with similarly awesome feats of melodic drama. Imagine the opening sequence, the fight scenes, the witty banter, the skydiving, the boat racing, the explosions or the romantic escapades without the right musical accompaniment. To say the films wouldn't quite be the same is a bit more than an understatement.
Yet with almost every Bond movie comes a pop song that defines it, usually run during the title sequences, whether they depict female silhouettes doing backflips or card suits used as weapons. In some cases, there may be more than one pop anthem per film (see contributions by The Pretenders, k.d. lang). Regardless, without that runaway tune, a James Bond film just isn't complete. Suffice to say, we've grown fond of quite a few of them, and though it was tempting to list the `007′ best Bond themes of all time, we'd be cutting it unnecessarily short. So here's an even 10, our picks for the perfect James Bond playlist.
Shirley Bassey – "Goldfinger"
Shirley Bassey's sassy anthem to 1964's Goldfinger is the ultimate Bond theme. It's campy, it's intense, and ties in perfectly with John Barry's legendary score, incorporating the score's big, brassy central hooks. It's enormous and brash, larger than life. Bassey's vocals are over the top, as she purrs and howls about the title villain, "Goldfingerrrrrr/ he's the man with the Midas touch/ a spider's touch." Yet part of its status comes from the fact that it's the theme of the most beloved James Bond flick of all time. And of course, there's Homer Simpson's version: "Max Power/ he's the man whose name you'd love to touch…"
Download at

Tom Jones – "Thunderball"
It seems only fitting that Tom Jones provides the title theme to the film in which Sean Connery spends the greater part of its duration running around in little shorts. Regardless, the Welsh ladies' man's vocals are something of a masculine companion to Shirley Bassey's, as they both project a deep, dramatic and throaty sound. Tom Jones, something of a playboy himself, likewise seems a perfect musical match to everyone's favorite British secret agent. And James Bond has likely been pelted with a few pairs of undies in his time.
Download at

Nancy Sinatra – "You Only Live Twice"
Nancy Sinatra's contribution to the James Bond ouevre, "You Only Live Twice," may not be the most widely recognized here, though its elements have emerged numerous times in more recent years, thanks to a sort of resurgence in Barry worship during the Britpop era. Robbie Williams sampled the song in his single "Millennium," while Mansun re-incorporated parts of the melody in their song "The Chad Who Loved Me." While I tend to go back and forth between favorite Bond themes, Sinatra's is particularly cool. For sure, Sinatra's pin-up good looks made her a potential Bond girl herself, while the sweeping strings and distorted guitars made a lethal combination that sets the song apart as not just a noteworthy part of cinematic culture, but a spectacular song all its own.
Download at

Paul McCartney & Wings – "Live and Let Die"
It seems a bit ironic that one of the most well-known Bond themes was performed by none other than Paul McCartney, as, if you recall, in Goldfinger, Sean Connery joked that drinking Dom Perignon at the wrong temperature was like listening to the Beatles without earplugs. Regardless, "Live and Let Die" is one of the most iconic Bond themes, primarily for its unforgettable riffs. Yet, for being such a high-powered rock song, it still contains the typical orchestral accompaniments, climactic timpani and horns. And what's more, it's transcended its connection to the film, having gone down in history as one of Paul McCartney's most famous songs. And considering how many hits he's written, that's no small feat.
Download at

Shirley Bassey – "Diamonds Are Forever"
Shirley Bassey has provided more performances throughout the Bond canon than any other pop singer, having lent the title themes to "Goldfinger," "Moonraker" and "Diamonds Are Forever," as well as "Mr. Kiss Kiss Bang Bang," an outtake from "Thunderball" (Dionne Warwick also recorded the song). This track is another standout, a classic that sits comfortably alongside "Goldfinger," but touched up with a bit of '70s polyester charm and just a bit of funk. And in further evidence of Bond music seeping into pop culture, in 2005, Kanye West sampled the track on his single "Diamonds From Sierra Leone."
Download at

Carly Simon – "Nobody Does It Better"
Carly Simon's anthem for 1977's The Spy Who Loved Me is notable, not just for being a great A.M. radio pop ballad, but for containing an element of Bond culture that few other themes have displayed quite so well: the double entendre. Like the Bond girls themselves—Pussy Galore, Plenty O'Toole, Onatop—Carly Simon's song is just the slightest bit suggestive. Not only is James Bond the best at what he does, but he's the best at what he does (wink, wink, nudge, nudge). It builds to a great, symphonic climax as well, making it a stunning track musically. Yet it's a track that has been referenced multiple times in pop music, ranging from Cat Power's "Good Clean Fun" to Radiohead's own live cover version.
Download at

Duran Duran – "A View To a Kill"
Duran Duran was selected to lend their talents to Roger Moore's final Bond flick, A View to A Kill, not too long before their skills began to slump. So, even if the track is a tad cheesy, it's still high quality new wave espionage groove, with John Barry horn samples phasing in and out of the New Romantic hooks. And looking back, it seems only fitting that Duran Duran, one of the biggest bands in the world, should be selected to supply the music for a 007 film. After all, take out the fancy weaponry and the lifestyle is nearly identical.
Download at

A-Ha – "The Living Daylights"
The Timothy Dalton era wasn't necessarily the most impressive series of Bond films (no offense to Dalton—loved ya in Hot Fuzz Tim!). Still, one of the more surprising highlights in the greater James Bond discography is A-Ha's theme to 1987's The Living Daylights. Heavy on synths and twinkly Casio effects, the song is very much a product of the '80s, though nonetheless a melodically dense and sonically dazzling track, even when the late nite sax solo busts in. But it should be said that if you don't have a soft spot for A-Ha, there must be something wrong with you.
Download at

Garbage – "The World Is Not Enough"
When it was announced that Garbage were to supply the opening theme to 1998's The World Is Not Enough, I couldn't help but think that no other band in their time was as suited to do the honors. For starters, tracks like "Vow," "Queer" and "Milk" proved well enough on their debut how adept they were at combining a dark nuance with compelling hooks. Furthermore, the exotic and sinister Shirley Manson is practically a Bond girl herself, so she could easily pull a double-shift. In any case, the band lends their own cool, dark, electronic variation with this song, incorporating a reverb-addled guitar, similar to that of John Barry's original composition, while layering heavy ambience underneath Manson's seductive and dramatic vocals.
Download at

Jack White & Alicia Keys – "Another Way to Die"
Jack White and Alicia Keys seem like an unlikely combo, and even more unlikely pair when it comes to providing James Bond with a seductive new theme track. But I'll be damned if these two don't kick ass on this one. Furthermore, it's a solid combination of White's scruffy, Zeppelin-inspired rock, Keys' smooth soulful songwriting, and that extra touch of David Arnold's big, majestic horns. Though White and Keys may inject a bit of grit into their contribution, it's an impressive and welcome variation on a theme, and furthermore, it comes as a free download with Guitar Hero World Tour. That's gotta count for something.
Download at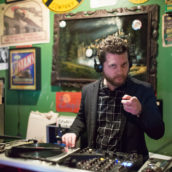 Jeff Terich
Jeff Terich is the founder and editor of Treble. He's been writing about music for 20 years and has been published at American Songwriter, Bandcamp Daily, Reverb, Spin, Stereogum, uDiscoverMusic, VinylMePlease and some others that he's forgetting right now. He's still not tired of it.