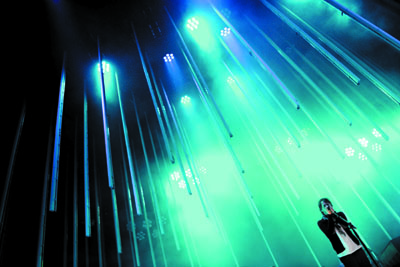 Last year, I had an absolute blast providing coverage for San Francisco's very first Treasure Island Festival. I took the time to note how "traditionally, San Francisco has not boasted a festival scene that can truly compete with cities like Chicago, Austin, and New York," blah blah, the city is too compact, blah blah blah. Basically, it seemed that Treasure Island was the going to be the Bay Area's ultimate as far as "traditional" music and arts festivals are concerned. The TI Fest only hosted 10,000 people per day, however, which is still modest in comparison to other festival juggernauts. Well, wouldn't you know it – just a few months after waxing poetic about the SF festival scene, the inaugural 2008 Outside Lands Festival was announced, taking place in the giant urban oasis of Golden Gate Park and nabbing Radiohead, Tom Petty, and Jack Johnson as headliners. Life takes pleasure in proving you wrong, I suppose.
The concept of the Outside Lands Festival may seem obvious on the surface level. Why not hold a major festival in Golden Gate Park? The space is ample, the setting couldn't be more beautiful (definitely gives the Gorge/Sasquatch! Festival a run for the money), and the Bay Area populace would love the opportunity to see a plethora of big acts oh-so-close to home. Early buzz surrounding initial OL announcements, however, was not exactly glowing. Ticket prices ($225 for all three days) caused mass grumblings, which didn't exactly let up after single day tickets opened up ($85 a day). Most Bay Area folks are accustomed to the regular festivals that take place in Golden Gate Park – Hardly Strictly Bluegrass and Power to the Peaceful, for example – which are free and more in sync with the notion of the public park. A free festival operates on a much, much different level than a major ticketed festival, a fact that many attendees seemed to forget. Hence, criticisms about the OL Festival (including prices, layout, access, etc.) both before and after the event were, in my opinion, somewhat misplaced, especially given the fact that this was the first year of what will, with any luck, become a regular event.
What became ridiculously obvious in the time leading up to the festival was the staggering power of Radiohead, who took the role of headliner on Day 1 of the festival. Not that this should necessarily surprise anyone, given how much the world has blown up since the release of In Rainbows. It was still striking to witness how the buzz around the festival often billed the event simply as "Radiohead," and not so much as Outside Lands in its entirety:
"Are you going to Radiohead?"
"Did you see that Radiohead is playing in Golden Gate Park?"
"When do doors open for Radiohead?" (wtf, there are no frickin' doors in a public park)
"$85 is expensive, but I think it's worth it to see Radiohead."
Radiohead's performance was truly amazing, so it's not as if the general sentiment went without merit. It says something pretty significant, however, that a festival bill also including a hefty number of musical heavyweights (Beck, Manu Chao, Steve Winwood, Ben Harper, the Black Keys, Lupe Fiasco, Cake, Primus, Broken Social Scene, Andrew Bird, Sharon Jones, Wilco, Widespread Panic, to name a few) would still be muted in the face of the almighty Radiohead. The drawing power of this band rang even louder in the few moments before the actual performance: Beck's set at the Sutro Stage ended on time, leaving those of us in attendance ten minutes to get over a hill, through a pathway staged by temporary chain-link fences to get to the Lands End stage for the two-hour Radiohead slot. This bottleneck proved difficult and slow, however, causing a flurry of charged attendees to rally together and TEAR DOWN THE FENCES, charging through to the tune of an actual war cry in order to find a somewhat decent spot for the main stage. This isn't Berlin! (Did I just liken the context of the Berlin Wall to that of impatient Radiohead fans?)
However, as the stage lit up and the beats of "15 Step" chugged powerfully across the park, I couldn't help but also feel something otherworldly in the presence of this band. Whether or not anyone listens to their classic albums on a regular basis means nothing – songs like "The Bends," "Videotape," "Optimistic," "Karma Police," "Paranoid Android," "Everything In Its Right Place," and "Subterranean Homesick Alien" will haunt and transfix to no possible end. A couple instances of sound glitches still couldn't deter, although I'm glad they were fixed relatively quickly, lest a riot ensue (we saw what rabid fans could do to inconvenient fence placement). Simply seeing Thom Yorke dance was worth the risk of being trampled. The variety of people within the Radiohead audience was noteworthy as well: from the young to the old, the hip to the square, the dancing dreadlocks to the frat bros with beer, the mother with her young children, and I think I counted at least half a dozen babies. Even babies love Radiohead!
Other artist highlights:
Beck: The Beck time slot caused much stress for many, as it was the same slot as the Black Keys. Ugh! Having not seen Beck before, and given the fact that the Black Keys are likely to tour more often, I opted for Beck. I can't lie and say that I wasn't thinking about how Beck might simply dial it in. However, he tore through splendidly, rocking the best stuff from his most recent efforts and happily playing the old classics as well (including a song from Sea Change!). He truly made the most of the more limited festival time slot; unfortunately, I can't say the same for Cake.
Stars and Broken Social Scene: Our friends from the North played wonderfully infectious sets, thought I realized in the face of the shorter festival set that both bands truly come alive in a full concert setting. BSS, however, truly made the most of it, sprinkling the set with the classics ("Fire-Eye'd Boy," "Anthems for a Seventeen-Year-Old Girl"), plus two numbers from the "BSS Presents Kevin Drew and Brendan Canning" catalogue.
Andrew Bird: The pure wonderfulness of an Andrew Bird performance never ceases to amaze me. His violin loops and unbelievable whistling are unyielding, and his Outside Lands set actually saw him accompanied by three other musicians (on guitar, bass, and drums), the most people I've ever seen him with. His vocal improvisation that comes out in a live setting demonstrates what must be perfect pitch, and his guitar chops weigh in steadily when necessary. A truly gifted musician.
Rogue Wave: The Oakland band's hometown pride shown through the fog that engulfed Golden Gate Park, to the point where the band had to be asked to stop jumping so much because they were jostling the solar-powered amps. They played the best of their best: "Bird on a Wire," "Love's Lost Guaranteed," "Like I Needed," "Harmonium," and ushered in "Lake Michigan" with an incredible assault of percussion.
Tom Petty: While I didn't realize it at the time, Tom Petty catered his headlining set to please people like me as well as the bigger fans. I wanted to hear a little of TP and his Heartbreakers, but I was tired and my feet hurt and definitely did not plan on staying long. He therefore played the hits first – "Free Fallin'," "Last Dance With Mary Jane," etc. – so people like me could still be satisfied. As we left the park and hunted for the best MUNI line to get home, we heard the strains of some Traveling Wilbury tunes and some other jammy stuff featuring Steve Winwood – for die hard fans only.
Wilco: They didn't play "Shot in the Arm." But, it was still Wilco, so it was still wonderful. I can't help but glow in the presence of this band. Funny highlight: after "Spiders: Kidsmoke," featuring Nels Cline going nutso on guitar, Jeff Tweedy says, "Hey man, that was a pretty good solo." Ya think?
Liars: Angus Andrew, I love you. I hear you're supposedly with Karen O and all, but please consider this an open relationship proposal. How can anyone resist his ridiculously hilarious onstage persona – from walking out onstage like a zombie, to making comments like, "Here we are in San Francisco, isn't it lovely, there's lots of trees and grass and stuff," to renaming the songs as they went along to amusing Bay Area references (i.e. "Back Home to Alcatraz" and "Oakland Raiders, They Are My Friends"). Besides the stage antics, the Liars performed an intricate set, their noisy, twitchy rock absolutely spellbinding.
The remainder of the weekend proved to be quite wonderful. Saturday and Sunday allowed for more time to actually explore the rest of the festival's attributes, and it became obvious how much the Outside Lands Fest was meant to represent all the distinct qualities of San Francisco and its surrounding areas. Food vendors were selected to mirror the Bay Area's well-respected epicurism, and the WineHaven featured at least a dozen booths from local wineries where you could get both tastings and full glasses. My personal choice to indulge in wood-fired flatbread pizza and a crisp glass of pinot noir proved to be quite heavenly. Six stages adorned the festival grounds, the spacing of which forces the recognition of Golden Gate Park's ample space. The trek from the Twin Peaks stage to the Lands End stage was not for the faint of heart, or for those dumb enough to wear their not-so-supportive, flat-footed Chuck Taylors (*raises hand, massages feet*). In between the two main stage bookends were the Panhandle, Avenues, Sutro, and Presidio stages, all of course named in recognition of famous San Francisco landmarks and destinations. It was obvious that the orchestration and design of this festival, care of Another Planet Entertainment, Superfly Productions and Starr Hill Presents, was elegantly crafted and executed, something that should not go unrecognized. For what Coachella and Bonnaroo manage to boast in sheer size and number of acts, Outside Lands makes up for in beauty and character, and I can't express enough the joy of experiencing a festival in cool fog versus burning dust and 100 degree heat. I still wonder how I managed to recover from the inevitable Bonnaroo-lung ailment, wherein your pipes are coated with dirt for at least a week post-festival. With Outside Lands, I left only a little tired as opposed to physically wrecked and painfully sunburned.
Not to say that the festival went off completely without a hitch; on the contrary, it's my hope that noble planners took careful notes this time around. Certain logistical problems were obvious on the opening day – painfully long lines at will call and ID checks, stressful and difficult exit strategies, and not enough MUNI buses to accommodate the masses in both the coming and going. However, these problems began to iron out even as Saturday rolled around, and by Sunday substantial improvements had been made. I also hope that the artist schedule is padded out a bit more next year, as ten minutes between different stages was not enough to get to the next act on time. In particular, Sunday's lineup was so chock-full of goodness that there was barely any time to actually explore and enjoy the rest of the festival. It's without a doubt, however, that Outside Lands 2008 was a success and much fun was had, from the perspective of both attendees and the City of San Francisco.
* photo by Jeff Kravitz