As electronica was mainstreaming in the mid-1990s, I heard about Oval's high-concept breakthrough album Systemisch, where they constructed music from recordings and samples of purposely distressed and damaged CDs. A minimalist collection of tuneless clicks, pointillism executed with unrecognizable fractions of vocals and instruments, I sadly considered it just this side of musique concrete, and pretty unlistenable. For material released in the heyday of Aphex Twin, that's saying something.
Fast-forward 15 years. Oval's Oh pings our sonar, and I can't help but be curious as to what the hell bandleader Markus Popp and his colleagues have been up to. It's not quite the fairy tale of the awkward high-schooler everyone finds is the hottie at the reunion, but it's a relief to find Oval not only embracing more formal song structure but formal instruments — or at least more substantive samples of instruments' sounds. Here they use guitars and drums, and sequencing of the same, to construct experimental atmospheres as well as approximations of actual jazz.
Oh starts off in very promising fashion. At or near radio-play length, each song in the opening quartet — "Hey," "Hmmm," "Grrr," and the title track — focuses on one of two particular sonic themes revisited through the rest of the release: an aviary of intriguing digital whines, or plucked notes over natural and glitched drum fills. They imagine Oh as the musical equivalent of a kinder, gentler version of the movie π, except the protagonist drills jazz theory into his head instead of theoretical computing out of it.
Strangely, Oh loses its focus once it hits "Kastell" and becomes a series of very short sonic experiments. There are moments where Oval's manipulations turn into something vaguely interesting — "Tricot" posits the guitar as Hammond B-3 organ, "Locria" suggests softly operating machinery such as a heart pump, and "Featurette" recalls rain on a windowsill. Yet these few creations don't build up nearly enough excitement to cancel out the rest of the EP's tracks focusing on little more than spacious, specious guitar tinkering.
Whether Oval meant for Oh to sound like two different albums smooshed together remains a mystery. Their composition methods here recall those of Flanger's late-1990s Ninja Tune work, and we hear glimpses of just how fascinating that kind of output might sound in the long run. The majority of this release, however, doesn't pass for more than Pat Metheny tuning up in the studio, and that doesn't quite pass muster.
Similar Albums:
Flanger – Templates
Jonathan Badger – Metasonic
Bill Frisell and Vernon Reid – Smash & Scatteration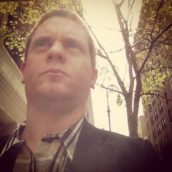 Adam Blyweiss
Adam Blyweiss is associate editor of Treble. A graphic designer and design teacher by trade, Adam has written about music since his 1990s college days and been published at MXDWN and e|i magazine. Based in Philadelphia, Adam has also DJ'd for terrestrial and streaming radio from WXPN and WKDU.