Lingua Ignota, Vile Creature, Thou, Moor Mother to play Perpetual Flame Ministries festival in Chicago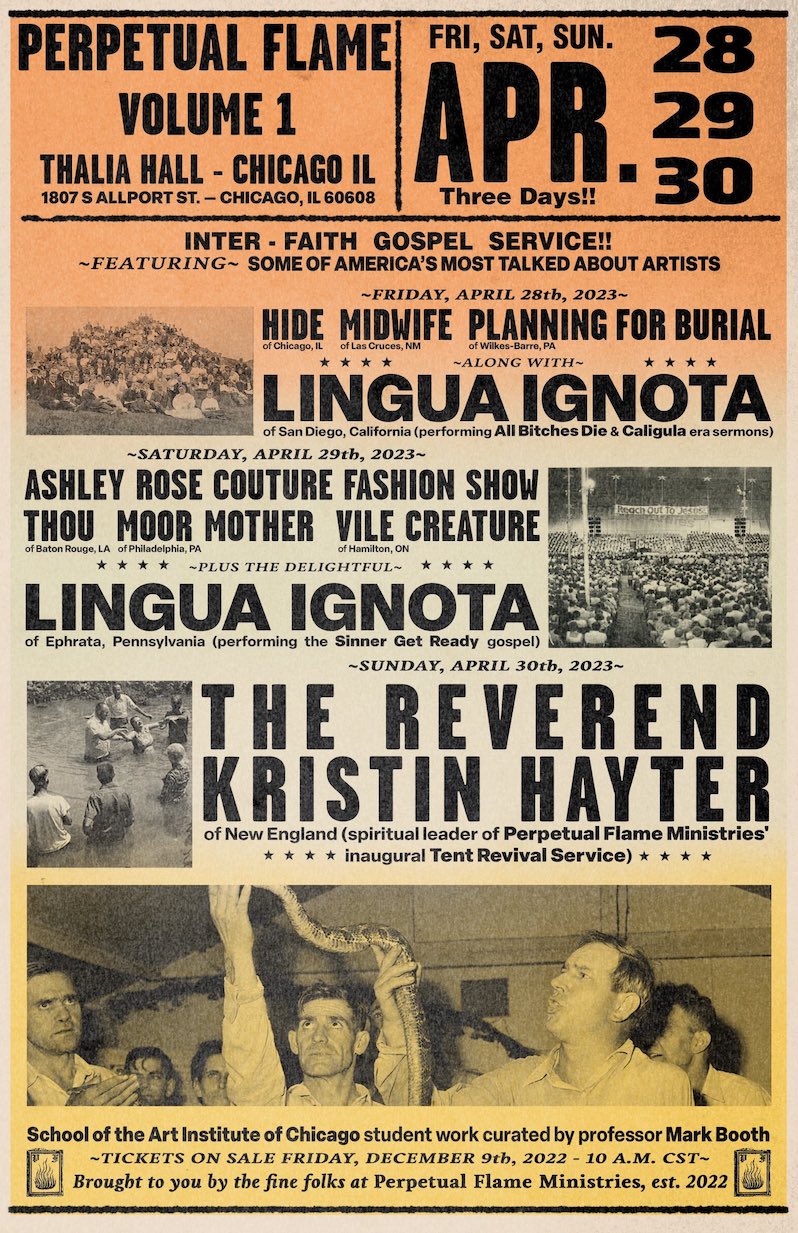 Lingua Ignota and Vile Creature's KW Campol have announced the launch of Perpetual Flame Ministries, a collaborative label and arthouse, and they're kicking it off with a festival this coming spring. On April 28-30 at Thalia Hall in Chicago, Perpetual Flame Ministries will hold a three-day fest featuring performances from Lingua Ignota, Vile Creature, Thou, Moor Mother, Hide, Midwife and Planning For Burial, plus an Ashley Rose Couture fashion show, and on Sunday, a tent revival show from The Reverend Kristin Hayter (aka Lingua Ignota). Check out the old-timey religious revival-style flyer above.
These will be Lingua Ignota's final performances in North America, featuring different eras of her career. She previously announced that she'll be retiring this incarnation of her music in order to pursue new directions.
Hayter says of the new collaboration in a statement, "Perpetual Flame Ministries, based on the title of my song 'Perpetual Flame of Centralia,' is about faith, empowerment, destroying to build anew, and survival. As well as self-driven projects and providing a place for me to release interdisciplinary work with complete creative control, we will curate work from artists that feel aligned with this world. For me, this represents a new chapter in my life and hopefully in the lives of my listeners and community — healing, rebuilding, self-determinacy."
Lingua Ignota's last album was 2021's SINNER GET READY. Thou and Moor Mother are each featured on our list of the 50 Best Albums of 2022.