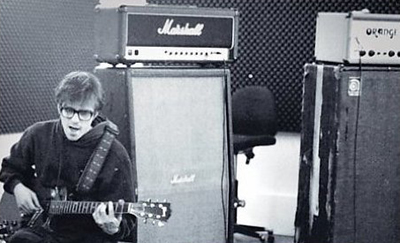 If we haven't said it already, Happy New Year. Treble is refreshed, invigorated and ready to take on 2008. And now that we're a few weeks into it, it seems that there's no better time than now to revisit a handful of albums released in 2007 that we didn't get around to reviewing.
Why didn't we review them, you ask? Well, that depends on which album you're talking about. Some of these were hard to find import releases that ultimately received wider release later on, some were gems that we hadn't even really heard of until recently, and others were merely casualties of a year that spawned hundreds upon hundreds of reviews. We didn't say we had a good excuse for it, but for what it's worth, we're trying to make things right. So, in the spirit of giving some great albums the attention they deserve, we will be adding a few each day just to show these additions to our collection just how much we care.
And, as we've said before, not adding these gems to your own collection is just plain perverse.

Bonnie "Prince" Billy
Ask Forgiveness
(Drag City)
"A new release from Will Oldham in any of his various forms is cause for celebration."
Read Review


Chromatics
Night Drive
(Italians Do It Better)
"This is an album of city lights blurring in rearview mirrors, and slow raindrops trickling across windshields."
Read Review


Gorillaz
D-Sides
(Virgin)
"Essentially, this compilation has one disc for each type of Gorillaz fan."
Read Review


King Khan and The Shrines
What Is?!
(Hazelwood)
"What Is?! is somewhere between The Stooges and James Brown, with a dash of Love for a psych-folk effect, and Sun Ra for the group's most truly out there moments."
Read Review


Radiohead
In Rainbows (Disc Two)
(Self-released)
"The second disc of rarities, extra tracks, b-sides or whatever else you might want to call it, while maybe not as incredible (or as long) as the original In Rainbows disc, is still one hell of a supplemental Radiohead record."
Read Review


Rivers Cuomo
Alone: The Home Recordings
(Geffen)
"Alone: The Home Recordings is almost the holy grail for Weezer fans."

Sally Shapiro
Disco Romance
(Paper Bag)
"Disco Romance is a glossy and glamorous album of '80s disco sounds, with drum machines pulsating like heartbeats and analog synthesizers billowing and glimmering like reflections off of a mirror ball."
Read Review


Sigur Rós
Hvarf/Heim/Heima
(XL)
"If you hadn't ever heard of Sigur Rós, then this double EP release and music documentary DVD probably made you realize that this Icelandic band was quite possibly the greatest band in the world."
Read Review


Studio
Yearbook 1
(Information)
"Beneath this hybrid of post-punk and house, there are traces of dub and Afro-beat, Krautrock and disco, melted down into an incredibly eclectic amalgam, which also makes for one of the most consistently enjoyable dance albums in some time."
Read Review


U2
The Joshua Tree (Deluxe Edition)
(Island)
"It's perverse enough for anyone to be without The Joshua Tree, but if your collection is absent this gem, why not go out and get this deluxe treatment."