Pictureplane : Thee Physical
Denver producer Travis Egedy had a very good 2008 and 2009, but not without help. As Pictureplane, he got himself tied in with scions of the day's noisy yet accessible techno-pop, remixing Crystal Castles and HEALTH. Pictureplane also put out a debut album, Dark Rift, that turned into something of a cornerstone of the witch house genre thanks to the inclusion of "Goth Star," a swirling dance stomp based on a buzzworthy, skillfully-used Fleetwood Mac sample. I really wanted lightning to strike twice (and harder) for Egedy on Pictureplane's new album Thee Physical; sadly, it doesn't happen.
Musically, there's no real stunner here to match "Goth Star." Even aided by HEALTH's Jupiter Keyes — or maybe because of that — Thee Physical seems downright sloppy compared to other contemporaries in chillwave, witch house, and similar drilled-down genres. "Sex Mechanism" feels less "frantic" and more "held together with duct tape." "Body Mod" is clumsy neo-disco with a "back once again" hook that, for all of the contrived excitement it generated in the big-beat days of Wildchild and Fatboy Slim, is woefully out of sync with the rest of this album's DIY fuzziness.
Much of Thee Physical contains house conceits busted up and pieced back together into reasonable facsimiles. There's certainly plenty of entertaining sounds. Songs like "Touching Transform" reconfigure simple piano, sampled divas, and foreign toasters into something close to imagined Detroit/London originals. It's actually the same formula toyed with briefly by Psychic TV in the 1990s.
What turns out to be most frustrating is that Pictureplane misses an opportunity to touch any of that crew's actual beliefs. Egedy is on the record professing his love for industrial oldheads and Psychic TV progenitors Throbbing Gristle, even using the double-e spelling of "Thee" employed in that circle of artists. Pictureplane seems unable or unwilling to go much farther. There's no ramming home of lyrical points about physical and emotional equality ("Trancegender"), or the technologies and avatars that represent and hide us ("Post Physical").
Thee Physical drops a whole bunch of ephemeral references to touching and feeling, to hands and minds, to appropriated vocabulary for goths and scenesters, but there's no sense of theatrically tortured soul or whimsical pseudo-philosophy. There's no guarantee Egedy could pull those off, but these attempts at soft-focus staccato dance-pop don't quite fit the bill either. "I got some black nails / Come on, give me reason to feel," Egedy sings on Thee Physical. It's a lyric that sums up the current superficiality and backwards progress of Pictureplane.
Similar Albums:
How to Dress Well – Love Remains
Passion Pit – Manners
Crystal Castles – Crystal Castles (I)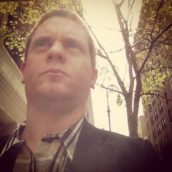 Adam Blyweiss
Adam Blyweiss is associate editor of Treble. A graphic designer and design teacher by trade, Adam has written about music since his 1990s college days and been published at MXDWN and e|i magazine. Based in Philadelphia, Adam has also DJ'd for terrestrial and streaming radio from WXPN and WKDU.