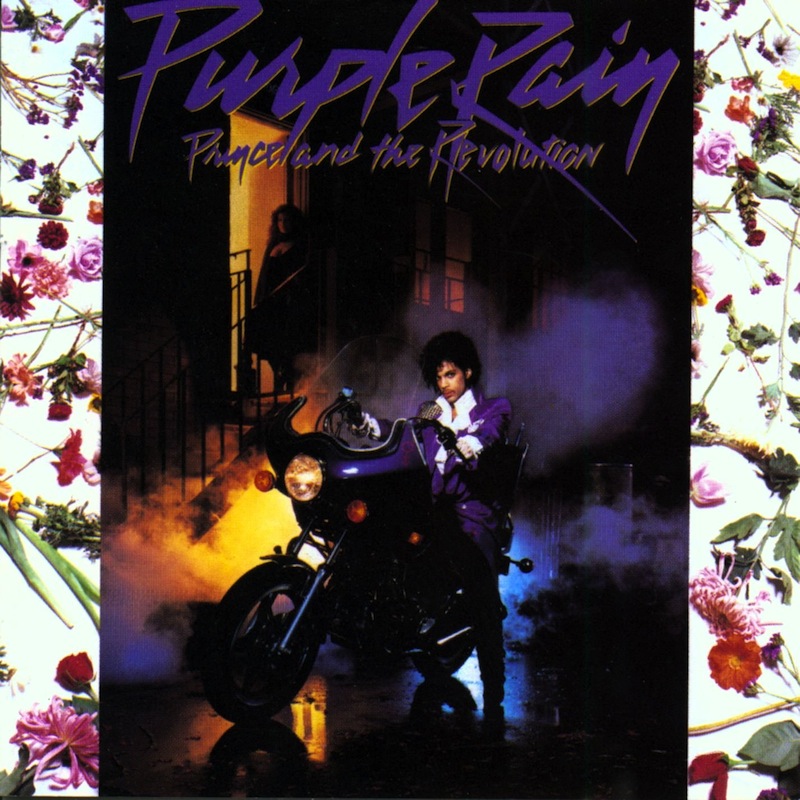 I am going to try to restrain myself, but when it comes to Prince, and most specifically Purple Rain, I could go on for ages. In fact, I could probably write one of those 33 1/3 books on the album. (Note to Continuum Press: contact me). Purple Rain means so much to me, that there's very few people in the world who would understand my relationship with the album and the artist who created it. Even my wife, the person closest to me in the entire world, quite often just doesn't get it. Prince is a polarizing artist, you either buy into his style, his persona and his sex appeal, or you don't. Me? I get it in spades. At a time when I felt really insecure about myself, my popularity, and how I fit in with my peers, I had Prince to let me know that not only did adults go through the same thing, but that you could rise above it. Prince battled off derisions about his height, sexuality, religion, appearance, race and just about everything in between, still vaulting himself into super stardom, not waiting for people to recognize his talents, but telling them, with Purple Rain in particular, that he was a star. Prince also shared a similar career ideology and path as my other favorite solo artist, David Bowie. Besides all of the comparisons that could be made due to the various slurs and criticisms heaped on each of them, on Bowie's album, The Rise & Fall of Ziggy Stardust and the Spiders from Mars, he created an alter ego, someone who could express everything he was thinking through a mask of sorts. So too did Prince on his fifth album, essentially a distilled soundtrack to the breakthrough musical film, Purple Rain, in the character of `the Kid' and his backup band, given title credit for the first time, the Revolution.
After two mildly successful initial albums, then the sexual cavalcade of Dirty Mind and the epic grandiosity of 1999, Prince had a bee in his bonnet about making a movie, about becoming a star of multiple medias. The story behind the film was simple enough, just tell Prince's own story, his childhood with an abusive father and his rise to fame through the Minneapolis club First Avenue, throw in a romantic triangle and as many Prince penned tunes as you could fit in two hours and the rest was history. The gospel-like opening of "Let's Go Crazy" tells us that we are entering into a sacred place, while the heavy Hendrix guitars let us know that its okay to party in this church. More than on any other song in Prince's career, "Let's Go Crazy" blended the styles of soul, R&B, dance and rock. Just as in the movie, Prince also made this a vehicle for his `new' backup band, the Revolution. Lisa Coleman and Wendy Melvoin (the newest and most talented member), more commonly known as Wendy and Lisa, provide strong harmonies to Prince's quasi-religious wailing, while drummer Bobby Z. and keyboardist Matt "Dr." Fink also made themselves known through their playing, which far outshined their limited acting abilities. "Let's Go Crazy" may have been the hard-charging debut rock song on the album, reaching #1 on the U.S. charts, but it wasn't the first single released from the album. That honor went to the unlikely but brilliant hit, "When Doves Cry." Prince reportedly wrote more than 100 songs for the film and album (now there's a deluxe edition waiting to happen). Amazingly, "When Doves Cry" was not in the original set of songs written. The producers wanted a strong lead single, so Prince belted out another batch of songs, picking "When Doves Cry" as his champion. Composing the song with no bass track, simply guitar and keyboards overlaid with his looped throaty groan in the background, Prince asked Magnoli to back him up on the choice, as he knew the powers that be would make him go back and add more instrumentation. Prince and Magnoli would prove themselves right as "When Doves Cry" not only became a huge hit, it became the biggest selling single of 1984, and considering how many great singles came out in that year ("Born in the USA," "Like a Virgin" and "Jump" just to name a few), it was quite a coup.
"Take Me With U" is a '60s pop throwback that would presage his next album, Around the World in a Day as well as songs he would write for other artists, including the Bangles' "Manic Monday." "Darling Nikki" was not only one of the most daring songs Prince had ever written, but is also one of the most dynamic performances Prince has in the film. Prince performs the song in the club after becoming jealous of Apollonia's involvement with Morris Day. As Wendy & Lisa say in the documentary about the making of the film, "No one can scream like Prince can." Of course, now, "Darling Nikki" is infamous for being the song that spurred Tipper Gore to found the Parents Music Resource Center, which started the whole "Parental Advisory" sticker nonsense. If you're as confused as to whom Nikki is as the rest of us, so was Magnoli. Prince was reported to have answered, "What do you want me to say? Darling Apollonia?" He had made his point. In the liner notes, Prince claims the song, unlike any of the others, was "recorded at a place very close 2 where u live." The song ends the first half of the album with the sound of rain and a backwards message which says, "Hello? How are you? I'm fine, `cause I know that the Lord is coming soon. Coming, coming soon." Just as in other past releases, Prince's songs contain religious overtones, from the Jesus vs. the devil lyrics of "Let's Go Crazy" to the messianic complex of "I Would Die 4 U." It was somewhat unclear at this point whether Prince was just into Jesus, or thought he was Jesus, but what do I care? It made for a brilliant album.
The second side of Purple Rain (it was made in a time when more emphasis was placed on 'sides') is probably the best run on any album, ever. Okay, maybe the second side of Abbey Road comes close, but you'd be hard pressed to find another second side as strong as that on Purple Rain. Starting with the aforementioned "When Doves Cry," again, the biggest selling single of 1984, the consecutive songs are live tracks recorded at First Avenue, the pantomime love song, "I Would Die 4 U," the energetically declarative "Baby I'm a Star" and the epic masterpiece title track. It's fairly difficult to see how "I Would Die 4 U" could not be seen as a religious song, but Prince does manage to obfuscate it just enough to make it sound like the strongest declaration of secular love put to pop music. The transition between that song and "Baby I'm a Star" is nearly invisible, making the two song set some kind of homage to Jesus Christ, Superstar. There's no mistaking in "Baby I'm a Star" that Prince is selling himself rather than the Lord. He's back to his sassy self when he avers, "Take a picture sweetie, I ain't got time 2 waste." Prince again gives props to his band as he calls out "Doctor!" for the keyboard solo. He also gives some of the best screaming performances of his career. But the true shining moment on the album is the nearly nine minute title track, both an emotional song of forgiveness and redemption and a fitting end to the film. The script says it best in describing the song, "It's a ballad, a poem really, a plea for understanding, love and survival. It's a testament, a pact, if you will, between himself and others." In the movie, the song is somewhat a combination of Wendy and Lisa's project (in reality, they helped shape it, but didn't actually write the song) and his father's compositions. Rather than pick a crowd-pleasing dance number like his rivals, the Time, Prince delivers this building drama with a stunning guitar solo to close it out. Every time I hear Prince screaming, "Honey I know, I know, I know times are changing," I get goosebumps. In the film, these songs are transposed, meaning "Purple Rain" actually comes first, and only after he realizes that the crowd wants more does he give them "I Would Die 4 U" and "Baby I'm a Star" through the credits. On the album, it works much better to have it play last, as the perfect capper to a perfect album.
OK, so this review was longer than most, and I did end up having a hard time reeling it in, but believe me, this could have been a book. There's so much more I want to say about Purple Rain that it nearly gushes out of me every time I listen to the album, talk about it with friends, or even hear Prince's name. There's the story of the sixth grade dance where I played nothing but Purple Rain, there's the Kevin Smith tales from his documentary, the time I actually saw Prince while I was working at LAX, the time I saw Graffiti Bridge in the theater, etc. Ultimately, I have to stop somewhere, and I will end this by simply saying that Purple Rain changed everything, for the idea of the musical film, the music video, the music industry, and for me, personally. Not many albums can have claimed to do all that, but then again, there is only one Prince.
Similar Albums:


Prince – 1999


Stevie Wonder – Songs in the Key of Life


The Jimi Hendrix Experience – Are You Experienced?
---
Support our site: Buy this album at Turntable Lab