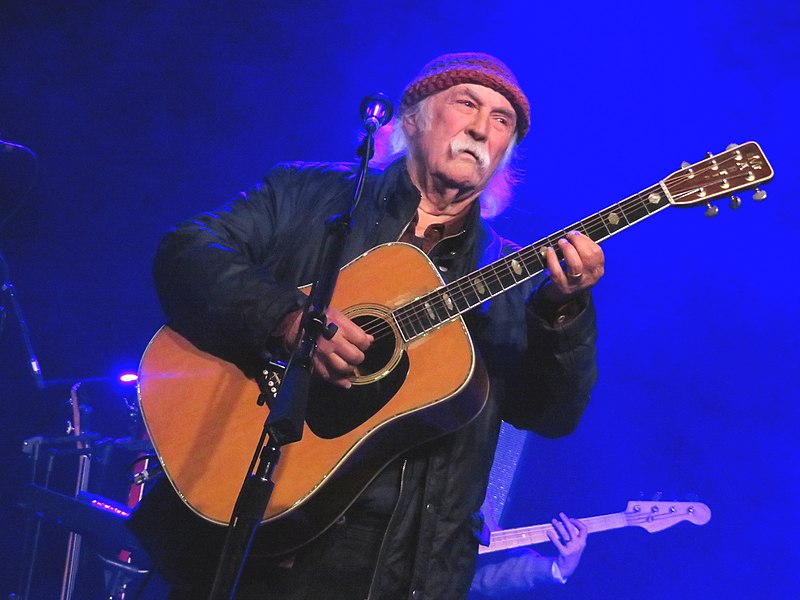 Eddie Janssens/Creative Commons (CC-BY-SA-4.0)
David Crosby, singer/songwriter and founding member of The Byrds and Crosby, Stills, Nash & Young, has died, according to a report from Variety. He was 81.
Crosby's wife said in a statement to Variety, "Although he is no longer here with us, his humanity and kind soul will continue to guide and inspire us. His legacy will continue to live on through his legendary music. Peace, love, and harmony to all who knew David and those he touched. We will miss him dearly. At this time, we respectfully and kindly ask for privacy as we grieve and try to deal with our profound loss. Thank you for the love and prayers."
Crosby grew up in Los Angeles and dropped out of college in the '60s to begin a career in music, first collaborating with singer/songwriter Terry Callier in New York City and performing with Les Baxter. Callier introduced Crosby to Roger McGuinn, with whom he'd soon form The Byrds along with Gene Clark. He remained in the band for three years, releasing songs such as "Eight Miles High" and the band's cover of Bob Dylan's "Mr. Tambourine Man." He left in 1967 after a number of conflicts with other members of the band.
In 1968 he teamed up with Stephen Stills and Graham Nash, with whom he released Crosby, Stills & Nash the next year, employing folk songwriting and vocal harmonies. Deja Vu followed, which also featured Neil Young, and the album reached as high as number one on the Billboard album chart. Crosby released his solo debut, 1971's If I Could Only Remember My Name before resuming work with Stills and Nash, though sessions in 1973 and 1974 yielded nothing satisfactory. They didn't release another album until 1977's CSN, which was followed by 1982's Daylight Again.
Crosby continued releasing solo music in 1989 with Oh Yes I Can, and made five more solo albums afterward, most recently 2021's For Free. Crosby was inducted into the Rock and Roll Hall of Fame twice, once with The Byrds and once for his work with Crosby, Stills, Nash & Young. His work with both bands has sold more than 35 million albums.