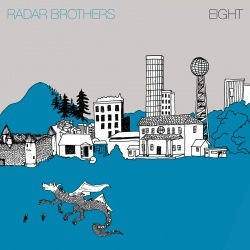 I HATE the flu. I thought I'd be spared — hell I was the only person I knew without a peeling, red nose and a blob of tissues crammed in my pocket the past few weeks — but everything changed these last few days — and let me state something you already know: the flu sucks. Luckily, the Radar Bros' new album, Eight, was on my plate to review. The album's dense jumble of guitars and keyboards, along with Jim Putnam's always-easy-going vocals unclogged my ears and eased some fever — or at least I think they did the trick (the $25 box of Mucinex may have helped too). The songs are not only flu remedies (apparently), but they're quite good too!
Eight is — you guessed it — the band's eighth full-length venture. Their 20-year existence has allowed an ever-morphing lineup (with Putnam the only constant member), which naturally forced a slightly varied demeanor with each album. All these years later, things still ring fresh — especially these faster and fatter new tunes. Not only that, but this time around, it also sounds like Putnam's trying to actually say something with his lyrics (which wouldn't be a big deal if he didn't litter the past few releases with some throwaway lyrics).
The album begins with an early "best song" of 2013: the bold and beautiful "If We Were Banished." Its down-tempo dream pop splendor evokes an epic (at only four minutes) summertime vibe. Like 2008's Auditorium and 2010's The Illustrated Garden, there's a huge sonic landscape here. A few layers solely consist of Putnam's soft yet God-like vocals, while the keyboards, the (seemingly) dozens of drum machines, and a cool whistle-like synth fill the space effectively.
From then on, the album more resembles a group of guys playing in a room—all guys with an ear for moody melodies and unpredictable chord progressions. The bubbly romp of "Reflections," the jostling guitar work throughout "Angler's Life," and the suave, driving-down-the-LA-freeway vibe of closer "Horse Down" are highpoints that'll still reward after multiple listens. Even when things calm down to a slower pace, like in the gorgeous, harmony-filled "Ebony Bow," it's still intriguing.
Like similar bands that subtly crossed genre lines since the '90s (Tindersticks, Lambchop and Drugstore all quickly come to mind), the Radar Bros. continue to pack at least a few stellar songs into each album. In this case, the whole album delights. They're like old friends you haven't visited in years, but when you do, you always wonder why you don't visit more.
Similar Albums:


Lambchop – Mr. M