Recap: Outside Lands 2012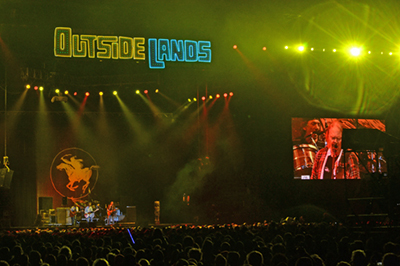 Looking at a festival lineup for the first time is almost a disorienting experience: in that one instant you find yourself squealing at the sight of favorite artists, questioning the headliner/subheadliner hierarchy ("how the hell is Swedish House Mafia above M83?!"), and somehow managing to do an internal, black-box calculus that begins to determine whether or not you're going to end up going to the event at all. One Facebook login later, you'll probably find a newsfeed flooded with friends rating the lineup on the binary "sucks" / "awesome" scale; however, any agglomeration of 50+ artists often means finding a lot more middle ground between these extremes.
When the 2012 Outside Lands Music Festival lineup was announced I went through the aforementioned paces and came away with an initial inkling that the festival lacked artists who had released a critically acclaimed album in the past 18 months. Statistics time: of the 80 artists that appeared on either our 2011 top 50 list or our 2012 mid-year top 30 list, only four had a set at Outside Lands (Zola Jesus, The Walkmen, Washed Out and Sigur Ros). Two other major West Coast festivals, Coachella and Sasquatch, had 13 and 11 Treble favorites, respectively, while Chicago's Pitchfork Festival corralled an impressive 16. Of the full-length fantastic four at Outside Lands, Washed Out mastered the park's smallest stage as their haunting lights and groovy sounds captivated both passers-by and long-time fans. On Saturday night Sigur Ros provided what may have been the aural antithesis to Metallica's set going on concurrently at the opposite end of the grounds.
However, I may have sold the festival short on 2012 talent with that four out 80 stat. Passion Pit's latest, Gossamer, wasn't on the 2012 list because it was only released two weeks ago. The band and lead singer Michael Angelakos provided the audience with one of the more upbeat sets of the festival, anchoring the performance with well-known hits from their 2009 debut Manners as well as stellar new material that packs the same visceral punch along with a deeper emotional depth.
Tame Impala is another band determined to make waves in the second half of 2012, and their new single, "Elephant," did just that as it stomped across the main stage Saturday afternoon. The band was in top form sonically but looked a little awkward as they tried to cope with the 30-foot gap between themselves and the crowd — a result of the already modified platform in place for that night's Metallica set. Lead singer Kevin Parker apologized to the crowd — "Sorry, I wish you were closer" — but the lack of intimacy probably made the band's rendition of "Solitude Is Bliss" all the more authentic. Not on the Tame Impala ship yet? Jump on. Kevin Parker's fresh, electronic-minded take on 60's psychedelic rock won't disappoint. Thee Oh Sees and Bloc Party were a couple of other bands that played some exciting 2012 material along with old staples, as well as a reunited Grandaddy.
I should never be surprised when I find that my musical tastes don't exactly line up with the general populace, but some sets this weekend garnered such a massive crowd that I had to stop and ask a few people what the hell was going on. For one thing, the Alabama Shakes absolutely filled the entire field in front of the Sutro Stage, packing fans together as they performed their new-soul, Southern fried tunes. The band sounds okay I suppose, but in the end it's just too hard for me to fight off the "been-there-done-that" feeling.
One band that no one would accuse of following a well-trodden path is Die Antwoord. Originality: check. Every other thing that I care about in a band: miss. If people were simply going to their set for the shock value that'd be completely acceptable; however the cheer to cringe ratio was suspiciously high throughout their performance, so either a good number of people were hammered at 5 o'clock, or they simply have an awful taste in music (sorry… I'm not sorry).
If it was the former, Outside Lands gave everyone the opportunity to get drunk in style. Unlike Coachella, where anyone who wants to drink gets sequestered in a gated area away the music, Outside Lands allows its patrons to roam wherever they'd like, drink in hand. This year the festival featured a Wine Lands tent with probably 30 different local wineries to enjoy. There was also a Beer Lands for the people who wanted more variety than the assortment of Heineken tents scattered throughout the grounds.
Of the three headliners, Metallica and Stevie Wonder pleased the crowds with greatest hits and covers while Neil Young chose to do his own thing and jam out with Crazy Horse over some new material. "Walk Like A Giant" sounded like vintage Young, but his decision to close the song with what seemed to be a 10 minute, free-form, guitar noise "jam session" made a good number of people walk away and had even die-hard fans scrunching their brows. All was forgiven, however, when Neil Young closed the set with a chilling version of "Hey Hey, My My (Into the Black)".
While the artist lineup does constitute much of what makes or breaks a festival, it isn't everything. Golden Gate park really does come through in the intangibles department, even though this year's festival was a bit on the foggy side (even for San Francisco). The festival also had a couple of musical easter eggs that couldn't be found on the bill. The Grateful Dead's Bob Weir joined Norah Jones on stage for a version of "It Must Have Been The Roses," and Jack White surprised fans by doing a few songs between stages on Sunday under beautiful Eucalyptus and Cypress trees. It's always tempting to have a knee-jerk reaction whenever a festival lineup is announced, but with three days of music, people watching, and exploring, every person's experience will reach a level of complexity that no lineup poster could possibly encapsulate or anticipate.