Red Sparowes : The Fear is Excruciating, But Therein Lies the Answer
If there's any band out there that can make post-rock romantic, and yet overwhelming, with a punishing intensity at the same time, it's Red Sparowes. The Los Angeles band, a conglomeration of musicians from other outfits, can hardly be called a side project. Though Cliff Meyer's other band, Isis, may often take precedence, there is no denying the quality and epicness of Sparrowes.
The Fear is Excruciating is the band's third full-length album, their first on Sargent House, and it shows no signs of their sound declining in any way. The album is a study in contrast. Serene introductions and luxuriant panoramas give way to anxiety fueled lightning storms of harried complexity. Tracks such as "A Hail of Bombs" are a suitable example of this parallel. "A Swarm" stands out as one of the stunning highlights of the record, with the yearning twangs of the pedal steel collapsing in the oncoming wake of melodic yet gutpounding, breathtaking guitar crunches. At times, it feels like the Red Sparowes' apocalyptic version of "Paranoid Android."
The best bands always seem to defy convention, and Red Sparowes certainly falls into that category. There is nothing predictable about the music on The Fear is Excruciating. Just when it seems like songs will explode with fury, or subside into the horizon, we are taken in an altogether new direction. Red Sparowes manage to be alternately accessible and challenging, and the attentive listener is the beneficiary. Like Godspeed! You Black Emperor and Explosions in the Sky before them, the music of Red Sparowes is on such an epic scale that it is begging to be a soundtrack for a film of equal intensity.
Similar Albums:
Pelican- What We All Come to Need
Explosions in the Sky- All of a Sudden I Miss Everyone
Russian Circles- Station
Download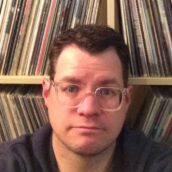 Terrance Terich
Terrance Terich firmly believes that 1985 is the best year for music. He lives near Seattle with his books, movies, and music.