The Replacements announce Don't Tell A Soul box set reissue, Dead Man's Pop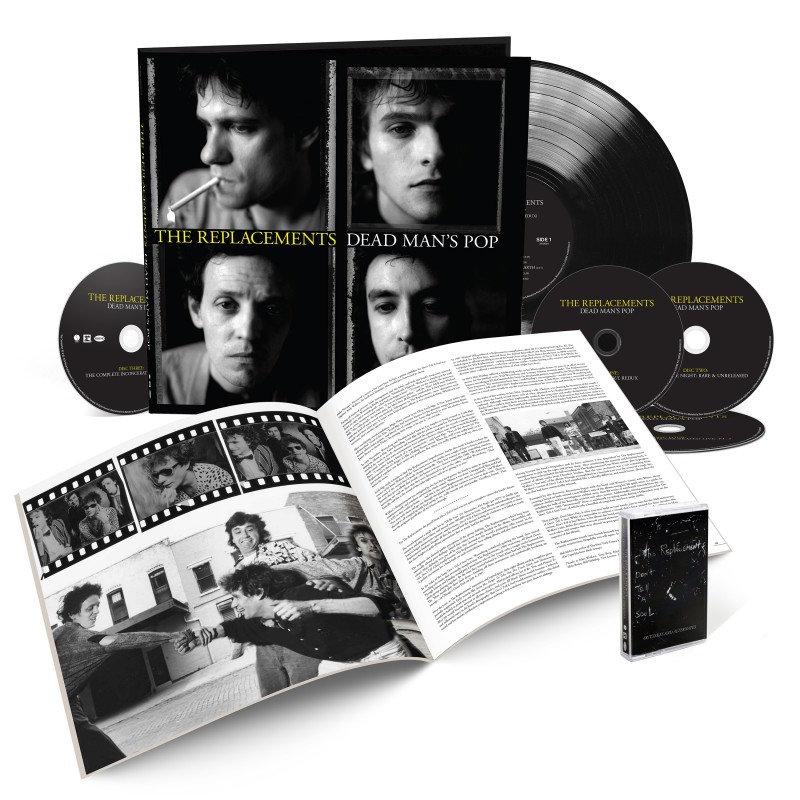 For its 30th anniversary, The Replacements have announced an expansive box set reissue of their 1989 album Don't Tell A Soul. The collection, titled Dead Man's Pop, will be released on September 27 via Rhino and features 60 tracks spread out across four CDs and one LP. It features the original album "mixed as it was originally intended," plus unreleased studio material, including a session with Tom Waits, and live recordings.
The box set will also feature a hardcover book with rare photographs and an essay from Bob Mehr, who wrote Trouble Boys: The True Story of the Replacements, which was released in 2015. Take a look at the complete tracklist below.
The Replacements Dead Man's Pop tracklist:
LP & Disc One: Don't Tell A Soul Redux
1. "Talent Show" (Matt Wallace Mix)
2. "I'll Be You" (Matt Wallace Mix)
3. "We'll Inherit The Earth" (Matt Wallace Mix)
4. "Achin' To Be" (Matt Wallace Mix)
5. "Darlin' One" (Matt Wallace Mix)
6. "Back to Back" (Matt Wallace Mix)
7. "I Won't" (Matt Wallace Mix)
8. "Asking Me Lies" (Matt Wallace Mix)
9. "They're Blind" (Matt Wallace Mix)
10. "Anywhere's Better Than Here" (Matt Wallace Mix)
11. "Rock 'N' Roll Ghost" (Matt Wallace Mix)
Disc Two: We Know The Night: Rare & Unreleased
1. "Portland" (Alternate Mix) [Bearsville Version] 2. "Achin' to Be" (Bearsville Version)*
3. "I'll Be You" (Bearsville Version)*
4. "Wake Up" (Alternate Mix) (Bearsville Version)
5. "We'll Inherit The Earth" (Bearsville Version)*
6. "Last Thing In The World"*
7. "They're Blind" (Bearsville Version)*
8. "Rock 'N' Roll Ghost" (Bearsville Version)*
9. "Darlin' One" (Bearsville Version)*
10. "Talent Show" (Demo Version)
11. "Dance On My Planet"
12. "We Know The Night" (Alternate Outtake)
13. "Ought To Get Love" (Alternate Mix)
14. "Gudbuy T'Jane" (Outtake)
15. "Lowdown Monkey Blues" (Feat. Tom Waits)*
16. "If Only You Were Lonely" (Feat. Tom Waits)*
17. "We Know The Night" (Rehearsal) [Feat. Tom Waits]*
18. "We Know The Night" (Full Band Version) [Feat. Tom Waits]*
19. "I Can Help" (Feat. Tom Waits)*
20. "Date To Church" (Matt Wallace Mix)
Disc Three: The Complete Inconcerated Live, Part 1
1. "Alex Chilton" (Live)*
2. "Talent Show" (Live)
3. "Back To Back" (Live)*
4. "I Don't Know" (Live)*
5. "The Ledge" (Live)*
6. "Waitress In The Sky" (Live)*
7. "Anywhere's Better Than Here" (Live)
8. "Nightclub Jitters" (Live)*
9. "Cruella De Ville" (Live)*
10. "Achin' To Be" (Live)*
11. "Asking Me Lies" (Live)*
12. "Bastards Of Young" (Live)*
13. "Answering Machine" (Live)
14. "Little Mascara" (Live)*
15. "I'll Be You" (Live)*
Disc Four: The Complete Inconcerated Live, Part 2
1. "Darlin' One" (Live)*
2. "I Will Dare" (Live)*
3. "Another Girl, Another Planet" (Live)
4. "I Won't" (Live)*
5. "Unsatisfied" (Live)*
6. "We'll Inherit The Earth" (Live)*
7. "Can't Hardly Wait" (Live)*
8. "Color Me Impressed" (Live)*
9. "Born to Lose" (Live)*
10. "Never Mind" (Live)*
11. "Here Comes A Regular" (Live)
12. "Valentine" (Live)*
13. "Left Of The Dial" (Live)*
14. "Black Diamond" (Live)*
*Previously Unreleased