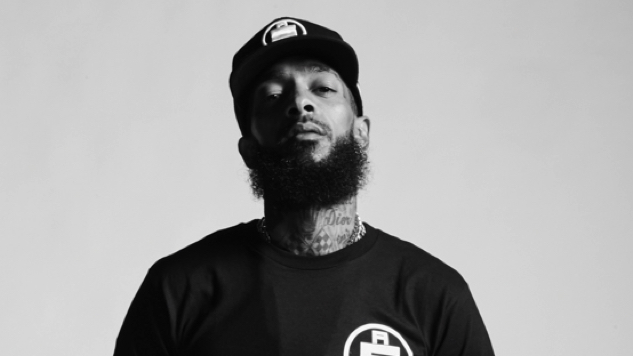 L.A. rapper Nipsey Hussle died after being shot multiple times in front of his store, Marathon Clothing, in Los Angeles, NBC News reports. Two other people were hospitalized after the shooting. Nipsey was 33 years old.
Born Ermias Asghedom in 1985, Nipsey Hussle grew up in the Crenshaw neighborhood of Los Angeles and left home at 14 and joined the Rollin' 60s, a subset of the Crip gang. He first began releasing music in 2005 and released a series of mixtapes that garnered him attention among high profile artists, eventually landing him appearances on songs and albums by the likes of Drake and Snoop Dogg.
He later opened his Marathon Clothing store, as well as STEM education center called Vector 90 in Crenshaw. In 2016 he appeared on YG's "FDT (Fuck Donald Trump)", which was followed by his 2018 album Victory Lap.
Many artists paid tribute to Nipsey Hussle on social media. Take a look at those below.
https://twitter.com/Pharrell/status/1112510612448243712
Jesus. Rest easy Nipsey. Fuck

— Quelle Christopher (@QuelleChris) April 1, 2019
Nipsey you a legend. I respect and admire your career path and what you did for the neighborhood. My heart broke today when I saw the news. I'm praying for your loved ones. This was sposed to be the year we got one in. God had bigger plans for you 🙏🏿

— J. Cole (@JColeNC) April 1, 2019
This doesn't make any sense! My spirit is shaken by this! Dear God may His spirit Rest In Peace and May You grant divine comfort to all his loved ones! 💔🙏🏿
I'm so sorry this happened to you @nipseyhussle pic.twitter.com/rKZ2agxm2a

— Rihanna (@rihanna) April 1, 2019
R.I.P Nipsey pic.twitter.com/gjMwgkwrMO

— Bruno Mars (@BrunoMars) April 1, 2019
https://twitter.com/therealelp/status/1112510186042941442