Long after the novelty of electronic and sample-based music has worn off, there is still a sub-sect of people who refuse to accept the DJ as legitimate musician. At the same time, this leads to a sort of existential crisis for the DJ, having to justify his own craft as an art form on the same level as any other instrumental form. To most of us, this justification is unnecessary—Endtroducing, anything on Ninja Tune records and Rjd2's Dead Ringer convinced all of us of the awesome power of a tightly woven blanket of samples and beats. Yet Rjd2, himself, seems to have taken any naysayers to task, shelving the wheels of steel on his third release, The Third Hand, in favor of all live instruments and his own singing voice, which he merely hinted at on "Making Days Longer" from Since We Last Spoke, the first instance of Rj stepping out from behind the turntables and in front of a microphone.
After an awesome debut and decent follow-up of moody and bumpin' instrumentals, Rjd2 drops a third album of more traditional pop compositions. There are still samples throughout, but piano, organ, guitar and his own voice command The Third Hand, a title which still confuses me, but may have something to do with the hand that's not on the turntables. Where there was once a warm and bass-heavy beat, there are now '70s AM grooves. And where an MC like Blueprint would have once presided over Rj's proceedings, his own soulful croon is now front and center, guiding each smooth and funky track.
The most prominent problem that Rjd2 is going to face with this album, and already has, is the fans, critics and otherwise who are unable to enjoy The Third Hand due to context. This is a producer who once orchestrated hypnotic and captivating sample symphonies and decided to leave that all behind in favor of making odd, indie soul. Much like DJ Shadow found when he hyphy'd up The Outsider, The Third Hand is most certainly going to be subject to a certain amount of resistance. Here's the main difference: The Third Hand is a much more cohesive and just plain enjoyable record.
The first song, "You Never Had It So Good," opens with some twinkling synths reminiscent of Stereolab or Air, but cascades into baroque flourishes of piano and polyester soul. Rjd2 wins points for catchiness and soulful flow, but the track is a bit awkward, lyrically, throwing down zingers like "bought two pairs of shoes for one weekend" and "you lost a tooth and kept a nice grin." It ain't "What's Going On?" but it still beats Robin Thicke. "Have Mercy" features some fatter synth grooves that almost sound like a meeting between Stevie Wonder and Gary Numan, and "Reality" keeps up the funky pace, albeit with more twinkles of piano flickering throughout the verses.
On "Laws of the Gods," Rj steps up some disco strings and backward vocals for a trippy, retro flair, but breaks for a return to instrumental beat-dropping on the raw, greasy funk of "Get It," a personal favorite of mine. After the forgettable ballad "Someday," Rjd2 segues back into late-nite sex funk mode on "The Bad Penny," no relation to the similarly titled Big Black song. "Beyond the Beyond," which returns some much needed energy and danceability, does have its share of hip-hop inspired beats, only without the rapping. "Sweet Piece" sounds more like an electro-soul single from the '80s than the '70s, recalling a moodier Cameo or The Time. Rj utilizes breathing sounds as percussive device on "Rules for Normal Living," not unlike some of Martin Gore's weirder Depeche Mode experiments. Another instrumental, "Paper Bubble" mellows out Tangerine Dream style before Rjd2 gets his bad self down once more on "Just When," an energetic highlight on the second half. Closing out the record is "The Evening Gospel," a song that recycles the melody from the album's brief intro and creates a mellow bed for Rj's soft vocal harmonies.
As an album that takes an artist into a brand new direction, The Third Hand is not without its flaws. But whatever growing pains it may expose, it also displays an artist willing to take risks, and ones that pay off at that. The Third Hand may not be what people have come to expect from Philadelphia's foremost sample slayer, yet his songwriting yields enough delightful surprises and super-fun groove-fests that it has most certainly proven to be a direction worth pursuing.
Similar Albums:
Phoenix – Alphabetical
Hot Chip – Coming on Strong
Gnarls Barkley – St. Elsewhere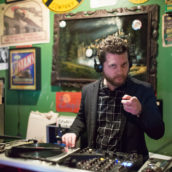 Jeff Terich
Jeff Terich is the founder and editor of Treble. He's been writing about music for 20 years and has been published at American Songwriter, Bandcamp Daily, Reverb, Spin, Stereogum, uDiscoverMusic, VinylMePlease and some others that he's forgetting right now. He's still not tired of it.