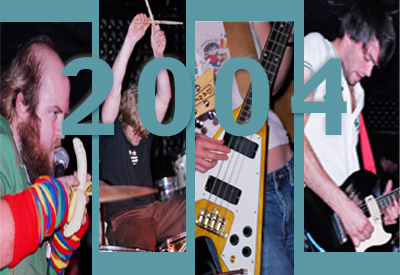 Every year, every music magazine in the world compiles a list of the best albums of the year. Some of them are ranked. Some aren't. Some are dubious. Some are noble. But whatever the case, we know you read them, and in the true spirit of playing favorites, we offer 20 of ours. There were lots of albums that we liked. In fact, most of the stuff we heard this year was pretty decent, and let's be honest, there was probably plenty of stuff that we didn't hear that was crap. Nonetheless, we put together 20 albums that we truly loved this year and played over and over and over again. Most of them ended up as "album of the week" at some point or another, though a few were albums we listened to long after the review freshness date. That doesn't mean we can't give `em props come year end time.
You're probably wondering what other albums we liked that may not have made the cut. Well, here's a few that almost made it: Bloc Party, PJ Harvey, Madvillain, Hot Snakes, American Music Club, Delgados, Prince, Junior Boys, McLusky, Futureheads, Rogue Wave, Ted Leo, Snow Patrol, Delays, Keane, The Killers, Devendra Banhart, Kill Me Tomorrow, Dizee Rascal, Comets on Fire, The Album Leaf, The Walkmen and Wilco. Now that we have that out of the way, here are our top 20 albums of 2004.

20. Rilo Kiley – More Adventurous
(Brute/Beaute)
When stories of child stardom, broken relationships, and side projects take a backseat to quality songwriting, you know you have a great album on your hands. Such is the case with Rilo Kiley. I can't count how many times people tell me (upon playing More Adventurous), "This is awesome, who is this? She sounds familiar." It is only when I mention side project The Postal Service that people nod and smile. But more and more of the masses are being converted to discover Lewis' main gig which has put out an album incredibly praiseworthy. "Portions for Foxes" is worth the price of the album alone, but "It's a Hit", "Does He Love You?", "I Never", and "Absence of God" showcase more of the brilliance of the Lewis / Blake Sennett combo. More Adventurous redefines the word beautiful. — Terrance Terich

19. Fiery Furnaces – Blueberry Boat
(Rough Trade)
Why is that the more and more I listen to this album it starts sounding like an off- Broadway musical? This isn't an affront to the quality of this album at all, in fact I see as a testament to the quality and cohesiveness of the Furnaces song writing. I'm coining this album "theatrical-pop," as it doesn't fit any of the generic molds of rock genres, except maybe prog, what with its ten minute songs and all. Quirky song writing and instrumentation, girl/boy vocals and undeniable catchiness make this album a keeper. — Wilson Drozdowski

18. AC Newman – The Slow Wonder
(Matador)
Look out Rivers Cuomo. Move over Ben Folds. There's a genius new songwriter in town and he's traveled a long way to get here. Vancouver's AC Newman, a sometimes leader of The New Pornographers, released his first full-length solo record this year, The Slow Wonder, and showed just how much depth and imagination you can cram into a three minute pop song. There's very little that this guy can't do and he'll do it in a half-hour, so you best be paying attention. Songs like "Miracle Drug," "Drink to Me Babe, Then" and "Town Halo" are soon-to-be classics with all the makings of a pop legend, without the tragedy. Gotta love that Canadian efficiency. — Jeff Terich
17. Xiu Xiu – Fabulous Muscles
(5RC – Kill Rock Stars)
The genius of Jamie Stewart's songwriting makes even the most jaded of us bob our heads and sing along to pop songs about spouse abuse, molestation and sexual depravity, the subject matter many this album's songs. A mix of techno laced dance beats, howled singing/yelling, tender acoustic ballads and ambient noise, Xiu Xiu has created their best work yet with Fabulous Muscles. This is a band who truly have a sound and aesthetic all their own, something that may alienate those not expecting such revealing inner emotion. This is one of those albums that you'll listen to on repeat for weeks, get tired of it, then put it on a month later and say to yourself, "Damn this is still good!"
— Wilson Drozdowski

16. Iron & Wine – Our Endless Numbered Days
(Sub Pop)
Sam Beam's earlier album and EP, The Creek Drank the Cradle and The Sea & the Rhythm respectively, showcased a sensitive songwriter breathing hushed lyrics into a recorder with an imperfect warm hiss surrounding it, enveloping us in his world as if he were telling us all a gigantic secret. That secret is out, due in large part to the popularity of new folk and a cover of the Postal Service's "Such Great Heights". On Beam's 2004 record, Our Endless Numbered Days, the production value increased, but so did the songwriting. "Naked as We Came" is as good as any Nick Drake song while "Cinder and Smoke" soothes even the most savage breast. "Sunset Soon Forgotten" and "Sodom, South Georgia" reminds us, like his earlier work, why one man and a guitar can be as powerful as any orchestra. Along with Sufjan Stevens' and Elliott Smith's releases, it was one of the most intimate albums of the year. — Terrance Terich

15. RJD2 – Since We Last Spoke
(Def Jux)
It's a terrible cliché but this album, Since We Last Spoke, evokes strong, happy memories. I am beginning to think that the only way I've managed to remember past events in my life is through songs. I use songs to bookmark particular instances, feelings, journeys and people in my life. The hip-hop producer's instrumental jam "Since We Last Spoke" and downtempo ballad "Making Days Longer" are songs that will earmark chapter 2004 for me forever. Believe me, I could spout out rivers of memories that have burned into my mind while listening to RJD2 this year. And that's exactly why this album and these two songs have come to mean such good things to me. It's my 27th year squeezed into seven minutes. — Ayn Averett

14. The Dears – No Cities Left
(SpinART)
It would be easy to start dissecting the title of the Dears' breakthrough record into a political allegory, but that would mean having to ignore the substance of one of the most amazing records of the year. Having gained acclaim already as an import CD released the year prior, No Cities Left hit the ground in the States running. Most often compared to the Smiths and Blur, the Dears is a six piece band from Canada created by genius guru Murray Lightburn (in the biggest case of "that's what he looks like?" ever). Lightburn's agonizing in the studio over each and every track on each and every song paid off in a big way. One listen to "Lost in the Plot" or "We Can Have It" prove the band has the goods to not only back up, but also dispel the Smiths comparisons as they have an incredible talent all their own. – Terrance Terich
13. Bjork – Medulla
(Elektra)

12. Les Savy Fav – Inches
(Frenchkiss)
This may be the last semi-new material we hear from Les Savy Fav in a while. With the recent news that the band is on indefinite hiatus, a new album by Brooklyn's art-punkers may or may not ever happen. But in 2004, they gave us the best material of their career, packed together into one seventy-minute album. Though, technically, a singles collection, Inches featured six songs that were previously unreleased until this year and twelve songs that were pretty hard to come by anyway. As far as continuity goes, however, it's as consistent and awesome as an album gets. Say it ain't so, Tim. Say it ain't so! — Jeff Terich

11. Morrissey – You Are The Quarry
(Attack – Sanctuary)
Some things don't age well: overripe bananas, contemporary visions of the future and Robert Smith, for instance. Other things defy their age: Twinkies, visions of the future that are aesthetically connected to the 1930s and 1940s and Steven Patrick Morrissey. His lachrymose voice doesn't sound dated, nor do the witty, sometimes sad, and often biting lyrics which fill You Are the Quarry. Heck, his primped hair still looks pretty sharp. Who else could tell an entire country where to stick a hamburger before sarcastically, or perhaps sincerely, proclaiming "I love you"? When listening to "I Like You" or, really, the entire album, you can't help but think, "You know what? I like you too." — Hubert Vigilla

10. Tom Waits – Real Gone
(Anti)
If I were a character in a David Lynch movie, I would probably wear a flamboyant snakeskin jacket and constantly listen to Tom Waits' Real Gone — an album whose cover (like old oil on red concrete) perfectly matches its deckle-edged sound. With Waits' growl and bizarre mouth percussion, it would help me blend into universe to which I'd belong. In front of the woman I love and over Waits' roughly-recorded antics, I'd proclaim, "This copy of Real Gone symbolizes my individuality and belief in personal freedom!" My Lula-honey and I would then dance to dark and seductive songs about lovin', killin', boozin' and all that other good stuff until we both felt hotter than Georgia asphalt. — Hubert Vigilla

9. Blonde Redhead – Misery is a Butterfly
(4AD – Beggar's Banquet)
After a handful of albums being pigeonholed as a Sonic Youth knockoff, Kazu Makino and the Pace Brothers, a.k.a. Blonde Redhead, released the stunning Misery is a Butterfly. Who could have predicted a guitar skronky art-noise band produced by a member of Fugazi could have sounded like this? Atmospheric strings absolutely drench this album in sheer emotional darkness as in the title track. Great artists always produce their best work out of pain and Blonde Redhead is no different. Images abound in the inner album sleeve and the anguished lyrics that hearken back to the horse accident that nearly killed Makino. "Equus", one of the best songs on the album, is a study in sexuality, psychological transference, and brilliant pop craftsmanship. — Terrance Terich

8. Q and Not U – Power
(Dischord)
From Fugazi-esque punk to Clash-infused dub-core to straight-up funk, Q and Not U takes on a new genre almost daily and fuses it together with their socio-political post-hardcore. Power showed the band at their most confident, loose, experimental and catchy all at the same time. As an integral part of the fusing of music and politics this election year, Power may have been the band's most important album to date, even if not enough people heard it. Whatever the case, it rocked and it grooved. Not since The Talking Heads have funk and punk been combined so artfully. — Jeff Terich

7. Interpol – Antics
(Matador)
Interpol had their moment in the sun in 2002, with the release of Turn on the Bright Lights. But that must not have been good enough. Determined to prove their worth as one of the most vital bands in indie rock today, Interpol returned with Antics, an album even richer and more powerful than their stunning debut. "Slow Hands" gave the band some club cred. "Evil" was one of the most soaring anthems this year. "Length of Love" showed them rocking harder than ever. And don't even get me started on the epic movements of "Not Even Jail." We put up with a lot of needless live and remixed b-sides to get here, but it was worth it. Interpol gave the finger to the sophomore slump and gave us a near-perfect 45 minutes of brilliance. — Jeff Terich

6. Sufjan Stevens – Seven Swans
(Sounds Familyre)
How do you follow-up a concept album about the state of Michigan? With a subdued, American gothic collection of songs rich in Biblical imagery and literary allusions. Sufjan Stevens, the Great Lakes State's indie folkster, shared songs of faith and personal anecdotes over some clean acoustic guitar and buzzing farfisa organ on Seven Swans. With the aid of The Danielson Famile's Daniel Smith, Stevens created a haunting indie folk album that's as creepy as it is joyous. The title track, "In the Devil's Territory," "To Be Alone With You" and "Abraham" were some of the most genuinely heartfelt and beautiful songs about one's faith ever to be committed to master tapes, while "He Woke Me Up Again" and "The Dress Looks Nice on You" saw Stevens sharing stories about his hippie parents and an old girlfriend, respectively. Seven Swans was one of the most beautiful albums of 2004, and a unique one at that. — Jeff Terich

5. Franz Ferdinand – Franz Ferdinand
(Domino – Epic)
You couldn't go anywhere this year without hearing "Take Me Out," Franz Ferdinand's breakthrough single from their self-titled debut. Between it and "Float On," we had found this year's unstoppable hit in the first few months alone. But unlike "Bye Bye Bye," "Hey Ya" or "Oops…I Did It Again," these were songs that you didn't mind hearing time after time. But Franz Ferdinand had no less than four other singles this year that were no less enjoyable or omnipresent. "Darts of Pleasure," "Dark of the Matinee," "Michael" and "This Fire" all enjoyed a fair amount of time on radio, TV commercials, MTV2 and your iPod, making this the surprising commercial indie success story of the year. Franz Ferdinand were the fun, danceable party band of 2004, despite being pasty white Scotsmen. Oh, and the album was good too. It's time for the pale kids to take over. — Jeff Terich

4. The Arcade Fire – Funeral
(Merge)
There's something inherently adolescent and rebellious about The Arcade Fire's music that's enormously rare today. Plenty of bands are capable of capturing a particular shade of youth, but seldom do they do so intelligently, with as much respect for that troubling period when you're at odds with the world as a Wes Anderson film. The fact that every song on their debut album, Funeral, manages to do so, as well as being a gem of musical and lyrical songwriting, seems to good to be true.
But it's not. At first listen, the anthemic songs sound like explosions of joy, with orchestral swells and dancey riffs. Of course, it wouldn't make sense to title an album Funeral without it being sorrowful, and there's plenty of pain to be discovered in its lines. As the album insert notes, there is an obvious irony in giving your first full-length a title that suggests so much closure, but brilliant and invaluable tribute to all the kids in the world "dyin' out in the snow." — Andrew Good

3. TV on the Radio – Desperate Youth, Bloodthirsty Babes
(Touch & Go)
The idea of TV on the radio isn't that odd. In San Jose, KOFY TV 20 used to broadcast some of its programs on their radio station, the now defunct oldies-oriented KOFY 1050. Listening to Adam West/Burt Ward episodes of "Batman" was one of the odder memories of my childhood. The only KOFY TV show that worked on the radio was their geriatric, oldies dance show hosted by the former program director.
Listening to TV on the Radio's Desperate Youth, Bloodthirsty Babes makes me wonder how the ginger toupee, gingham skirt, hip replacement crowd would have grooved to the album. How would a sweatered grandmother react to the dirty, swilling sax of "The Wrong Way"? What would the silver haired Soul Train do during "Staring at the Sun," "Dreams" or "Bomb Yourself"? Would the septuagenarians take well to the occasional a cappella and thudding post-punk doo-wop; or would they leave, fiddling with their car radios on the drive home, looking for the episode Happy Days where The Fonz battles Mork? — Hubert Vigilla

2. Modest Mouse – Good News For People Who Love Bad News
(Epic)
With a new drummer in tow and masterful producing by Dennis Herring, Modest Mouse created the album everyone knew they could make. Everything about it shouts triumphant, right down to the graphic design. But it is Brock and company's songs that leave one successively saying, "Oh wait, this is a great song." From the ever present "Float On" and its lead in, "The World at Large" to the bouncy brilliance of "The View" and the outright creepy joy of "Satin in a Coffin". While not exactly a theme album, similar refrains abound linking each song to become part of a larger whole. Brock's lisp and guitar with Eric Judy's bass never sounded sweeter. — Terrance Terich

1. Elliott Smith – From a Basement on the Hill
(Anti)
Losing Elliott Smith in 2003 was possibly the saddest thing that could have happened to pop music today. Genius songwriter and troubled soul alike, Smith's world was fraught with opposing extremes. Though his voice was soft and fragile, his words were often cynical and scathing. And on From a Basement on the Hill, his final recording, Smith captured a dramatic range of emotions and sounds that his prior albums only hinted at. From quiet acoustic numbers like "Memory Lane" to Beatlesque pop tunes like "A Fond Farewell" to giant rockers like "Coast to Coast" and elaborate masterpieces like "King's Crossing," Basement was Smith's most ambitious work.
We, unfortunately, will never hear another new piece of music by Smith but he has left us a lengthy and rich back catalogue to enjoy for years to come. Basement is a fitting final release, as it's one of his most accomplished works and was done with minimal outside help. Friends Rob Schnapf and Joanna Bolme finished mastering the record but added no overdubs. In its incompleteness, it seems almost perfect. And though many still feel unresolved about Smith's passing, we can take solace in the fact that he left us with one final, beautiful collection of songs.