Treble Roundtable: Our Favorite Record Stores (and what we bought there)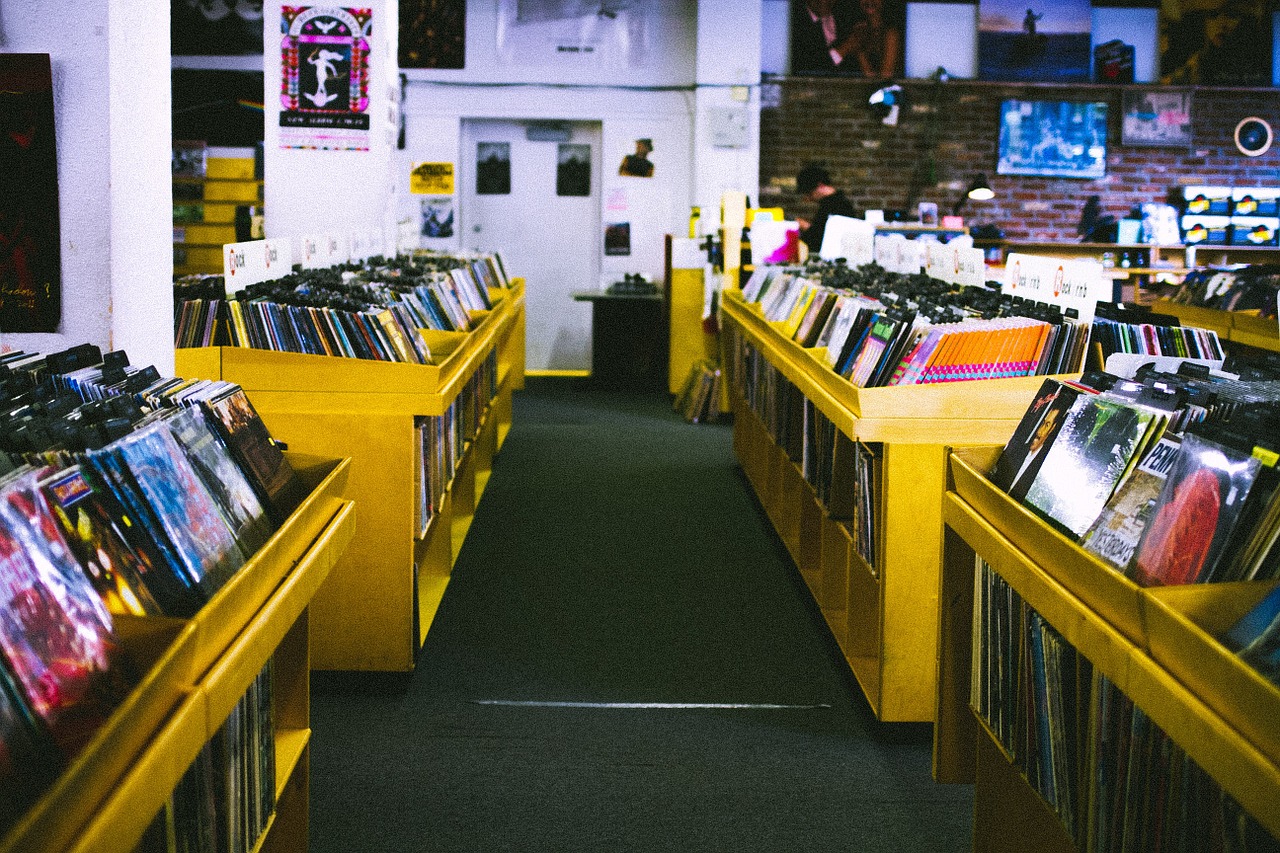 Welcome back to the roundtable, in which Treble's writers engage in a casual discussion on music, pop culture and our relation to both. Got a question for us? Feel free to send it over to [email protected] with the subject "Roundtable topic."
This week's topic: Record Store Day is this weekend, which is always a fun opportunity to talk about records. Not that we need an excuse to talk about records. But that's what we're doing today, along with our favorite places to find them. So today, we're showing love to our favorite brick-and-mortar haunts: What's your favorite record store, and the best find you've picked up while browsing there? 
John-Paul Shiver: Hands down it's Amoeba at the end of Haight Street in San Francisco.They have everything. And when they don't, their courteous and well-informed staff will always point you in the right direction, starting with Jacob Pena. This former bowling alley keeps clean and fresh copies of Sweetnighter by Weather Report on deck. I've purchased that record for under five bucks repeatedly over 15 years, mostly for the neck snap directness of "125th Street Congress." It's a pre-Jaco, utility funk player that can weave itself about DJ sets organically.
But for the other 364 days in SF and surrounding Bay Area environs hit the damn streets man. Flea markets, garage sales, and boozy pop-up stoop functions always bode well for the raging vinyl addict. Sure I've copped clean Alice Coltrane joints, Ptah, the El Daoud, Huntington Ashram Monastery and World Galaxy, at freaky Marin City flea markets. And found the proggy nobility of Faces In Reflection by George Duke at Ashby Flea Market in the East Bay. But nothing beats the joy of buying a cherry condition 12-inch of Madonna's Physical Attraction from a regal but spunky Latino Grandmother cleaning out her house on a sunny Mission District day right around 19th and Lexington. Say what you will, but when Madonna cut only 12 inches and not albums, she was at her best. Those were boogie friendly compositions aimed squarely at Larry Levan's dance floor. Micro, not Macro. Anyway. When I asked how much "25 cents Papi, let's keep it moving" is all I heard and quickly obliged. That's priceless.
Jeff Terich: I've spent a pretty significant chunk of my life in record stores, so naming a personal favorite is pretty tough—Space Hall in Berlin, Sister Ray in London, the weirdly hard to find Jazz Record Center in New York City. But my hometown hub is my favorite: Folk Arts Rare Records in San Diego. And every time I walk through the door, I inevitably walk out with gold. Usually in the form of jazz, funk or R&B. In the past year, some of the standouts I've nabbed include Miles Davis' Get Up With It, Patrice Rushen's Straight from the Heart, and Parliament's Funkentelechy vs. the Placebo Syndrome. Of course, I make a point of spending a good amount of time browsing through as many sections as possible, considering there are respectably extensive Afrobeat, Dub, Brazilian and other styles/sources. But just as rewarding, if not more so, is their sister store, Jupiter, in which everything is $5. Everything. On my first visit I walked out with Keith Jarrett's The Survivors Suite and Janet Jackson's Control for a tenner. That's a successful shopping trip right there.
Konstantin Rega: Plan 9 Music in the Cary Town neighborhood of Richmond, Virginia is my favorite store. Having gotten not only Joni Mitchell's Court and Spark, but Paul Simon's Graceland there (in good condition too), it is a fun place to pass the time in. Selling for more than 37 years, Plan 9 is a Richmond staple and always has new and old CDs and Vinyl. The interior might be a bit murky, but the music on the sound-system is always good!
Brian Roesler: My favorite record store is Mojo Books and Records in Tampa. If you ever find yourself there, let it be known that they have an absolutely lovely cafe there. Asides from spending too much time there during my undergrad days (and way too much money, my golden find was a copy of The Appleseed Cast's Peregrine recording from 2006. This was before the reprint in 2016, so at the time it was moderately difficult to find. I walked in on a rainy day and saw the cover facing me on one of their walls, I walked over, purchased it, walked immediately back to my apartment, and spun it front to back. I was broke that week (and the next), but it was worth every damn penny.
William Lewis: I'll often trawl the record sections of Melbourne's op shops (I guess what you'd call thrift stores in the States) for anything that could be mined for musical value. It's usually an exercise in futility, with the decrepit and limited selections mostly consisting of hordes of Nana Mouskouri or Bing Crosby's Christmas Specials mixed in with the usual classical army. But, as a result of what I assume was a borderline criminal neglect of due diligence from original owner and store alike, one fortunate enterprise unearthed The Church's Starfish which I was able to grab for $4. Remarkable given in it's a bona fide icon of Australian rock, and even one of Treble's greatest post-punk albums. Couldn't tell you the store. Probably one of the Salvation Army stores in the leafy eastern suburbs of Melbourne somewhere.
Langdon Hickman: I have to rep my hometown love Mobius Records in Fairfax, Virginia. I'm biased, of course, given that I've been going to them for a little over half a decade now. I discovered them after absolutely tearing through a proper used record place called RTX, formerly Record and Tape Exchange, nabbing an armful of classic prog and ECM records for my troubles. I wanted something a little more contemporary, though, and they didn't have any new stock. So I took a trip halfway across town to Mobius Records and in my first walk through the door nabbed a copy of You're Living All Over Me by Dinosaur Jr., Blue Record by Baroness and Thick as a Brick by Jethro Tull. It was love at first sight. My favorite find though was one of the bronze vinyl copies of Four Phantoms by Bell Witch, a beloved record of mine. I shop there less now more to save money since I have poor impulse control, but they remain my homebase for vinyl.
Paul Pearson:  Why, back in my day, we didn't have the latest hits downloaded into our heads by a server in Utah! We had to walk entire blocks to record stores! They gave us music in the form of little bobbins encased in plastic shells and flat discs that didn't have WordPerfect on them and we liked it!
The record store that's probably most responsible for the monster I've become (not including Tower Records) is The Beat in Sacramento, California (which was also the original home of Tower Records). Their main asset was that their cashiers actually spoke to me, and led me down a trail of new musical frontiers and mainstream social anxiety. That's 'cause I didn't really listen to them, except for Dennis. Everything I needed to know about the cultures I only witnessed from afar was learned at The Beat. I bought tons of stuff there, but I think the most unique was the Golden Palominos' Visions of Excess. The Beat closed their brick-and-mortar a few years ago. Now they're a P.O. box in Rocklin.
---
Support our Site—Subscribe to Our Patreon: Become one of our monthly patrons and help support an independent media resource while gaining access to exclusive content, shirts, playlists, mixtapes and more.