10 Essential San Diego albums
San Diego, Treble's home city, doesn't have quite as rich a musical history as New York, Memphis, Nashville, Chicago, Los Angeles or Detroit, but it's nonetheless a city that has produced a lot of great music. Heavy metal pioneers Iron Butterfly formed in San Diego, as did glam metal icons Ratt, while a long list of notable musicians have called the city home at one point or another. Among those who have set up camp here include Tom Waits, Eddie Vedder, Spoon's Britt Daniel, Bauhaus' David J, The English Beat's Dave Wakeling, and most recently (so we're told) Rihanna. But in compiling a list of the best albums by San Diego artists, the era of homespun indie rock that began in the early '90s and carried through to the last decade stuck out as an extremely fertile period. There are a good number of recurring musicians and songwriters, which prove just how interconnected most of the city's best bands are. And in limiting it to just ten, a lot of great artists were cut, including Rafter, The Plot to Blow Up the Eiffel Tower, Antioch Arrow, aMiniature, Lowcloudcover, Waterline Drift, The Locust, Some Girls, Aspects of Physics, The Album Leaf and Tristeza, among countless others. So consider those honorable mentions, while these ten, presented in chronological order of release, are absolutely essential.
Rocket from the Crypt – Circa: Now!
(1992, Headhunter/Interscope)
The music scene in San Diego is one that contains many recurring personalities, which is likely not very surprising to those who have invested much time or interest in its artistic offerings. One of the most prominent of these personalities, John Reis, appears on this list a few times, having helmed and played guitar for countless acts in San Diego bands, the most famous of which is, without a doubt, Rocket from the Crypt. In the '90s, the band started a highly advanced form of viral marketing in which fans who got a Rocket tattoo would get free admission to their shows, which seems like a big commitment, but at least there's a recurring benefit. Pointing to the band's best album is tricky, but I always come back to Circa: Now!, which is the album that broke them to the mainstream. It launched the singles "Sturdy Wrists" and "Ditch Digger," which landed them on MTV, and proved that adding a horn section to a punk band was an outstanding idea. Most of the band's discography is worth a listen, but this ripper is the best place to start.
Drive Like Jehu – Yank Crime
(1994, Interscope)
Another Reis-affiliated act, Drive Like Jehu had a dramatically different sound than Rocket, opting instead for a blistering and often epic post-hardcore churn. Second and final album Yank Crime had the good fortune of major label backing, though this uncompromising math punk is a far cry from alternative radio fodder. Frontman Rick Froberg's yelp is piercing and raw, while the band's dissonant riffs twist and turn in bruising fashion. Leadoff track "Here Come the Rome Plows" is a rhythmic rollercoaster, threatening whiplash with each white-knuckle verse, while the jaw-dropping nine-minute "Luau" is basically one of the greatest songs ever written, building tension from a low rumble into a fierce shriek of an anthem. These albums aren't ranked, but if they were, this would be number one, without question.
Heavy Vegetable – Frisbie
(1995, Headhunter)
Rob Crow is best known for being half of the songwriting team in Pinback, who are one of the most successful acts to emerge from San Diego. But Crow's been in a shit ton of bands, including Thingy, Goblin Cock, Optiganally Yours and Heavy Vegetable, which stands as one of the most fun projects to ever bear his unique songwriting mark. Giddy and fun, yet abrasive and complex in approach, Heavy Vegetable's second and final album Frisbie made math rock into a decidedly more palatable form than some of the genre's highbrow craftsmen. Only a handful of songs on this dizzying recording push past two minutes, and when they do, as on the amazing "Cotton Swab," they seem practically epic. It's a little nerdy, a little complicated, but mostly a lot of fun.
Clikitat Ikatowi – Orchestrated and Conducted By
(1996, Gravity)
Given their fairly odd name and rhythmically complex and spastic art-punk style, Clikitat Ikatowi never gained much broad attention outside of San Diego, or for that matter, spastic art-punk circles. But the band's fierce and fiery post-hardcore attack is worth diving through the obscure archives to uncover. They only released two albums, equally manic and precise, and Orchestrated and Conducted By displays this in jaw-dropping fashion across nine tracks of stunningly head-spinning punk nervosa. Later on, other local acts like The Plot to Blow Up the Eiffel Tower would take up a similar cause, while Clikitat drummer Mario Rubalcaba went on to drum in a whole mess of other local favorites, from Black Heart Procession to Rocket From the Crypt, Earthless and, most recently, SoCal punk supergroup OFF!
Three Mile Pilot – Another Desert, Another Sea
(1997, Headhunter)
Providing another branch to the ever-intersecting San Diego indie rock family tree, Three Mile Pilot featured The Black Heart Procession's Pall Jenkins and Pinback's Zack Smith, and for that matter, served as a sonic precursor to both bands. Three Mile Pilot had a moody, dark and sinister indie rock sound, not unlike Modest Mouse, but without Isaac Brock's manic bark. Oddly enough, the band briefly signed with Geffen, but returned to indie Headhunter shortly thereafter for their best album, Another Desert, Another Sea. And, having reunited recently, the band's legacy lives on, even if its core members are in a bunch of other bands.
Pinback – Pinback
(1999, Ace Fu)
When Zack Smith and Rob Crow released their debut album as Pinback, they revealed a more subdued, home-recorded sound than that of prior bands Three Mile Pilot and Heavy Vegetable, respectively. Here, they took on a more insular tone, playing gorgeous melodies mostly free of distortion, but still high on twisted humor (sample lyric: "Push the little baby down the spiral stairs"). They got bigger, became alternative radio staples and have since transitioned to more of a traditional rock band setup, but their charming and subtle first offering is still their best.
The Black Heart Procession – Amore del Tropico
(2002, Touch & Go)
One of the more theatrical outfits from America's Finest City, The Black Heart Procession bore little resemblance to the wiry indie rock that was fertile in the '90s and instead opted for a dark and dirgey sound reminiscent of Nick Cave or Tom Waits. Their fourth album, Amore del Tropico, is one of their most sprawling and complex, featuring a recurring muder mystery storyline and a wide variety of sounds, many of which stand as their most memorable and accessible melodies. Of particular note is quasi title track "Tropics of Love," which blends Pall Jenkins' dark compositions with a Latin flavor that gives it just a little more intrigue.
The Hot Snakes – Suicide Invoice
(2002, Swami)
I know it's probably a little absurd to have three John Reis releases on this list, but when one dude happens to be in three bands as amazing as Rocket from the Crypt, Drive Like Jehu and Hot Snakes, he deserves some extra recognition. More of a Wipers-inspired garage punk band than the post-hardcore tsunami of Drive Like Jehu, Hot Snakes played it simple but raw, tearing through a dozen high-energy, trash-talking punk rockers on Suicide Invoice. Rick Froberg sneers like a grumpy punk rock uncle on "I Hate the Kids," while reaching anthemic heights on the outstanding "Unlisted." There's no filler, no bullshit and no song longer than four minutes (and very few that even come close). It's everything you'd ever want in a punk album.
No Knife – Riot for Romance
(2002, Better Looking)
No Knife hit quite a few artistic highs in their career, though they ended on an extremely high note. Riot for Romance is the sound of a band working as a tight and precise unit, honing in on their strongest melodies while displaying a dazzling instrumental dynamic. With the raw energy of Drive Like Jehu and the melodic sensibility of Jawbox or Sunny Day Real Estate, No Knife lets the hits fly on Romance, dropping some mesmerizing harmonized riffs on "The Red Bedroom" while opting for a more visceral abrasive punk attack on "Flechette." The band has broken up and gotten back together a few times during their career, but even if this stands as the last thing they ever release, it's a hell of a way to go out.
Castanets – Cathedral
(2004, Asthmatic Kitty)
Ray Raposa, the sole songwriter in Castanets, has moved around a bit in recent years, having spent some time in Brooklyn and Portland. Still, San Diego is where he launched Castanets and we will gladly continue to claim them/him as our own. Cathedral, Raposa's outstanding 2004 album, is his own haunting and gorgeous take on Americana, which has been likened to Bonnie "Prince" Billy on more than one occasion, and for good reason. Yet Raposa's gothic folk has a slightly more manic tone, and comes tickled by the dust of Southwestern desertscapes. Standout song "You Are the Blood" ended up being covered by Sufjan Stevens on the Dark Was the Night compilation, though, no offense to Suf, Raposa's is just too creepy and amazing to compete with.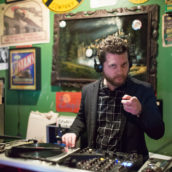 Jeff Terich
Jeff Terich is the founder and editor of Treble. He's been writing about music for 20 years and has been published at American Songwriter, Bandcamp Daily, Reverb, Spin, Stereogum, uDiscoverMusic, VinylMePlease and some others that he's forgetting right now. He's still not tired of it.