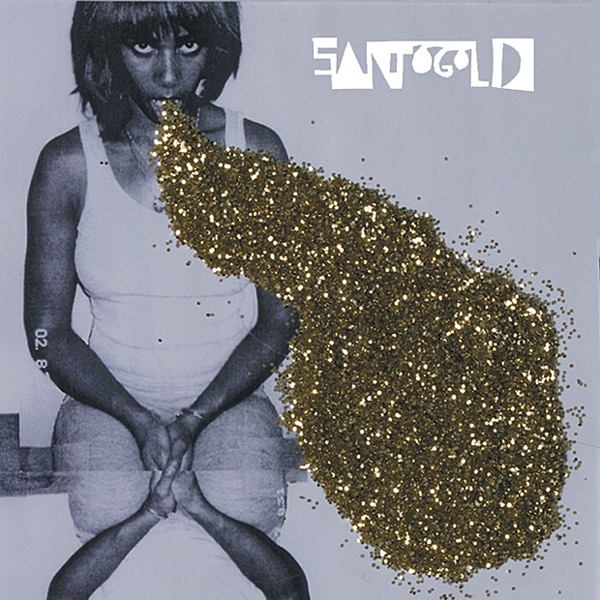 I don't know whether or not I should be admitting this, but Santogold's self-titled album is one of four records in our Best of 2008 list that was never originally reviewed. Of course, we are rectifying that now. But, the reason we missed Santogold couldn't have had anything to do with obscurity. With her debut Jam cover on Mark Ronson's Version, a string of heavily played lead-up singles and a host of songs used for adverts, Santogold was seemingly everywhere. And, unlike most other acts pigeonholed as dance music, Santi White and John Hill were seeing their debut reviewed by the likes of Entertainment Weekly, Rolling Stone and Blender. It's just too bad that most who reviewed it got it completely wrong.
It seems that most listeners of Santogold's stunning debut never bothered to listen past its first single release, "Creator." Yes, Santi White's twitchy cooing and Missy Elliott style flow over muffled beats and video game keyboards recalls M.I.A., that can't be denied. But, the rest of the album has less to do with mimicking a modern sound than celebrating the myriad styles of pop that draw heavily from the '80s. In this respect, Santogold is probably closer kin to someone like Gwen Stefani, a child of the '80s raised on new wave, dub and pop. Philadelphia must have its own version of KROQ.
Although the album itself could lead listeners to inventing some kind of drinking game in finding all of the '80s pop precedents, that isn't the best part of the 12-track affair. Sure, we can toss out the fact that second single "L.E.S. Artistes" (standing for Lower East Side) sounds like the second coming of Dale Bozzio and Missing Persons, or the likenesses of particular songs to the Go-Go's or the Yeah Yeah Yeahs ("You'll Find a Way"), The Police, The Specials ("Shove It"), the Diplo produced remix of "California Soul" ("Say Aha"), Siouxsie & the Banshees ("My Superman"), the Cars meets the Motels ("Lights Out"), Kim Wilde / Berlin ("Starstruck") or the Smiths / New Order ("Anne"), but those comparisons don't strike the heart of what makes Santogold one of the best albums of the year.
In my opinion, most popular music has not been nearly as joyful as it was back in the '80s. This is the essence of what Santogold brings to the table. Not only does it bring the street and production cred, but it is quite possibly the most fun you can have with popular music since the days of so many one-hit wonders. This album is like a Blow Pop: sweet pop bubblegum inside a hard candy shell. And while most reviewers and record stores might be quick to slap a "dance" label on Santogold, this doesn't do it justice. The truth is, the album is probably more at home next to the Just Can't Get Enough: New Wave Hits of the '80s compilations than it does near Daft Punk or Tiesto. I guess we have a longer way to go in this country in avoiding stereotypes, but blasting the pop fun of Santogold will help in making that progress more fun.
---
Label: Downtown
Year: 2008
---
Similar Albums: