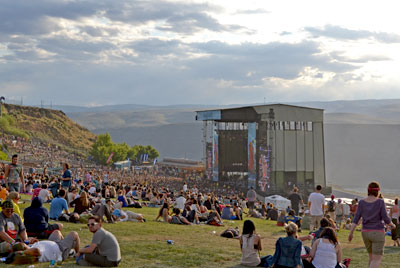 "Can I start spinning records now? [crowd cheers] I actually didn't mean that to be a crowd-hyping thing, I just wanted to ask the sound stage if they were ready."
After a thumbs-up, the casually dressed, unshaven James Murphy started his performance in a packed tent full of everyone from inebriated hippies, hardcore DFA Records fans, and high schoolers hoping to hear some LCD Soundsystem. Throughout the DJ set, Murphy was simply enjoying his work as he mixed funky horns, new romantic vocal samples and dance-punk guitars. Indeed, he was never concerned with the "crowd-hyping thing," in fact, he barely acknowledged the crowd, and his two-hour session was low on gimmicks, but that didn't stop the crowd from going crazy.
Sasquatch, like most if not all commercial festivals, features a wide assortment of genres and artists, all performing at various stages of their careers. Some acts, like Mr. Murphy, are near the height of their creative output and their sets in turn feel like an intimate glimpse into their craft. Other performers may be a little past their prime and/or less concerned with the music than they are putting on a multi-media show to dazzle an already easy-to-please audience. And, before I reveal too much of my pretentious, critical personality, I'll say that these acts are actually pretty fun and enjoyable. I just wish that I could applaud whoever was behind Pretty Lights' visual effects instead of the 20-something-year-old kid who spent a majority of the set shoulder bouncing between two MacBook pros and a mixing board.
Going back to the artists at the top of their musical game, St. Vincent controlled the Saturday night Bigfoot stage with a stiff, mannequin-like posture and composed yet emotional vocals on songs such as "Cheerleader" and "Chloe In The Afternoon." For "Cruel," the lead single off 2011's Strange Mercy, she broke out of her demure demeanor and frantically shuffled behind her microphone like a woman possessed. A cover of The Pop Group's "She Is Beyond Good and Evil" and the Record Day single, "Krokodil," ended the set on such a high note that for a minute I thought the crowd was going to pull off an unprecedented non-headliner encore.
Saturday concluded with The Roots blasting out a high energy, hour and a half set that began with an Adam Yauch tribute and cover of the Beastie Boys' classic, "Paul Revere." While Black Thought and ?uestlove may be the most recognized members of the Roots, Captain Kirk Douglas won over the crowd with a guitar solo in which he harmonized the riffs with his smooth yet sharp voice.
Of the four stages at the festival, the Banana Shack was the place to be if you just needed to get your dance on. However, amid the uptempo sets from James Murphy, Nero and Wolfgang Gartner, a couple artists such as Tycho and Com Truise switched up the pace and called for some head nodding instead of booty shaking. Tycho's set also stood out from the pack visually as he eschewed jejune patterns and pulsations for a set of psychedelic videos in the form of a girl walking through the desert or a surfer carving up a wave. The moving pictures perfectly complemented his most recent LP, Dive, which was one of my favorite releases of 2011.
Like most other music festivals of the year, Sasquatch had a very solid indie rock representation. The Walkmen played several cuts off their newest album, Heaven, as did Here We Go Magic with their latest, A Different Ship. Other highlights included a sunset performance by the Shins, and rocking small stage acts by Unknown Mortal Orchestra and The Helio Sequence. STRFKR played a second set on Saturday when artist I Break Horses called in a last minute cancellation. The bonus was quite a relief to all the STRFKR fans who had missed their Friday performance due to an exhausting four-hour wait to get into the campgrounds.
Of the headliners, Jack White seemed to get the most people rocking with a set that covered all of his projects from his most recent solo album to The White Stripes, The Raconteurs and The Dead Weather. Beck closed out the Festival on Monday following a surprisingly popular set by Tenacious D, who joined Beck on stage for his final two songs, "Motherfucker" and "E-Pro." An insufferable man in a Sasquatch costume was also on the stage and obliviously stole Beck's final applause from the audience before he walked off, although at this point it didn't seem as though Beck cared one way or the other. Bon Iver's Sunday night production was instantly more enjoyable than other festival performances because of the abundant amount of grass seating available at the Gorge.
This is one of the biggest advantages Sasquatch has over other festivals. At Coachella, for instance, it's almost impossible to sit down and still have a good view of the stage. At Sasquatch, it's tough to find a spot within the amphitheater that doesn't have a postcard-quality view. For the most part, music festivals can be exhausting, gross and disorienting experiences, but Sasquatch manages to alleviate the toll on your body and psyche without skimping on either quality or quantity. If you think you've lost the patience for these musical marathons, there's a big grassy hill in the middle of Washington that just might change your mind.