Shadow of the Horns: Five Labels Keeping Metal Interesting in 2019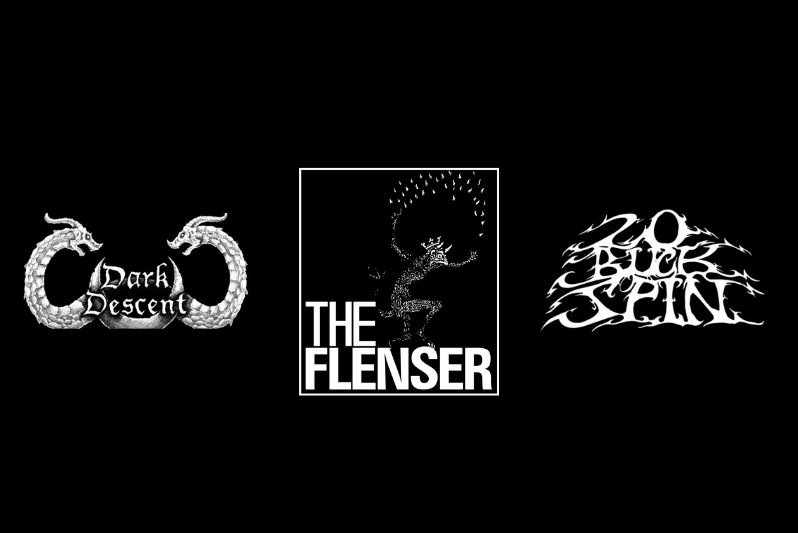 Labels are important. They don't necessarily make bands better, and a great band doesn't need a label to put out something special. But labels are ultimately the channels through which we hear most of the music we listen to. As brands, it's important for record labels to have a roster that reflects a certain symbol of quality. Sometimes it's a consistent strain of a certain genre, and sometimes it's an anything-goes kind of adventurousness. But as much as it seems like a label is little more than the business side of music, it takes a lot to make a label work, and it's cool to see that work pay off in the form of a year full of great music.
When it comes to metal, the mark of a good label is pretty simple: Do they put out great metal records? If the answer is yes, then that's pretty well settled. That being said, there are a number of metal record labels that tend to hog a lot of the attention. Century Media and Metal Blade are two of the biggest and longest running names in the metal biz, and Nuclear Blast and Relapse have histories and rosters nearly as expansive (and in the case of Relapse, one of the best of 2019—see Inter Arma, Full of Hell and Devil Master to name a few). And Southern Lord, having recently celebrated its 20th anniversary, is right up there as well. The recent releases of albums by Big|Brave and Sunn O))) are proof of how strong its brand is.
Of course, you get into some other complications with metal labels sometimes. Here and there, you'll find a label that distributes NSBM (national socialist black metal) records without blinking. Or maybe releases records by bands who technically don't make music that espouses a fascist ideology, but are shady regardless. Or maybe have a pattern of putting out records by abusers, misogynists, transphobes and, well, more fascists. And maybe all of those labels also put out a lot of great records. It can be frustrating, though it's not like this is the norm. Furthermore, there are a lot of great labels in the underground putting in the work to keep metal both exciting and diverse. So in an effort to salute the labels that are making metal worth listening to in 2019, here are five that I'll gladly keep coming back to.
Dark Descent: Based in Denver, Dark Descent has reached its 10-year anniversary this year, with an astonishingly large catalog full of great contemporary death metal. And the bands on its roster range from Treble's own hometown of San Diego all the way to Turkey. So it's truly a global death metal phenomenon, and if we've learned anything, it's that death metal brings people together. Right? And in Dark Descent's case, they're delivering some of the best there is.
Recommended releases: Horrendous' Anareta; Blood Incantation's Starspawn; Spectral Voice's Eroded Corridors of Unbeing
Flenser: Another label celebrating a decade of business this year, Flenser has been responsible for bringing a lot of the best sounds of the Bay Area (and outside of it, for that matter) to our ears. Their catalog includes releases from the likes of Panopticon and Deafheaven, but recently they've been diversifying with more darkwave (All Your Sisters), shoegaze (Elizabeth Colour Wheel) and industrial (Street Sects).
Recommended releases: Bosse-de-Nage's All Fours; Ails' The Unraveling; All Your Sisters' Trust Ruins
Sargent House: Los Angeles-based Sargent House, founded and owned by Cathy Pellow, put out their first release in 2006, which is a pretty excellent streak. Somehow, their roster only continues to grow stronger. It's not strictly a metal label, with new albums by artists such as Ioanna Gika showing the full range of their sound. And artists like Chelsea Wolfe and Emma Ruth Rundle are more metal-adjacent than proper metal, but that's what makes them interesting. Aside from being a strong brand with, by all accounts, a family dynamic, they never stop delivering the heavy, boundary-pushing goods.
Recommended releases: Boris' Dear; Emma Ruth Rundle's On Dark Horses; Brutus' Nest
Gilead: Adam Bartlett, head of Gilead Media, also runs the Eroding Winds record shop in Wisconsin, and if you're the type to double-tap some sweet vinyl porn, then head to their Instagram account. But Gilead is a spectacularly curated outpost for metal, which over the past decade and change has included everything from shape-shifting sludge (Thou), to screamo (Portrayal of Guilt), and a lot of great black metal for that matter. (And believe it or not, emo icons Appleseed Cast.) Just don't go looking for edgelord shit, because you're not going to find it.
Recommended releases: False's Untitled; Yellow Eyes' Immersion Trench Reverie; Imperial Triumphant's Vile Luxury
20 Buck Spin: The longest running label of this batch (by just a year), 20 Buck Spin has cred coming out of its bullet belt shell casings. And of late, that's cred has meant releasing albums by a long list of great death metal bands, a long list of great trad-metal bands, some doom, some psych-metal, basically anything and everything that pushes the boundaries of great metal while reminding us of the qualities that drew us in in the first place. It's gotten to the point where I don't go a full year without listening to everything they put out, because it's all going to be worth hearing. I don't even question it.
Recommended releases: Oranssi Pazuzu's Värähtelijä; Tomb Mold's Manor of Infinite Forms; Spirit Adrift's Divided by Darkness
In keeping with the spirit of this celebration of some of the best metal labels today, my five monthly track picks all come from those labels.
The best metal tracks of May 2019
Krypts – "Sinking Transient Waters"
Another excellent metal band from Finland? Not surprising in the slightest—it's the country with the highest per-capita metal band population in the world, after all, so something about being that far north and in a chilly clime while bordering some of the most unforgiving areas of Russia must be good for a metal band's creative health. Krypts have been at it for more than a decade, though by the sound of the early tracks released from their new album Cadaver Circulation, the group's hitting a new level of murk and menace, as evident in "Sinking Transient Waters." Epic and sharp-edged, roaring yet melodic, "Sinking Transient Waters" is seven minutes of some of the finest death metal I've had the pleasure of hearing this year, and it's really just a brief window into this group's dark alchemy. Those looking for something unrelentingly intense but harboring a sense of accessibility even within its harshest, ugliest moments, well here you go.
From Cadaver Circulation, out May 31 via Dark Descent
---
Vale – "The Guilded Path"
Even when Flenser gets behind an ostensibly straightforward black metal band, that's never quite the case. Whether it's the poetic, blackened screamo of Bosse-de-Nage, or the raw melodicism of Ails, the label tends to lean away from Dethlike Silence worship for its own sake. And so it likewise goes for Vale, one of the label's latest signings and likewise one that takes an established sound and takes a sledgehammer to it. Indeed, Vale are a black metal band, but they're one that's punk as fuck. There's a streamlined, searing, yet fucked-up sensibility to "The Guilded Path," a track rooted in anarchopunk and crust (though admittedly the more progressive strain in the vein of Nux Vomica, Agrimonia or Catharsis), but yep, there are blast beats. And it sounds utterly evil. Which is a reminder that you don't actually have to be a ghoul, yourself, to capture that dark essence.
From Burden of Sight, out now via Flenser
---
Russian Circles – "Arluck"
The first comment on this video on Youtube was posted by metal blog Lambgoat, stating, "I don't trust people who dislike Russian Circles." Well put! I'm not introducing anyone to some heretofore unknown upstart band, but I don't feel I have to. Here's your public service announcement: There's a new Russian Circles album out in August, the new track fucking rips—psychedelic arpeggios back to back with burly chugs and the kind of snare sound you can only get from inside Steve Albini's Electrical Audio Studios (produced by Kurt Ballou)—and you should listen to it. And that's that.
From Blood Year, out August 2 via Sargent House
---
False – "A Victual for Our Dead Selves"
It's been too long since False's last, incredible album, 2015's Untitled. But I get it—great black metal takes time, and you don't want to rush a band that's capable of something truly outstanding. Which that album was. "A Victual for Our Dead Selves" is the first taste of the band's first album in four years, which is being ushered in with a trio of releases that will no doubt make for a special summer for Gilead (Yellow Eyes and Falls of Rauros are the other two—check those out too!). But this is my favorite so far, a cinematic, moody, but altogether explosive opening of a vault into some awe-inspiring, terrifying and majestic underground cavern. I think we're well past caring about what's "true" about black metal and can embrace a kind of black metal that's both atmospherically stunning and rocks the fuck out. Both of which this does nicely.
From Portent, out July 12 via Gilead
---
Immortal Bird – "Vestigial Warnings"
You thought this spot was going to be reserved for Tomb Mold, didn't you? (Don't worry, there's plenty of time to talk about Tomb Mold—that album's at the top of the most-anticipated list for the summer.) But before we do that, let's shine some light on one of the band's building up some quieter buzz on the 20 Buck Spin label. Chicago's Immortal Bird are, well, they're fucking off the rails. In the best way. Their music is so intense as to be almost too much on first listen. They don't just play fast, or play heavy, or hit hard or screech their loudest. They do so while fucking with time signatures in a way that never leaves a familiar breadcrumb trail for the listener to find their way out. Their grooves cut deep, their riffs are lethal, and their genre is never really settled. They're sort of black metal, but also death metal, kind of old school and a bit tech, with some grindcore mayhem thrown in for good measure. What they are, above all, is a blast and a half. Interpret that as you see fit.
From Thrive on Neglect, out July 5 via 20 Buck Spin
Piece by piece
The best metal albums of the past month:
Big|Brave's A Gaze Among Them: Is this a metal album? Is this a rock album? Is this a post-rock album? Yes? I don't know. But it's heavy. And I can't stop listening to this, which is likely to remain in my top five for the remainder of the year. (Southern Lord)
Full of Hell's Weeping Choir: An utterly explosive, reckless, and in one song saxophone-filled (!) burst of manic deathgrind. Sold. (Relapse)
Idle Hands' Mana: As much a metal album as a goth-rock one, the new album by this Portland band is darkly glamorous and unapologetically campy. Which of course means it's absurdly fun. (Eisenwald)
Spirit Adrift's Divided by Darkness: Scheduling and retaining freshness kept this from being Album of the Week on Treble when it was released, but that doesn't mean it's not one of the best metal albums of the year by a significant margin. This album rules. (20 Buck Spin)
***
Also: Make sure to read my interview with Big|Brave, which was a fun, enlightening conversations with one of the best bands today.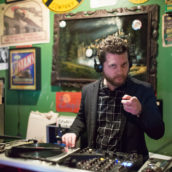 Jeff Terich
Jeff Terich is the founder and editor of Treble. He's been writing about music for 20 years and has been published at American Songwriter, Bandcamp Daily, Reverb, Spin, Stereogum, uDiscoverMusic, VinylMePlease and some others that he's forgetting right now. He's still not tired of it.