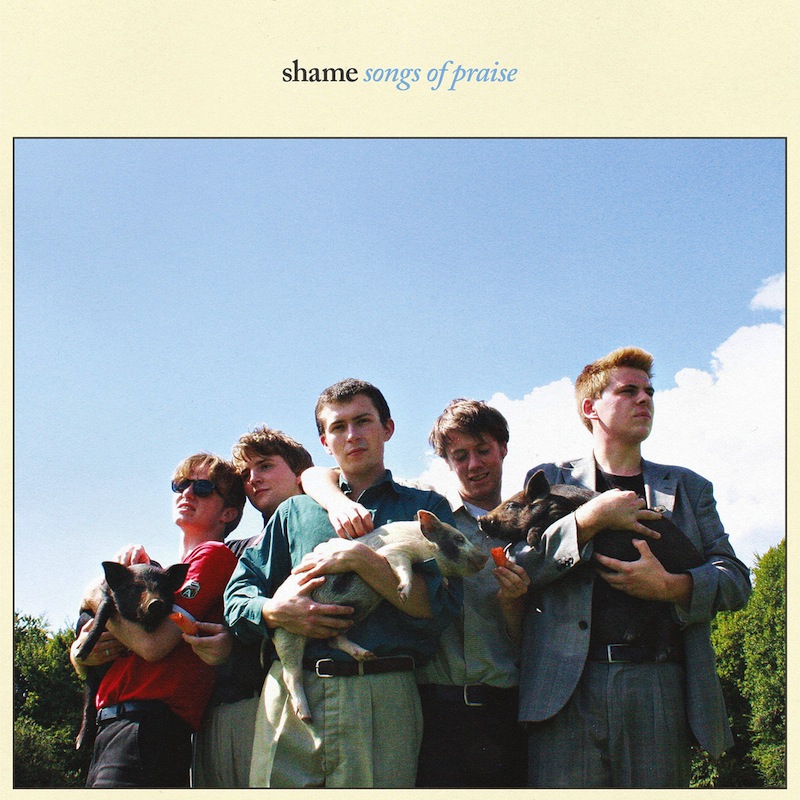 A note to new bands: it's good practice to leave your mark on your own turf first—or at least, that's how things usually go. A British band with an album release on an American label that provides the filling for an American tour sandwich? That's not suggestive of the usual, but then Shame have never seemed terribly concerned about conventional methods. They went over in November and are going back later this month for a run of shows that includes opening for Protomartyr.
Formed in 2014, the band came together as five individuals—Eddie Green, Charlie Forbes, Josh Finerty, Sean Coyle-Smith and Charlie Steen—lacking confidence (and in some cases, competence) honing their sound and skills while getting to grips with the live arena, making a name for themselves in the process. They're well beyond that now. As well as being their debut full-length, Songs of Praise will be the first opportunity many have had to hear their recorded output; they released two 7-inch singles which are now as rare as hen's teeth, and anyway, the definitive versions of "Tasteless," "Gold Hole' and live favorite "The Lick" blow their earlier incarnations out of the water; the latter of these will be adored by fans of laconic spoken-word pieces, or self-deprecating wordplay, or gloomy bass riffs—if you tick all three boxes, congratulations, you've found your new favorite song.
Not having much studio material to go on in advance of their debut could have come back to bite them, of course—what if the album versions don't stack up to live recordings(?), and so forth. However, fans of their live presence have no cause for alarm; plenty of bands struggle to harness their live energy on a studio recording, but that's a group Shame thankfully avoid being lumped in with. There's plenty of vigor on offer throughout Songs of Praise, with "Dust on Trial" kicking off proceedings in quite a cinematic manner, incorporating motorik grooves and shifting time signatures with ease. Steen's menacing vocal delivery keeps the listener on edge until the song's bridge hits and induces bedlam; air-raid sirens and all.
The band are at their best when given room to breathe and explore their sound, but listeners in search of a quick fix should start with Concrete" and the euphoric "One Rizla," both well-chosen singles that provide the easiest route of entry into Shame's world, and work through the rest of the record from there; probably with "One Rizla"'s verse being the one that echoes after the record's over: "My nails ain't manicured / And my voice ain't the best you've heard / And you can choose to hate my words / But do I give a fuck?" (It's rhetorical; no fucks are given.)
Throughout the album, Steen's lyrics are by turns full of self-belief and self-laceration in both personal and political contexts, and it's reflected in the music he and his band create. "Friction" asks questions of himself as much as it does society in general ("In a time of such injustice, how can you not want to be heard?"); and penultimate track "Lampoon" acknowledges the position of privilege Steen's music-making career has helped to create for him ("I may not know many words / None sharp enough to cut the cheeks / I may be cursed by company but at least I get to speak"), and declares that he wants to use that privilege to make a difference. With Songs of Praise, Shame's intentions are clear: They have the wind at their backs, and they've got plenty of miles to go.
Similar Albums: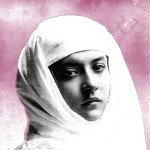 Protomartyr – Relatives in Descent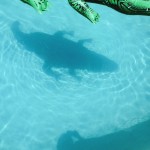 Shopping – The Official Body

Makthaverskan – III