Shearwater : Fellow Travelers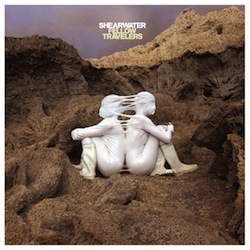 Shearwater are a powerful force. Combining a delicate, artistic approach with driving instrumental technique and one of the most dynamic vocal leads in indie-rock today in Jonathan Meiburg, the band's unique style has been refined and perfected over the last decade, making theirs a distinctive sound. Every Shearwater record feels deliberate — almost a piece of literature — with each phrase or crescendo carrying a heavy weight of purpose and intent.
It is, perhaps, this artistic focus that makes Shearwater's latest effort, Fellow Travelers, seem so much more appealing than your average covers record. The premise is simple: the band has toured with plenty of other artists, and as a result have made their own studio recordings of songs by artists with which they have bonded. And, for the most part, the album is just that: homages to some of their travel companions' most recognizable singles. That's not to say there's not a flow to the record, but rather one that is a bit more choppy than a typical Shearwater release. And what the album lacks in a cohesive feel, it definitely makes up for with its elegant restructuring of songs that any indie rock listener has heard a dozen times over.
Some tracks, such as St. Vincent's "Cheerleader" and Xiu Xiu's "I Luv the Valley OH!," are obvious translations to Shearwater's sound — with the latter's cover coming off a little more crisp than the former. But, truthfully, it's stripped-down reinterpretations like Coldplay's "Hurts Like Heaven" that carry the most weight on Fellow Travelers, combining Chris Martin's Platinum-indie-Britpop songwriting with a much darker ethos.
The best track on the album, it turns out, is not a cover at all. "A Wake for the Minotaur," a collaboration with Sharon Van Etten, comes from the project that Shearwater and Van Etten worked on as part of Record Store Day, and honestly might be too strong of a course to be paired with lighter fare on this release. "Wake" intertwines the calm beauty from Shearwater's strongest ballads with Van Etten's brilliant sensibility for storytelling, and successfully highlights Meiburg and Van Etten as a pair worth revisiting in the future.
On Fellow Travelers, Shearwater is careful to never release a bad arrangement, and the chosen tracks fit them well, even if some leave the listener longing for an original composition with more depth and growth. Imperfections aside, the album is a heartfelt and well-placed tribute to their fellow artists, travel companions and friends.
Similar Albums:


Shearwater – The Golden Archipelago


The National- High Violet


Cat Power – Jukebox