Sky Ferreira : Night Time, My Time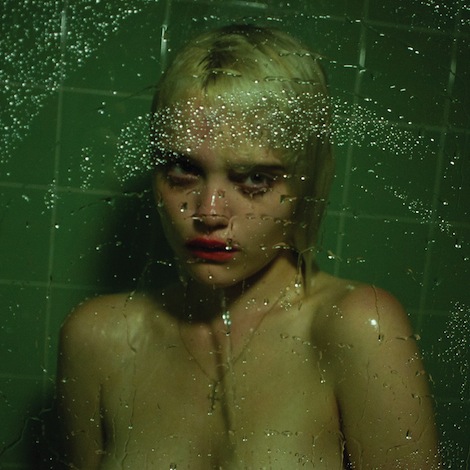 I have this fantasy, absent of any actual proof, about why it's taken so long for Sky Ferreira to release her debut album — which went through three other titles and who knows how many release dates before it finally arrived as Night Time, My Time. I dreamt her record label tried to parlay Ferreira's shock-model image and avant-garde tabloid fodder into a commercially respectable compromise. They wanted her to espouse a certain kind of musical front that superficially mimicked photo ops or VMA appearances that Miley Cyrus and Lady Gaga specialize in. I daydreamed that the record label tried to mold her into a personality that incites some, and encourages the rest to open their wallets — less Warhol, more Village People.
The problem is that Ferreira's actual music, by and large, eschews shock value. Night Time, My Time is firmly rooted in self-examination and understatement, but not in a maladroitly chic or angelicized way (see: Katy Perry's PRISM). The junior carnality and stunt-living Ferreira seems to espouse barely exist here. Even the cover art, a head-and-torso shot of Ferreira taking a shower revealing her bare breast, isn't titillating. Her eyes are withdrawn and unmoved, indicating that right now, she just really needs to take a goddamn shower.
While Ferreira's music straps on certain '80s elements and misshapes them through intorsion, what makes Night Time, My Time work is the fact that she sings at the level at which most of us speak, about the most familiar kinds of turbulence. What comes out the other end are more than a couple works of fulfilling and captivating pop music that hit the target.
It's refreshing to hear someone not in a big rush to define emotional situations. "24 Hours" puts all its aggression into a synthetic bass run that recalls Stevie Nicks' "Stand Back," but by contrast Ferreira is looking for something to hold on to: "Hopeful for awhile, lost in denial/I wish this could last forever." It takes a lot of reserve confidence for someone still unproven to put out something like "I Blame Myself." Over a drum machine track out of Purple Rain and tempered keyboards, Ferreira takes responsibility for something she hasn't yet figured out about herself: "I'm just a face without a choice/I trust you'd never like to guess what I think above the shoulders." The lead single "You're Not the One" plays disappointment off a mangled Big Country guitar riff, while a bunch of machines switch off from left to right channels. "I won't even bother to fight," Ferreira sings.
"Nobody Asked Me (If I Was Okay)" kind of feels like the central thought line of this stage of Ferreira's career. "Shakin' your head while I try to explain/You say you don't want to hear me complain/Just tryin' to get my point across/You don't seem to care if I'm feeling lost." All of this comes over a glam-guitar riff with more roll than thrust. In the album's closing, detached title track, Ferreira fades herself out into a tangle of discord and near-tunelessness, supposing "I'm useless and I know it." I don't buy that she "knows" it, but that she can see it from wherever she's standing.
Night Time, My Time doesn't quite sustain that level of thrill all the way through. Second-half pieces like "Heavy Metal Heart" and "I Will"don't quite distinguish themselves above the album's overall muddy mix, and the minimalist kink-sex jam "Omanko" (Japanese slang for a popular female reproductive organ) seems tacked on just to fill the album's quota for kink-sex jams, even though it's not bad. But more often than not Ferreira creates an appealing mystery out of can't-miss hooks, obvious but artful confusion, and a voice that's caught almost exactly between sentiment and detachment. It's hard to predict which side will eventually win out or what will come next, but Night Time, My Time at least makes you look forward to it.
Similar Albums:


Marina and the Diamonds – Electra Heart


HAIM – Days Are Gone


MS MR – Secondhand Rapture
Paul Pearson
Paul Pearson is a writer, journalist, and interviewer who has written for Treble since 2013. His music writing has also appeared in The Seattle Times, The Stranger, The Olympian, and MSN Music.