Spring Singles Roundup 2005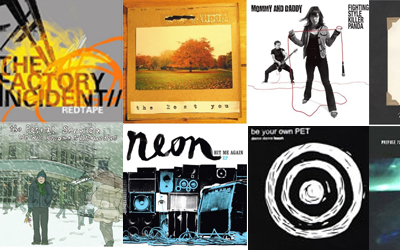 Every day, Treble gives you new album releases in hopes that we might influence what you spend your paycheck on the next time you head to your local record outlet. But sometimes, you have a few extra bucks and still need a little something extra. Well, that's what singles are for. They're, essentially, what the entire world of pop music is based around, and even in smaller indie circles, the idea doesn't change. A good single is a good single, regardless of chart positioning. And with any luck, it'll be packed with a few extra b-sides. Every season, there is an endless number of singles and EPs, each worthy of a good listen, even if they only last a few minutes.
The next time you head to the record bins, bring along a list of these lucky 13 singles, each with their share of great tunes. Or, if you prefer, you can hit up iTunes and queue up all the title tracks. Either way, these are some of Spring's best offerings. It's unlikely that any of these will crack the top 40, but it doesn't matter. Make your own chart and play this top 13 at your own house parties. They'll sound a lot better than da club, anyway.
Be Your Own Pet — "Damn Damn Leash" (XL)
If I were to go back to an awful form of high school essay writing, I would begin this single review by giving the Oxford English Dictionary's definition of punk, that being "a loud, fast-moving, and aggressive form of rock music." Why would I do that? For one, I am reviewing a single by a band that is still high school age. For another, the same band, Be Your Own Pet, truly follows the definition of punk to a tee. For those who long for the days of the Ramones' "1-2-3-4" and then blasts into double time guitars and drums, there is Nashville's Be Your Own Pet. "Damn Damn Leash" is a scorcher of a single that has already set record label and DJ's ears on fire. One of my favorite people, Rodney Bingenheimer, who used to hang out with the Ramones for Pete's sake, calls them his new favorite band.
Singer Jemina Pearl (Abegg) is like a deb Debbie Harry, meaning she's hot and has incredible chops, screaming out her caustic lyrics with abandon, and taking crap from no one. I mean, here's a girl who's 16 or 17, spewing vulgarities that makes you want to both blush and cheer at the same time. After all, that's what punk is all about, young people rebelling against whatever, being as loud as they can, and turning rock and roll on its figurative head. The three guys in the band, Jamin Orrall on drums, Jonas Stein on guitar, and Nathan Vasquez on bass, take hold of the punk reins and drive faster and faster, never getting sloppy, until the brink of exhaustion. It's no wonder that Rolling Stone picked Be Your Own Pet as one of the ten artists to watch this year. This is one of those bands that are blessed with everything, image, talent, appeal, strength, confidence, and above all, a desire to rock. God save Be Your Own Pet.
Similar Bands: Blondie, Yeah Yeah Yeahs, Ramones — TT
Bellafea – Family Tree (Pidgeon English)
According to the liner notes of Bellafea's debut EP, Family Tree, there's anywhere between two and six people in the band. But my guess as to the actual number of permanent members of the band is two, as all that you really notice is guitar, voice and drums, a combo that could be made from three people at most, but more likely two. But it seems to work for the ambiguously-numbered group.
Instead of attempting to play music too big for one guitar, the band utilizes their subtleties to great effect, playing a Spinanes-like brand of low-key indie pop. They rock out in all the right places, like the thrashy "Tara" and take a "nothing is more" approach on the handclap-and-voice-only "Be Still & Know." But for a real treat, have a listen to "Seasons" or "Thorn Bird," two of Family Tree's most haunting tunes. They pull of the eerie sparseness so well, it makes a compelling case against hiring a bass player.
Similar Releases: Spinanes – Arches and Aisles, Cat Power – You Are Free, Electrelane – The Power Out — JT
Black Leotard Front – "Casual Friday" 12″ (DFA)
I've never understood the point of releasing a fifteen-minute dance single. I mean, after ten minutes or so, you're going to need a break. It's just plain tiring. But then I get wind of "Casual Friday," the new single by DFA rising stars Black Leotard Front, and can't help but question my own assumptions. It's funky, it's fun and it's hot. This is one hell of a disco epic by a group that not only records dance records, but does performance art as well. As a song about office hanky-panky, it outdoes Belle and Sebastian's "Step Into My Office Baby," which is boast-worthy, because that's song's pretty clever. But this just seems more overtly risqué and dance-heavy, which creates a bawdy atmosphere for boardroom seduction in today's modern business world. Imagine an exotic dancer stripping out of her "business woman" costume, and "Casual Friday" would be the perfect soundtrack. And you know, fifteen minutes doesn't even seem that long when the beats are this hot. As an added bonus, you can sing along to the inane refrain of "Bonjour, bonjour, bonjour, bonjour." Giorgio Moroder, eat your heart out.
Similar Tracks: Donna Summer "Love To Love You Baby," Jimi Tenor "Total Devastation," !!! "Hello, Is This Thing On?" — JT
The Factory Incident — Redtape (Postfact)
Take a band, give them a frontman whose credits include influential D.C. hardcore band Government Issue, have them record their latest record at legendary District studio Inner Ear and invite Channels frontman J. Robbins to twist some knobs. What do you get? Redtape, the latest EP by Washington-based The Factory Incident. Knowing all of these factors before listening to the group, you should know, more or less, what they sound like: angular guitars, dissonant but strangely catchy melodies and a solid rhythm section.
What makes The Factory Incident standout, however, is how much they rely on melody, as opposed to abrasiveness. Though Jawbox is a good reference point initially, The Factory Incident shares more in common with later Shudder to Think or current Beauty Pill. Take the mid-tempo rockers "Rail" and "Argument," or the oddly jazzy "Said and Won." There is less noise than melody here, though TFE still manage to play said melodies without resorting to the obvious: major chords, pentatonic scales, non-stop four-four rhythms.
This isn't the sort of band that D.C. was cranking out 12 years ago. This is the District of today, and it sounds pretty nice. Whether they hold up well in a full-length format remains to be seen. But in the meantime, these six songs can hold their own.
Similar Releases: Jawbox – Novelty, Smart Went Crazy – Con Art, Beauty Pill – The Cigarette Girl from the Future — JT
Hood – The Lost You (Domino)
As a companion EP to their newest release, Outside Closer, Hood have released The Lost You, highlighting the first single off the album and four b-sides. Hooray! As someone who can't get enough Hood, the thought of even more new songs is very exciting. But first, let's get to the title track. "The Lost You" is a glitchy, twitchy, stutter-stepping electro track that rocks in every way possible without actually rocking. It comes as no surprise that this is the first single, as it's easily the most accessible song on Outside Closer, and one of the few that come close to being danceable. And as an added bonus, the CD contains the video of the track, which I have yet to see on Subterranean (hint, hint).
The b-sides, however, are quite wonderful. "You Can't Breathe Memories" is a droney piano-driven shoegazing dirge. "The Rest of Us Still Care" features a fair share of heavy basslines and gorgeous guitar melodies. In fact, it's amazing it didn't make it to the proper album. It's a damn good song. "By Island Lake (excerpt)" is a pretty instrumental, though basically serves as a segue between tracks three and five. But track five, the big finale, is yet another strong track from the Leeds group. Mostly instrumental, it's a pretty take on IDM with acoustic guitars and strange drones floating about. While Outside Closer is a damn impressive listen, The Lost You offers more gems for those looking to expand their listening.
Similar EPs: Broadcast – Extended Play, Junior Boys – Birthday, Radiohead – Com Lag — JT
The Juan McLean – "I Robot/ Less Than Human" (DFA)
No, it's not the theme to the movie adaptation of the Isaac Asimov novel starring Will Smith. "I Robot" is a steady six minutes of Kraftwerk-inspired techno with no shortage of robotic sounds mixed in. Hypnotic without being "trance" and danceable without being "techno," "I Robot" is an interestingly unique, albeit accessible electro single from the consistently impressive DFA label. The flipside, however, might even trump the A-side, as its heavy electronic beats and racing synths make for a more fast-paced and exciting experience, overall. Both tracks are sure to become favorites in your electronic collection, and at 10 minutes total, make this release one of the shortest 12-inches of the DFA catalog. Guess you'll just have to play it again.
Similar Tracks: Kraftwerk "Trans-Europe Express," Pixeltan "Get Up/Say What," M83 "Run Into Flowers" — JT
The John Francis & Impostors – The Earnest Manboy Suite in E Major (Self-released)
Things you should know about The Earnest Manboy Suite: The Impostors is really one guy — a drummer named Ilk; it's one continuous fifteen-minute piece of music; they have a bass player now, who isn't on the album; it's pretty darned good. I couldn't see myself liking one long piece of music played by a band I'd never heard of. It just doesn't make any sense. I can't even tolerate The Mars Volta, and I'm quite familiar with them and rather enjoy At The Drive-In. So, why, then, is it that I can dig The Earnest Manboy Suite?
It might have something to do with songwriting. This duo doesn't focus on stretching one song into a space opus. Rather, they split the piece up into several parts, albeit without track separators. It's much like The Decemberists' Tain EP, only it sounds nothing like it. The band goes from righteous guitar rock to a more subdued ballad to power pop. And the pattern continues, back and forth, without letting it get the slightest bit boring. The John Francis know how to make a long song good, though I might suggest they let this disc stand alone and write shorter songs next time around. Just a thought.
Similar Bands: King Crimson, 31 Knots, The White Stripes — JT
LCD Soundsystem "Yr City's a Sucker" 12″ (DFA)
My city's a what? Your city's a huh? I don't often know what James Murphy's talking about. And, honestly, I don't really care. Murphy is a rare talent in that he can create absolutely badass dance anthems from seemingly silly ideas. But in execution, LCD Soundsystem is much more of a clever entity than mere choral refrains suggest. In this track, Murphy's latest, the DFA Records-based producer puts together a nine-minute, bass heavy disco punk jam that rolls along, layering on new elements in typical LCD fashion, as well as sing-speaking silly truisms like "Everybody wants to have sex with TV stars." It's lengthy, as usual, but never wears out its welcome. There's always an interesting twist in the song, even if the central groove doesn't change all that much. Maybe keeping it simple is the key. Or maybe Murphy is the owner of a secret recipe for making unstoppable dance tracks. But he probably wouldn't sell it for a lifetime supply of DJ gear.
Similar Singles: LCD Soundsystem – Yeah, The Rapture – House of Jealous Lovers, !!! – Me and Giuliani Down By the Schoolyard (A True Story) — JT
Mommy and Daddy — Fighting Style Killer Panda (Kanine)
Ah, yet another duo from New York playing minimalist new wave. I tell you, I'm really getting sick of all these bands with no bass…oh, there's no drummer? And there is bass? Well that changes everything now, doesn't it? Mommy and Daddy, a frantic NYC post-punk duo, have sacrificed drums for the sake of playing some heavy-ass bass and beepy k eyboards. This is the kind of duo I can sink my teeth into, as there's more meat in their music, even if they've sacrificed more natural sounding beats in the process.
Mommy and Daddy's debut EP, Fighting Style Killer Panda is described as a cross between the Misfits and the B-52s, which is a fitting description. They play their tracks with a manic punk energy, but do so with a high dose of fun and danceability. "Confection" shuffles along like The Kills' better tracks and "Street Cleaner Demeanor" is up there with the Yeah Yeah Yeahs' best. And what's more, even without drums, they still find time to clang on a cowbell. Christopher Walken would be so proud.
Similar Releases: Yeah Yeah Yeahs – s/t EP, The Kills – Black Rooster, Hot Hot Heat — Makeup the Breakdown — JT
Neon – Hit Me Again (V2)
Subtract the vampiness of the Darkness and most would think you might end up with a fairly boring band. One need not be a spandex clad banshee to rock. Take for instance the bands coming out of Australia recently. Jet, the Vines, and Rocket Science are all putting out balls-to-the wall seventies style rock unapologetically. Neon does not hide their love of seventies music, in fact they embrace it, especially by covering the aforementioned arena rock heavies. Their version of Cheap Trick's "He's a Whore" from CT's own debut album is spot on. But it reminds me of when a friend told me that they didn't find near-exact cover versions interesting. She wanted the covering band to do something new and interesting with the song, in essence, to make it their own. Because the problem becomes, why listen to the cover, or for that matter even a similar band, when you can listen to the original.
The really disappointing thing about Neon is that they're really good. I say disappointing because their Australian peers will most likely get far more airplay and fans. While both Jet and the Vines have a similar sound to Rocket Science and Neon, they have teen appeal. When most kids listen to Top 40 radio, you can force feed them any band with an untucked shirt, a messy hairdo and a tie hanging askew. Quality comes second in the music game as only once in a great while does a band slug it out long enough to gain popularity the old fashioned way. Neon actually has an image that might work towards their advantage, but they might have to find one other trait to set them apart from the field.
Hit Me Again is an accomplished set of songs for a first time out, but here's to hoping that Steve McDonald can guide their first album into more daring and fresh territories.
Similar Releases: Cheap Trick- Cheap Trick, The Vines- Winning Days, Kiss- Dressed to Kill — TT
Palomar – 3.5 (Self-released)
Every time I look at a record by Palomar, I can't help but think of Palomar College, a San Diego County community college that every student at my high school, who wasn't planning on going to a four-year college, attended. But this Palomar, in particular, hails from New York and, from the sound of it, graduated at the top of their respective class. Their new EP, 3.5, is an outstanding, but brief, release, with some damn fine tunes on it.
A brief follow up to their previous album, III (get it?), this new EP finds the band playing five new originals, some of which are to appear on their upcoming full-length, while the others will most likely stay settled on this single release. But no matter the fate of these songs, each one is a standout track. Rachel Warren plays a sweet frontwoman to her more raucous bandmates. Christine Prostano plays a mean set of riffs while Sarah Brockett is quite adept at hammering out a solid bassline. Imagine The Breeders covering Fugazi songs. Or Beauty Pill if Chad Clark stopped singing (which would be a shame, but you know…). Palomar may be rocking in a subdued manner, but rocking nonetheless. Sometimes it's better to keep a balance than play extremes. And the ladies and fella in Palomar are well aware of this.
Similar Releases: The Breeders – Last Splash, Pinback – Offcell, Luna – Close Cover Before Striking — JT
The Postal Service – We Will Become Silhouettes (Sub Pop)
When fans will clamor for just one new song, you know you've got a hit band. It makes you wonder whether Ben Gibbard and Jimmy Tamborello really knew what they had in their hands when they exchanged tapes through the mail, creating one of Sub Pop's highest selling albums to date after Nirvana's Bleach. The fact that no other act on the label could be further from Kurt Cobain seems to be the irony. Ultimately it just comes down to originality. So, the world was waiting for an electronic emo band, its just that the world didn't really know it yet.
Now that the album has recently celebrated its second birthday, I suppose that it seemed time to release its third (is that it?) single. "We Will Become Silhouettes" is happily post-apocalyptic, and that's not even counting the video directed by Napoleon Dynamite's Jared Hess. Referring to bomb shelters, cell division, and then ultimate bodily combustion, one has to think of the silhouettes of people created by nuclear fallout. Not exactly cheery, but instead of making a somber acoustic number, Ben and Jimmy create an uptempo bouncy track which belies its subject. Crazier still is the fact that the Shins made it an even happier number on an earlier single.
Besides a Matthew Dear remix of the same song and a Styrofoam remix of one of the greatest he said / she said songs ever written, "Nothing Better," is the new song "Be Still My Heart." The new track and remixes alone are worth the $3.99 price tag for any Postal Service fan. If you like the remixes, you might want to also check out Styrofoam's Nothing's Lost which features Ben Gibbard on a couple tracks. Now that Death Cab for Cutie has signed to Atlantic though, and he is concentrating on his first band only, one has to wonder how long Give Up will have to be milked before we hear anything new.
Similar Releases: The Postal Service- The District Sleeps Alone Tonight, Death Cab For Cutie- The Forbidden Love EP, Dntel- This is the Dream of Evan and Chan — TT
Prefuse 73 f. El-P and Ghostface "Hideyaface" 12″ (Warp)
I saw this single listed on a website once as "Hideyface," which is what I imagine Saddam Hussein kept concealed in his hidey hole. But in all seriousness, "Hideyaface" is the first single off of Prefuse 73's latest, Surrounded by Silence. As a Prefuse 73 song, it's not quite as mysterious and beautiful, but as a hip-hop single, somehow, it's even more mysterious and beautiful than what the mainstream is capable of. But as we all know, Prefuse 73 ain't a part of the mainstream. Guest vocalists El-P and Ghostface trade off rhymes over Scott Herren's bleepy melody.
Things get even more interesting on the b-sides, however. El-P's remix of the track transforms it into a down and dirty funk track with eerie background vocal samples. It would almost seem more appropriate for this version to become the top 40 candidate. The instrumental version of the song is extended for a few minutes, as Prefuse 73 reveals the magic behind the rapping. And, unquestionably, it works remarkably well as an instrumental. The whole thing is wrapped up with the "Shaolin Finale" remix, which takes the original bassline and combines it with Far Eastern samples to great Kung Fu effect. Scott Herren's crossover of late has taken a while for me to get used to, but "Hideyaface" becomes a rewarding listen, should you happen to spend some time with it.
Similar Singles: Madvillain "All Caps," Ghostface "Push," Aphex Twin "Windowlicker" — JT