Stephen Malkmus and The Jicks : Wig Out at Jagbags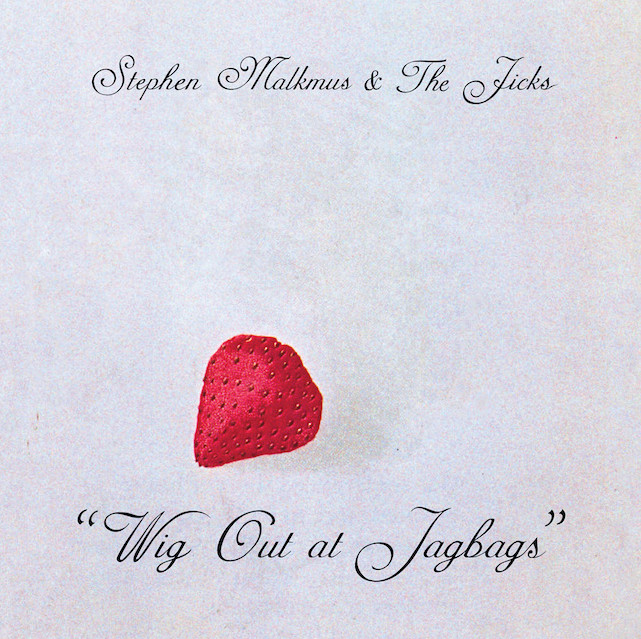 Stephen Malkmus is a words man. Even back in his Pavement days, Malkmus knew how to use creative lyricism to his advantage, usually wrapping those obtuse poems around freewheeling jams. Yes, some of Malkmus' verses are strange, but that's his unique appeal. (Plus the guy plays a decent guitar.) So it's hard not to get caught up in the peculiar choice of words that comprise the title of his new album — what the hell does it even mean? Well, "Jagbag" is the semen filled tip of a condom, or in more common parlance, a scumbag. And I think we all know the feeling of "wigging out" to a serious jam. But Malkmus sums it up best on a note posted on Matador's website: "Jagbag is a great word. A smeared aspersion, not profanity, but derived from one… watered down for the airwaves, or the assembly line. To Wig out–we've all been there.  We ARE there, at least i Am." Clearly, Malkmus is on some real shit.
With Wig Out at Jagbags, his sixth album backed by the Jicks, Malkmus has reached his orchestrated peak. At the ripe age of 47, Malkmus is still rocking out with the best "Surreal Teenagers," who he casts off to close the album. Like any Malkmus record, Pavement or otherwise, there's a Grateful Dead essence that gets tangled up in punk rock. Maybe that's what he is getting at when he sings, "We grew up listening to the music of the best decade ever," during "Lariat." Was it the 1970s? It's hard not to reach that conclusion based on the evidence presented here.
Here's the uncomfortable, if obvious confession: I enjoy Pavement more than Stephen Malkmus and the Jicks. That's the music I grew up with, but Malkmus' post-Pavement music has been growing on me. Each album gets more expansive, with a vaster network of influences bleeding through the tracks. Malkmus is an aware musician, a creative observer. He lived in Berlin for two years; life is different.
Musically, Wig Out at Jagbags jumps around — from the punky piece "Rumble At The Rainbo" to the sweet ballad "J Smoov" — and back again. Two tracks come in at less than two minutes each, and three that run longer than four minutes. It's a quick listen — 12 tracks in 39 minutes — but there's enough varying material to allow for deeper listens and excavating missed highlights (dig those horns!). Five tracks in, we're hit with "Shibboleth," the surprising dark moment of Jagbags. The murky baseline adds to the claustrophobia.
The instrumentation is pleasantly rewarding on Jagbags, rather than outstanding. For me, it's Malkmus' lyrics: "I don't need your windbag wisdom, and all the restriction"; "I don't have the stomach for your Brandy, I can't hardly drink your tea"; "Sucking on a cigarette, that's no dessert…I can't compete on Independence Street"; "Condoleezza's rice scattered on the floor"; and "The power lines revolt in time, I've been trippin' my face off since breakfast, taking in this windswept afternoon." Look, we all know that Stephen Malkmus and the Jicks can play; that was proven years ago. But it's in the lyrical imagery where one can really wig out.
Similar Albums:


Pavement – Brighten the Corners


Mudhoney – Vanishing Point


Vetiver – Tight Knit