Sufjan Stevens : All Delighted People EP
Last year, Sufjan Stevens appeared to be in the throes of an existential crisis. The CD, he mused, was obsolete, and the album format was essentially endangered. And as such, the uncertain nature of the medium left Stevens, an artist renowned for conceptually tight albums like Seven Swans and Illinois, in a state of personal crisis. This, however, was following a four year period in which he didn't release any albums, save for film presentation of his BQE performance, and an album of Illinois leftovers titled The Avalanche. (And Run Rabbit Run, for which Sufjan didn't actually perform anything.) So, at the dawn of 2010, Stevens' future seemed hazy at best.
But eight months into the year, Stevens had a "fuck it" moment in public relations, and released a digital EP with no fanfare or warning. The digital release, titled All Delighted People, spans a hefty 60 minutes, a hearty if not excessive length for something considered an EP. Then again, Stevens may very well have said "fuck it" to the format as well, doing away with notions of what comprises an album vs. an EP (and he does have a full-length on the way, so we'll see which ends up being the longer of the two). But one thing's for certain: he didn't half ass it.
An artist known for both a large volume of work, and densely constructed and arranged compositions at that, Stevens' offering on All Delighted People is ambitious, to say the least. With an 11-minute track at the beginning, and a 17-minute closer, the eight-track release is a sprawling piece of work. A looser collection, thematically, All Delighted People isn't built on a foundation of religious themes or U.S. geography. However, the EP is anchored by two variations on the title track, each of which incorporates lyrics from Simon & Garfunkel's "The Sound of Silence" ("Hello darkness, my old friend…"). The original version, spanning 11 minutes and numerous movements, is Stevens at his most lush. Strings weep and cascade, horns bellow and burst, and a choir backs up his emotive vocals, which sound only slightly less fragile than before. Meanwhile, the classic rock version (which sounds more like Sufjan than Zeppelin) casts the song in an earthier light. Yet, despite their notable differences, and the time it took for them to arrive, both songs reveal the sound of an artist at his most inspired and powerful.
Sandwiched between the two variations on the title track are a series of shorter, subtler songs, more closely aligned with the graceful folk sound of Seven Swans. Stevens' songwriting, adorned by simple arrangements of guitar and banjo, is as strong as ever, as evident on the standout "Enchanting Ghost." The track is simple but beautiful, with Stevens crooning the eerily romantic lines, "If it pleases you to leave me, just go/ Stopping you will stifle your enchanting ghost." "Heirloom" is both the shortest and the most straightforward song on the EP, yet still quite chilling, with a reverb-backed Sufjan asking, "How quickly will your joy pass?" And "The Mouth of Gabriel," played on what sounds like a toy piano, has an elegant, spectral quality, which puts in good company with the songs surrounding it.
For as sprawling and varied a release as All Delighted People is, though, its first seven tracks don't quite prepare the listener for the breathtaking, 17-minute "Djohariah." Named for Stevens' sister, the song is all haunting grooves and guitar solos for the first 12 or so minutes, like "Maggot Brain" played by Isaac Hayes circa 1969 (supposing he could predict the future). Soon the name becomes a melodic chant, carrying the song toward its eventual verse, as Stevens sings of "the man who left you for dead/ he's a heart grabber, back stabber, double cheater, wife beater." With the music far more hushed, the intensely personal message becomes all the more heart-wrenching, yet Stevens turns the sentiment into a positive climax, incanting, "Go on! Little sister!/ For your world is yours." It's a powerful, overwhelming track, but worth hanging on for every last minute.
For better or for worse, Sufjan Stevens is an overachiever. That, somehow, an eight-song stopgap can end up as long as his full-length albums is telling of just how much he puts into his work. As his first release of new material in five years, however, it more than succeeds. Beautiful, ambitious and strong as a whole, it's as good an argument as any that Stevens never really doubted the album (or EP) as an art form.
Similar Albums:
Sufjan Stevens – Seven Swans
Andrew Bird – The Mysterious Production of Eggs
Iron & Wine – Woman King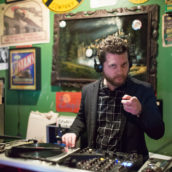 Jeff Terich
Jeff Terich is the founder and editor of Treble. He's been writing about music for 20 years and has been published at American Songwriter, Bandcamp Daily, Reverb, Spin, Stereogum, uDiscoverMusic, VinylMePlease and some others that he's forgetting right now. He's still not tired of it.