Sun Ra Arkestra : Living Sky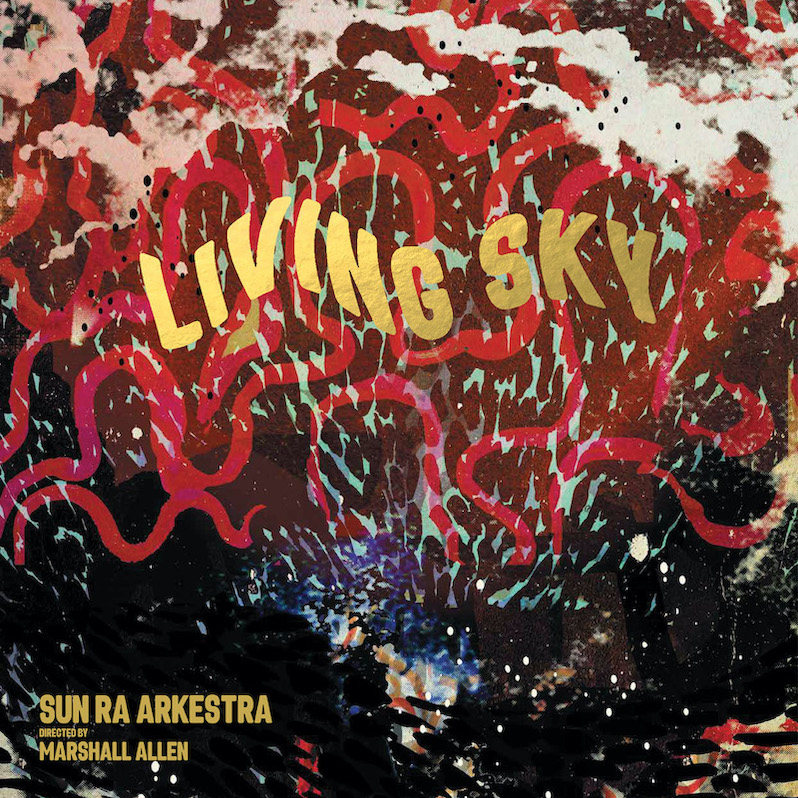 Saxophonist, composer, and leader of the Sun Ra Arkestra, Marshall Allen is now 98 years old. Nearly 30 years after Sun Ra's death in 1993, Allen continues to bear Sun Ra's legendary afro-futurist jazz legacy with astonishing liveliness. Released by Omni Sound, Living Sky is a work that feels like a loving ode to all that made Sun Ra's music so special. We have the old-timey feel of Sun Ra's big-band roots, touches of avant-garde, free instrumentation, a hypnotic spiritualism, and more broadly, a sound that feels infectiously alive.
Beginning with a rarely recorded expansion of Chopin's miniature, "Prelude in A Major," the Arkestra re-introduces us to their eccentric, space-bound style. With subtly dissonant string accompaniment, mesmeric percussion, and some beautiful soloing, it's a wonderful elaboration on both Chopin's original work and Sun Ra's own live renditions.
We then have another studio version of an old fan favorite, "Somebody Else's Idea." Initially known for its hypnotic recitations by June Tyson, this version eschews any lyrics and instead emphasizes the mysterious, almost incantatory central melody. Its repetition and procession-like structure encapsulates the spirit of the group; a sense that one is travelling in unison into the unknown. This feeling continues throughout the record.
The following track, "Day of the Living Sky," is a Marshall Allen original, featuring some wonderful kora playing from the bandleader himself. As demonstrated here and on the mournful "Marshall's Groove," one of the unique appeals of the record is its understated busyness. Throughout, behind the solos and the core melody, there is a hive of instrumental elaborations from the nineteen musicians. This simultaneous soloing is part of what helps the record feel so alive. There is a carnival of activity within many of the compositions; a subtle maximalism from an unconventional, interstellar big-band.
The remaining tracks are in keeping with the searching tone of the album. Sun Ra's composition "Night of the Living Sky" maintains the Arkestra's Afro-Latin influence in its percussion and swaying rhythms. "Firefly" is a slower track that allows space for squawking, avant-garde flourishes from Allen's tenor. And finally, the closing rendition of the Leigh Harline-penned song, "When You Wish Upon a Star" is distant from the track's Disney beginnings, retaining the melancholy but adding the Arkestra's looser style of performance.
Ultimately, at risk of sounding overly grandiose, listening to Living Sky is like walking through an unstoppable procession into the outer reaches. Unlike jazz that swings or sways, this is jazz that marches on in hypnosis. It's safe to say that the legacy of Sun Ra—with his gloriously askew big-band style, his idiosyncratic innovations, and his undying commitment to an astral spirituality—is safe in the hands of Allen and the Arkestra.
---
Label: Omni Sound
Year: 2022
---
Similar Albums:
Noah Sparkes
Noah Sparkes is a UK-based culture writer specialising in film, TV, and music. With a particular interest in the intersection of culture, politics, and history, Noah has written in a variety of outlets.