Daniel Miller and Gareth Jones on releasing their debut album as Sunroof after 40 years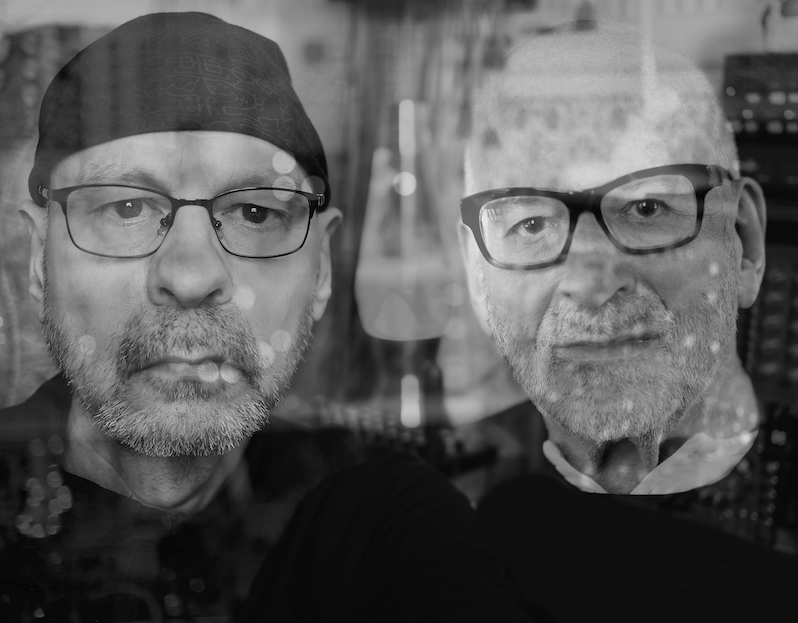 Diane Zillmer & Gareth Jones
Most debut albums aren't 40 years in the making, but Sunroof—the duo of Daniel Miller and Gareth Jones—have a history that sets them apart from most other bands. Miller is the founder of Mute Records, as well as the musician behind early synth-pop projects The Normal and Silicon Teens, with a list of production credits that extends even farther. Jones, likewise, has engineered, mixed and produced records for dozens of bands, from John Foxx and Ministry to Liars and Interpol.
Miller and Jones first met and began their friendship in 1983, working together on the Depeche Mode album Construction Time Again, and in their downtime between sessions, they'd have some improvised jam sessions with synthesizers. Sunroof, in essence, began in that moment, though it didn't have a name until 15 years later, and it likewise wouldn't have a proper album to document their improvised soundscapes for another 23 years after that.
The duo just released their debut album Electronic Music Improvisations Volume 1 via Mute, the end result of four decades of friendship and collaboration that finally resulted in a proper studio album. We caught up with the two musicians via a Zoom call—Miller from Berlin in front of an array of modular synthesizers, and Jones outside of a studio in a green and verdant part of England—to discuss the long and unlikely process of finally making a Sunroof album, learning experiences and improvisation.
Sunroof began in '90s with a series remixes, was there an intent to pursue something larger at the time?
Gareth Jones: Sunroof's name arrived in the '90s. But I think the concept goes back to the '80s, even, when we were working with Depeche Mode. I think the concept was there almost from the beginning. Daniel got asked to do a remix of Pizzicato Five and he invited me to join him, and we realized we needed a project name. So Daniel came up with Sunroof, and I thought yeah, that'll do. And so all these years later, we're building on our brand.
What was the original concept?
Daniel Miller: There wasn't exactly a "concept," I would say, but very early on when we started working together on Depeche Mode's Construction Time Again, as you might imagine there were a lot of synthesizers in the studio. And when the band left the studio, we'd mess around with sounds. And we started doing that sort of thing early on.
GJ: Kind of improvising in the studio with electronic instruments.
DM: Without any goal, really. When you're in the studio for 12 hours, sometimes you want to go out for a drink, and sometimes you want to play around with modulars.
Were the two of you friends before you first worked together, or did the work help to develop the friendship?
GJ: That's how we met!
DM: We were looking for an engineer, we were about to record Construction Time Again, and we wanted to work in John Foxx's studio. We felt we needed a change of scene. And back in those days, studios were visually dull spaces. John's studio looked different from any studio i'd seen, painted white, daylight, a relatively big control room which is important for us. So we asked John to recommend someone to work in the studio and he recommended Gareth, who worked on the Metamatic album. So Gareth knew the studio backwards and forwards.
GJ: I don't know about that (laughs). At the time I thought I did, yes. So yeah, I got hired, and that was the start of a beautiful relationship.
So after all this time, what led you to finally finish an album? Why now?
GJ: Looming mortality. I tell you what, why now? Because we were ready. I don't really understand my life, so I don't know why I was ready, but coincidentally, Daniel and I were ready to finish something. We didn't sit down to finish an album. We had a manifesto to work over a period of months, meeting semi-regularly to do improvisations with the aim of finishing them. That was it, really. I won't bore you with the rules, but that was the idea. And it was only much later that we listened back to it that we thought, oh, we potentially have an album here. And we didn't know what to do about putting it out, because we made this very weird record.
Did having a set of rules help to shape the record in a particular way?
DM: It's more about guiding the process toward a finishing point. But they were very important and they actually worked, because we got some music finished.
GJ: We made them all up in the first conversation. I made some notes and there seemed to be a number of bullet points, and we thought there's a framework of sorts to get something done.
DM: I think the thing that helped us the most was limiting ourselves in our session time, which was a necessity because we both have dayjobs and don't have a whole lot of spare time. And also the amount of time we'd let the tracks run for, which is about five or six minutes each, roughly. And to create something, an improvisation that worked in that timeframe.
Does using strictly hardware—modular synthesizers—make for a less predictable outcome?
DM: It left it very open, that's what was good about it. We had no preconceptions. Obviously a modular, you can't store presets or anything. You have to commit, and whether it's good or not depends on what you think, but in the end the whole point is committing to it.
GJ: We've had a long relationship of jamming together, improvising. Whatever you want to call it. So that coupled with the spontaneous, wonderful, living vibe that comes off of a patch modular rig, it was obvious format for us to do. We never discussed sitting down composing pieces in layers with a beat and chords. That's something we potentially could do. But the brief was to make pieces on all these improvisations we've done over the years.
Are you both self-taught musicians?
GJ: I'm self taught, and taught by all my colleagues I've worked with over the years. I've learned so much from working with other people. In all aspects—music and technology and life in general. You could say self-taught, but not really, I'm taught by the community.
DM: I've never had lessons, so in that sense I'm self-taught. But you can learn so much from the outside world that teaches you things whether it's conscious or subconscious. We both listened to a lot of electronic music before we started making electronic music, and that goes way back. When I got my very first synthesizer, I was a huge Kraftwerk fan. I still am. And I was trying to get the sounds that Kraftwerk did, which is impossible, because their approach was unique. But I was a beginner and my synthesizer wasn't capable of doing that. But through the exploration of someone else's sounds, you find your own sounds. You find your own way of doing things. That's the most interesting thing. Seems pretty pointless to me to be a second-rate Kraftwerk. Or a fifth-rate Kraftwerk. (Laughs)
GJ: Absolutely. For me personally, it's only in the last few years that I've put out original music, and it's that fear of being a fifth-rate Kraftwerk that prevented me from completing work. There was a critic on my shoulder saying it's not good enough. If you're lucky enough to explore an area you feel is individual in some way or personal or new, then it's very – then the critic doesn't have a way to dig his teeth in.
Do you view every project as a potential learning experience?
DM: Yeah, definitely. We've both worked with many different artists in different genres, and sometimes you contribute—on both sides, the label and as the producer—something to the process and the outcome. But it's a two way street. I learn something from every project I've done.
***
Electronic Music Improvisations Volume 1 is out now. Jones also recently released A Walk in the Woods, his latest album as NOUS Alpha with Christopher Bono. More info here.
---
Support our Site—Subscribe to Our Patreon: Become one of our monthly patrons and help support an independent media resource while gaining access to exclusive content, shirts, playlists, mixtapes and more.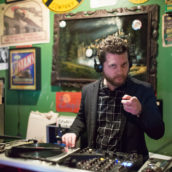 Jeff Terich
Jeff Terich is the founder and editor of Treble. He's been writing about music for 20 years and has been published at American Songwriter, Bandcamp Daily, Reverb, Spin, Stereogum, uDiscoverMusic, VinylMePlease and some others that he's forgetting right now. He's still not tired of it.