Sunset Rubdown : Random Spirit Lover
Spencer Krug has grown considerably in a relatively short period. Just two years ago, before blowing critical minds with Wolf Parade's Apologies to the Queen Mary, he released Snake's Got a Leg, his debut album as Sunset Rubdown. Raw, erratic and bizarre, Snake's was miles away from his work in Wolf Parade, though a bit closer to a solo, scrappy electronic version of Frog Eyes, with whom he had toured in the past. Just one year later, Sunset Rubdown expanded to a four piece band with the release of Shut Up I Am Dreaming. Still raw, erratic and bizarre, Shut Up was the sound of immense maturation and strides toward accessibility. Certainly this was still lo-fi art rock, but the songs were top notch, and the difference of adding a few more musicians made a noticeable impact. One year later still, and Sunset Rubdown has gone from a curious solo project, to a great arty lo-fi pop band to a full-fledged art rock marvel.
Sunset Rubdown is still erratic and bizarre, Krug's vocal histrionics and prog dynamics still dictating the direction and shape of each song on Random Spirit Lover. Yet those songs are also much tighter, much more bombastic, and altogether big. Much like his Swan Lake bandmate Dan Bejar (Destroyer), Krug has taken his songwriting into lengthy and dramatic territory, finding an odd, immense sound with a healthy amount of cues taken from Bowie and Roxy Music. Songs like "The Mending of the Gown" and "Up On Your Leopard, Upon the End of Your Feral Days" find Sunset Rubdown reaching into regions never before tread upon, progressing in movements and shifting constantly.
Shut Up I Am Dreaming began with the huge, anthemic "Stadiums and Shrines II," and taking a similar route through which to introduce Random Spirit Lover, Krug & Co. fire up the noodly guitar riffs and pounding torrents of piano in "The Mending of the Gown," a catchy albeit complex and surreal anthem. The guitar riffs are among the catchiest on the album, yet the lyrical content is among the densest, while being supremely entertaining. In one line, Krug proclaims "he was a man of many nations/with revelations…he wrote a book about the Bible," and in another confesses, "I have lusted after you/ the way bloodsuckers do," and in the middle gives shout outs to Maggie and Sam, the former being a name that Krug resurrects later on.
With "The Courtesan Has Sung," a song seemingly appears from the ether, a two-minute percussion and voice only intro congealing into a rock song like gases coalescing into a solid mass. Once it does, the melodies are sublime, descending triumphantly, a loud and powerful juxtaposition against its seemingly disorganized introduction. In addition to being triumphant, sweeping and explosive, Sunset Rubdown can be pretty darn creepy, particularly on the outro to "Colt Stands Up, Grows Horns," which bleeds into the gothic intro of "Stallion," these two horse songs being something of a careful pairing. "Stallion" once again brings a melodic heroism, its stately waltz soon sucked into a frightening storm of dissonant harmonization, which seems only fitting around this time of year.
The album clearly builds at length toward its final third, which features both its two shortest songs and its two most exciting ones, but those are not the same songs, just to clarify. "The Taming of the Hands That Came Back to Life" is the catchiest, most direct song on the album, rocking hard and heartily, driven by a distorted organ melody and squealing guitar riffs. Krug's stream-of-consciousness lyricism is at its most amusing here as well, each line standing out as clever yet ambiguous. He even creates a dialogue, singing "She said: my sails are flapping in the wind/ I said: can I use that in a song?/ She said: I mean `the end begins'/ I said: I know, can I use that too?" The next track, "Setting Vs. Rising" is brief and pretty, breaking up the bigger, louder tracks with a dreamy respite. The penultimate track, "Trumpet, Trumpet, Toot! Toot!" is the most intense song on the album, squealing and soaring, marked by Krug's inhuman, distorted wail between verses. It's creepy, but in a way entirely different than "Stallion." This is something even more terrifying, yet the way it just rocks out makes it a lot of fun as well.
While Spencer Krug has allowed his songwriting skills to grow and flourish, he has done nothing in the way of stifling his artier, flamboyant tendencies. As great an album as Shut Up I Am Dreaming was, Sunset Rubdown has outdone it, and better production values certainly don't hurt. That they can clean up their sound while only pushing their creative limits and upping the creep-out ante shows how far Krug and his merry band has come.
Similar Albums:
Destroyer – Destroyer's Rubies
Frog Eyes – Tears of the Valedictorian
Modest Mouse – The Moon and Antarctica
MP3: "Up on Your Leopard, Upon the End of Your Feral Days"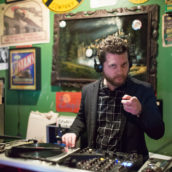 Jeff Terich
Jeff Terich is the founder and editor of Treble. He's been writing about music for 20 years and has been published at American Songwriter, Bandcamp Daily, Reverb, Spin, Stereogum, uDiscoverMusic, VinylMePlease and some others that he's forgetting right now. He's still not tired of it.